Best Garage Door Opener Brands
As you may know, already there are a lot of garage door openers on the market. Most of them are of great value for money, and they have all the features you will ever need. But they are not the same. First of all, we will discuss some of the best garage door opener brands and then present you with a few models that stand out from the crowd. At last, we will provide you with useful guidance on which features to consider and give you answers to some of the most common questions associated with garage door openers.
Top garage door opener brands compared.
There are many brands, as we have mentioned, but a few of them make a massive difference. The best brands, according to our research and our experience, are suggested and explained below.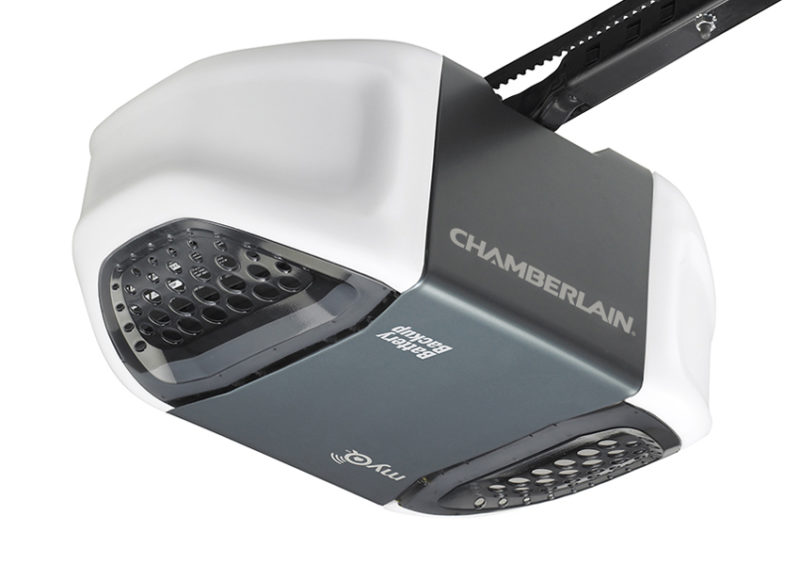 Chamberlain isn't only the most common brand but also one of the best when it comes to owner reviews. Their garage door openers come with a lifetime warranty on the electric motor and the drive system. This generous warranty makes them unique and suitable investment for all of us. The next best thing is the features this brand implements. Their products are state of the art, they are well-made, and they come with all you will ever need. If you take a closer look, you will see that some of the most expensive models come made by Chamberlain.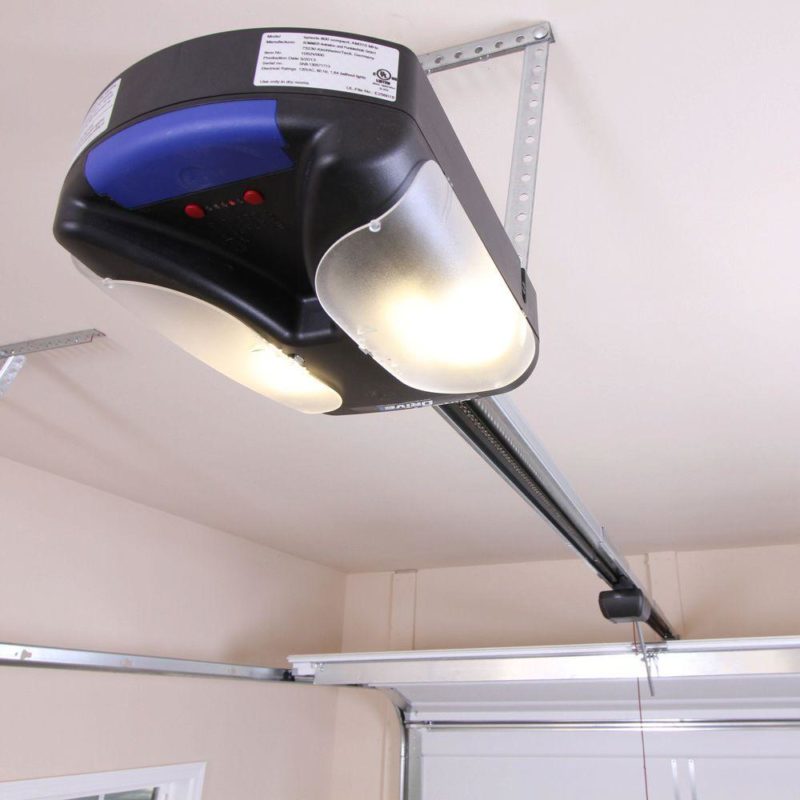 Direct Drive refers to the name of the brand and not the feature of the garage door opener. In a nutshell, they make excellent garage door openers of the highest quality. You can find any model that is suitable for your garage door, and you will appreciate the lifetime warranty that covers the motor and the belt. We also like their customer support and the innovations they have been providing for each new model.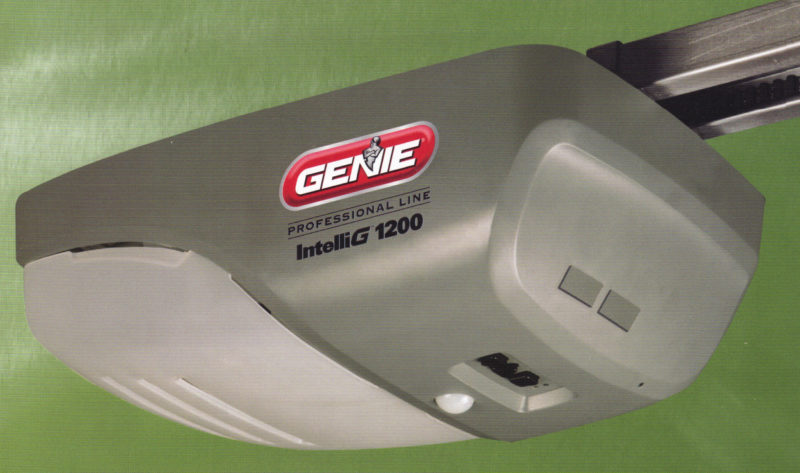 In the last year, this brand made a massive success. It is currently one of the best and the most popular garage door opener brands with countless products on the market. Their models come with lifetime motor warranty but only 15 years of warranty on the belt. However, some of the most robust garage door openers are made by Genie, and they come with amazing features. Purchasing a model made by this brand is a safe choice, and you definitely can find a model that matches your requirements perfectly.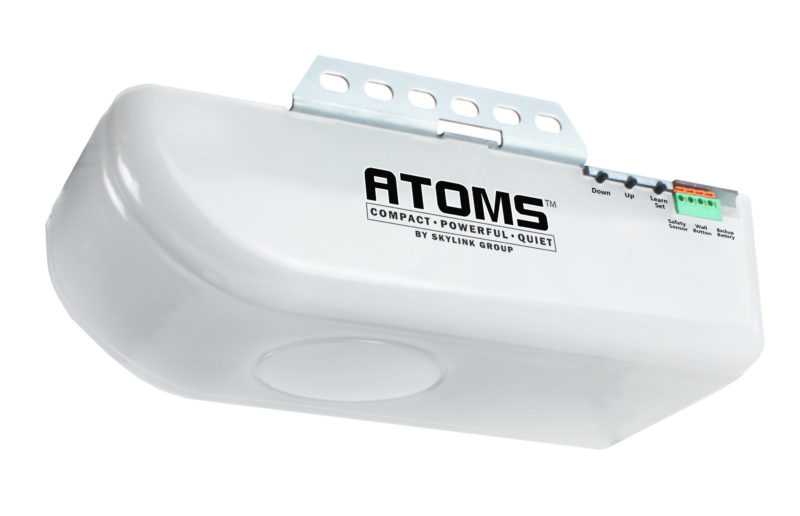 If affordability is what you seek, then the Skylink brand is the ultimate answer. They have been known for some of the most affordable garage door openers available on the market, but they also provide decent quality and plenty of features. We like the design and the features present. Their models are not as sophisticated as other brands from the list, but they should be taken into consideration by most homeowners.
Top 10 garage door openers for 2019/2020
Here the comparison table showing the first five garage door openers on our list:
Table could not be displayed.
Now you know all about the best brands, but you will have to consider the best models as well. Below we will provide you a shortlist of 10 garage door openers that are currently considered as the best of the best and the most popular choices.
The model has it all you will ever need. You can control it using a smartphone and a suitable app, the rolling code has 100 billion possible combinations, and the unit features a belt drive. It is one of the safest the most popular and the most popular garage door openers.
It is an excellent value for money and also supports app for opening and closing the doors. Keep in mind that the model uses a chain drive and has a power of ½ HP. In addition, it is one of the most affordable models out there that still has advanced features.
This is an upgraded model of the previous unit. It also has a chain drive with a 1/2HP electric motor, and it can be paired with 7 feet garage doors. If you want to use it for 8 or 10 feet, you will need an extension kit. There are 100 billion code combinations possible.
It is an affordable ½ HP garage door opener that is supported by Car2U and Homelink. The model fuses chain drive has advanced protection protocols and looks beautiful.
Chamberlain Group RJO20 is a high-end model of the modern generation. The look is better than most other models you can find these days. It is compatible with smartphones, can be installed on any door you like, and has 100 billion code possibilities. Also, it is a direct drive model.
It is affordable, durable, and offers a belt drive. The main advantage is the low noise the garage door opener will make. It also helps you with a great package that includes all you will need, and the smooth operations are guaranteed.
The power is 1.25HP, and the garage door opener comes with remote controllers and a keypad. It is smooth while operating and supports smartphone control. You can get it at a massive discount, and it is one of the most durable models we know.
You get keyless entry, a keypad, and remote controllers with 1500 feet of range. The unit is one of the most popular, affordable models on the market, and we believe it will stay here for an extended period of time.
It is a new model that comes with a battery backup system, enhanced safety, and ultra-quiet belt drive. The power is 1.25 HP, and the design is a bit futuristic. This particular model supports smartphone control, as well.
10. Skylink EQ-1611
The Skylink EQ-1611 is affordable, offers excellent support, and it is easy to install. It uses a chain drive system that is quieter than conventional models of this type. The model also offers lights and is suitable for garage doors of different sizes.
Here is another comparison table showing positions 6 to 10 from our garage opener list:
Table could not be displayed.
Main features and elements to look for when purchasing a new garage door opener
To get the best garage door opener, you need to consider a few points before place an order. These aspects or things or you can call them as you will help you make the right choice and a smart investment. In return, you will need a couple of minutes of your time to get valuable information.
Features
The first thing to consider is the feature list. Which features that particular garage door opener has to offer. It should be quiet, powerful, and come with rolling code technology. Additionally, you will want to consider the timer, a useful feature available on most modern models.
Brand
We mentioned the best and the most popular brands above, and you should consider them as your first choices. By choosing a garage door made by one of those brands, you will get the stunning quality, latest features, and even better warranty. They also come with superb customer supports so you can get additional help when needed.
Warranty
Yes, you must consider the warranty as well. The best option is a lifetime warranty on the electric motor and the drive system. By choosing a garage door opener with this advantage, you are sure that it will last for many years to come, and you won't have any issues. Any warranty that lasts for a shorter period of time will be a less wise choice.
Price
You need to consider the cost as well. Make sure that a model you want to own is reasonably affordable, but it still meets all the aforementioned aspects. Luckily new models are very affordable these days so you can find the best garage door opener at a low price.
Power
Power refers to the electric motor, obviously, and you can see that many models have 1.25 or ½ HP. This is average power and the most desirable due to the fact it can be used to open and close most garage doors. If you have garage doors that are bigger and, therefore, more substantial, you will need a more powerful electric motor. It isn't advised to use a garage door opener for a higher weight load than specified. You can damage the engine!
Rolling code
It was mentioned earlier, but this feature is so crucial that you need to know something more about it. Rolling code is a system that will generate a new code for opening the garage door each time you use the remote controller. As such, it is impossible for burglars to obtain your cipher and open garage doors.
Drive system
You need to consider the drive mechanism as well. There are two main types. The first one is a chain mechanism which makes a garage door opener more affordable but louder while operating. A belt drive is quieter but more expensive. This factor depends on your individual preference.
Garage door compatibility
Some garage door openers are compatible with garage doors of 7 feet only. Others can be used for 7 or 8 feet units, while others can be used for even bigger rage doors. Measure your garage door and make sure that your new garage door opener can be installed for that unit.
Weight load
A garage door opener will come with a specific weight load of 300 pounds (example). It means that it cannot be paired with more massive garage doors. This is another critical factor that you should consider.
Keypad
It is an excellent addition that doesn't increase the cost of the garage door opener. On the other hand, it is beneficial, and it can help you feel special. We believe it is one of the essential features to look for.
List of USA garage door opener brands:
FAQ
What's the difference between $150 and $250 garage door opener?
They will have the same quality and look the same. However, a $150 model will usually have a few features less, and it won't include additional accessories in the package. A $250 model will come with all you will need.
What is better, chain or belt system?
We believe the belt drive is a better option. Of course, this depends on your individual preference. Belt drive lasts longer, and it is quieter. The chain drive is louder and requires more maintenance.
What's the best light for a garage door opener?
Always look for a garage door opener with LEDs. They last long, and they offer bright light.
Which model is the best for 2019?
According to the homeowners who actually have it, the best model is Chamberlain B503. It has it all, and the price is reasonably affordable. This is a model of a newer generation that obviously comes with outstanding safety features.
Can I install a garage door opener all by myself?
Yes, you can. However, some garage door openers are more complicated to install than others. Take a closer look at this factor before purchasing a unit and make sure the instructions are well-written and explained if you can find video tutorials even better.
Will a new garage door opener require some maintenance?
Yes, all models do require maintenance. All you have to do is to grease or lubricate the moving parts, and you are done. This should be done once per year.
How long can a garage door opener last?
A high-end model can last for decades. Always maintain it properly and make sure there are damaged parts on the system. If some damage occurs, repair it as soon as possible.
How many remote controllers do I need?
In a nutshell, you need 2 or 3. High-end models come with three remote controllers, which is the best option. You have one. Your spouse will have another, and if needed, your child will have one. In addition, you can use two and keep the third as a spare one.
It refers to the maximum weight of the garage door, and opener can be paired with. It must be obeyed and never install a unit on more massive doors than the specified weight load.
Last update on 2023-03-25 / Affiliate links / Images from Amazon Product Advertising API