Welcome to Garage Sanctum – Best Place for Your Garage Needs!
Introduction to the Garage Sanctum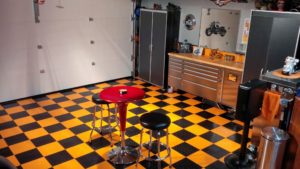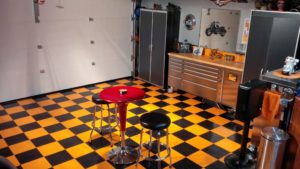 For a man, his garage is his sanctuary—a place where you go to relax from the daily grind of life. You are probably a family man. You love your kids and your wife. But no matter how hard you try to get everything in line, the chaos always persists. So, you need a place of your own. Somewhere where you have complete control of and somewhere where the noise of the outside world can not find you. (Sometimes also a sound of the inside of your house too).
That's just the way it is.
That's why we, man, take solitary in our garages. Basements also, if we are lucky. We have that need to nurture them to our liking. We also have an urge to purchase that new cordless drill with a 20 volts Li-ion battery, or the new garage door opener to replace that noisy and worn-out old one. How about that new metal shelving for all the tools that just lay around the garage/shop without the proper place to put them too? The list goes on.
But what to choose is not always a natural choice. If not careful, it is easy to spend a lot on subpar products that continue to give you headaches long after you had purchased them. And that is not what we want. We want quality garage products that perform well for years and are always in good shape whenever you decide to take some time off from everything, and sometimes everyone else for a while.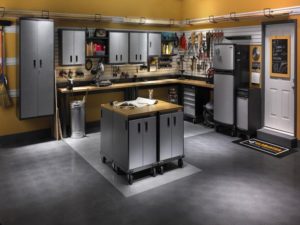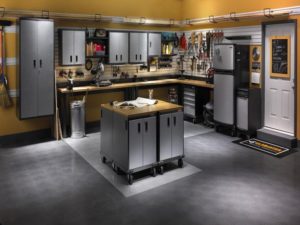 This is where Garage Sanctum comes in. We do the heavy lifting of research and comparison to weed out the best available products for your garage. Although we start with the best garage door openers we will also be covering a complete range of products that belong in well-equipped garages and workshops.
We hope that you will find what you are looking for and that it will serve you well for many years.
What is a garage?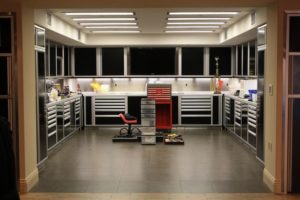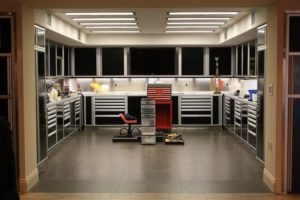 A garage is a structure with a roof that has one primary purpose- storing vehicles. The word originates from French- "garer" means shelter, and that is the primary purpose of the garage- a shelter for your car. It will protect your vehicles from weather conditions and theft. There are many different types and uses of garages. Today, modern garages are far more than simple vehicle storage; they serve a variety of purposes. Garages are modernized, and most have electric doors that can be activated from your car, or with remote control. They also have motion-detecting sensors that will automatically turn on lights, making parking the car hassle-free. The latest systems let you do all this from your smartphone.
Most garages have slots for one or two cars, but larger houses in more affluent neighborhoods are no strangers to three-car garages. Every garage is characterized by a large door that is usually opened upwards. Attached garages also have an additional entry that leads to the inside of the house. Nowadays, most garages are attached, but detached, "portable" garages are getting increasingly popular in recent years, as a quick-fix solution. Garages are connected with the nearest road/street by a driveway.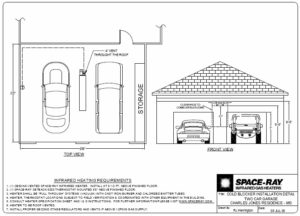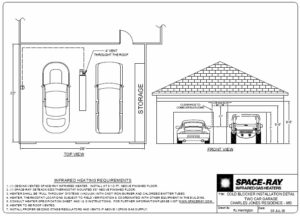 Most garages are used for storing cars, but there are also more prominent (mainly taller) RV garages. In these, people store their recreational vehicles, such as trailers and boats. These types of garages are often detached and are more carefully built, to ensure maximum protection for expensive cars that are going to be stored inside.
What types of garages exist?
Well, people are creative, and you can divide garage types in many different ways.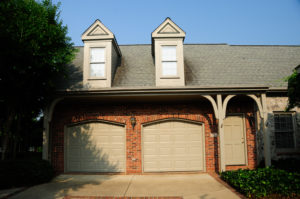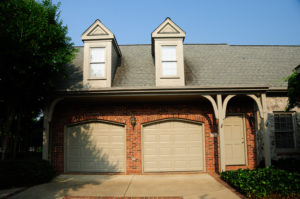 The garage can be connected to the house or a separate building. Garages that are a part of the house (attached garages) often share the same style and are built the same way as the house. This is both aesthetically pleasing and practical. Garages that are part of the house almost always have a back door that lets people get inside them without going outside. Naturally, this type of garage is better for an entertainment room or a children's playroom.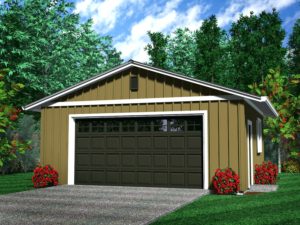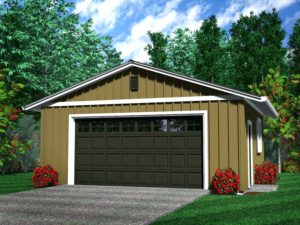 On the other hand, garages that are a separate building (detached garages), can look differently; they don't have to follow the style your house has. Usually, they are in the backyard, so you don't have to worry too much how they look. These garages are better suitable for noisy hobbies such as workshops since you don't have a bedroom just above. Also, since they are a separate building, they can be easily upgraded, moved, or demolished, without any limitations. If your detached garage is near to your house, you can build a breezeway- it is a small addition that connects your home to your detached garage. But, try to make sure it is both functional and good looking.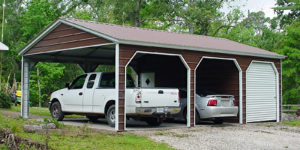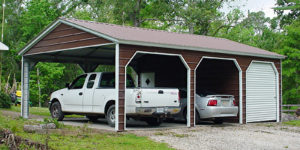 There is also a third option, carport. This is not a real garage- yes, this building is roofed, but it is not closed from all four sides. It will protect your vehicles from weather conditions to some extent, but will not protect them from theft.
Today, portable garages are becoming more and more popular. These are pre-built and delivered on trailers, and are a budget solution. You only need a flat, gravel or cement pad, and you are right. However, these are the most basic buildings, which provide the essentials- they will protect your car, nothing more than that. And they don't look very nice. But they are better than nothing, and if you need a garage, but can't afford a real one, go for them.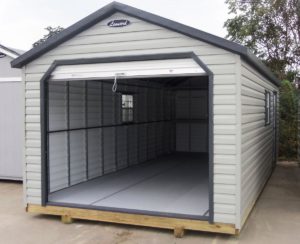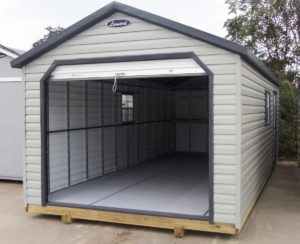 And about the material used- attached garages are often built using the same style and construction like the house. Most detached garages are wooden and metal. Wooden garages have that traditional, warm look, and are much more attractive than metal ones. However, they are much more expensive and take longer to build. Metal garages, on the other hand, don't look right. But, they are cheaper and get the job done, a good option if you don't need a garage in plain sight.
For any kind of home improvement projects, you are likely to need some anchors. We recommend our Drywall Anchors for DIY: The Definitive Guide as a go-to reference for all your anchors questions.
What can you use garage space for?
The main purpose of garages is to store vehicles. But, it can be far more than that. If you don't have a car, or you don't like keeping it inside, the garage can be so many things. But, for many of these, make sure your garage is insulated since the heating/cooling cost can add up a lot.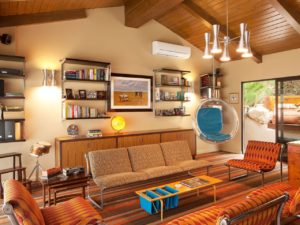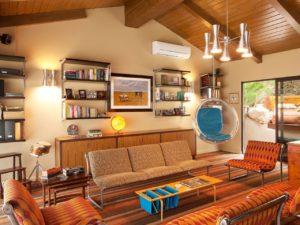 You can use it for sports activities, such as table tennis, or billiard, or you can make it into a gym. People often use their garages for their hobbies and workshops- it is an excellent place for model-railways or for home beer brewery (we will not mention other, illegal breweries and labs:). Naturally, a garage is a fantastic place for any type of mechanical car work, since you don't have to worry about getting your floor dirty, and the car is already there. Garage flooring will go a long way towards protecting your garage floor from damage, ease the cleaning, decrease heat dissipation and make your garage much more beautiful.
Also, you can make your garage into an entertainment room, with a mini-cinema, or as a storage for your record and comic book collection. This is the right place for your musical instruments, not only for storing but for band practice too. And yes, you can use your garage as a storage room (preppers agree!). Here you can put all your gardening tools, lawnmower, bicycles, and bikes. It can also house some utensils such as water heater, And if your garage is big enough, and you invest some cash, you can even make it into an efficiency apartment that you can use for your guests or rent to students or single people.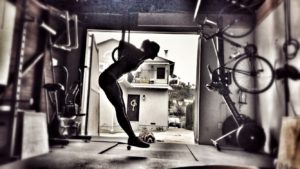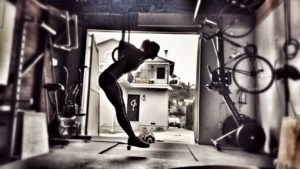 Nowadays, everybody wants to become a self-made entrepreneur. You will hardly find a better place to start your own business than in your garage. And many startups have started this way, including giants like HP, Disney, and Amazon.
A garage can be anything you like. And one purpose does not exclude all others- naturally, if you use it for storing car(s), you will probably use it only for that, but you can combine other purposes such as entertainment room + music room, etc.
What are the dimensions of various garage types?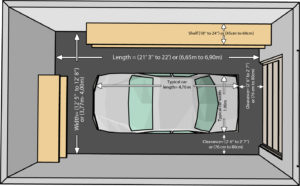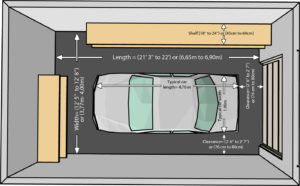 Most often, a garage is measured by cars that are supposed to be inside. So a single car garage should be at least 10×20 feet, with 7 feet door. That will cover most cars, but if you are driving a limo or truck, it will probably not be enough for you. And never go for tight fits- you don't want to scratch your car and damage your car door unnecessarily. Keep in mind- you don't just want to park the car, you are supposed to open the door, enter/exit the vehicle, and comfortably walk outside the garage. And if you have two or more cars, you need room between them, at least 36 inches, so that you can open the door of each vehicle. Also, leave room in front of the garage door to let them safely close. The good-bad thing is that many states have strict regulations, that will tell you precisely what the minimum dimensions of your garage need to be, per car. But as we have said before, try not to go for tight fits, if possible of course, it will make your life a lot easier.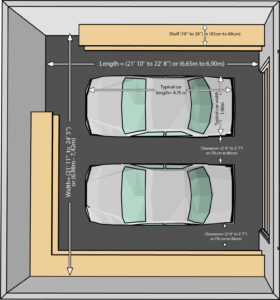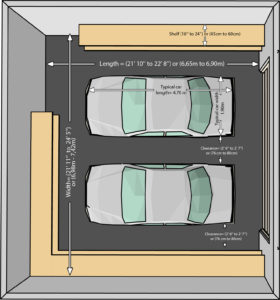 But, nowadays garages are far more than a place to store your cars, and you will want to have extra space for all your activities. It is a good idea to at least have room for some tools, and items like a lawnmower or bicycles, next to your car(s). And if you want a whole workshop, consider the extra space needed. It a common practice to store water heaters and other similar devices into the garage. Be sure to separate your cars from them, if possible, to prevent damage if something unpredictable happens. One more thing- try to make your garage lower than the rest of your house- at least a few steps. This will stop the water from quickly flooding your basement, or even your living room if something like a pipe burst happens.
The driveway is an essential part of any garage. If your house is just next to the street, it is something you don't have to think about; it will merely be in a straight line from the street. But, if your house is far from the road, you will need to think a little before deciding, since driveways can eat plenty of your property. If you want a curved driveway, consider the space required for a card to back up and turn- at least 25 feet for backing up, 40-50 feet turning diameter. We have to repeat ourselves- we know that you (think) are a good driver, but never go for tight fits – a slight concentration drop can ruin your car, so better to be safe than sorry.
And lastly (this one is not about dimensions but style), don't be cheap on garage doors, especially if you have an attached garage. And we are not talking about safety here. Garage doors take up so much space and will be one of the most dominant elements of the front of your house. Get something stylish that will not only fit your house style but polish it even further.