Car Lifts for Home Garage: The 7 Best Picks for Easy and Safe Lifting
Looking for the Best Car Lift is never an easy task. There are a lot of things to consider. There are even more offers, and there are countless possibilities in general. But, with our help, you can find the ultimate choice within 20 minutes. A car lift is the best way and mandatory if you are looking to work on your car from beneath, on your wheels, and even if you want to change the oil. This is an extremely useful and powerful tool.
Check out also our best hoist engine review.
Top 7 Car Lifts Reviewed
Here is the comparison table showing you how the selected car lifts for home garage compare one to another:
Table could not be displayed.
APlusLift HW-10KBP 10,000LB Two Post Floor Plate Auto Hoist Car Lift


APlusLift HW-10KBP is the Best Car Lift and the one of most appealing we tested. Yes, we tested all of the models presented here in the real world, with real cars. The car lift here has a capacity of 10.000 pounds, which is impressive. It literally can lift any vehicle, even Hammer. Shipping is quick thanks to several locations across the United States. Each one is packed carefully to the new owner and sent within 3-4 business days.
The lift is a Symmetrical and Asymmetrical unit, also known as a combo. This refers to the arm assembly. Pads are screw according to design. The maximum lift is 6 feet and 9 inches, but truck adapters are also available. The coating on the unit is durable and will last for decades. All welds are processed with a robot. It is made from Q355 steel, which is more durable than conventional steel (Q235).
Pros:
10.000 pounds lifting capacity
Optional truck adapters available
Combo design
24 months part warranty
Cons:
Poor instructions
Long shipping possible
FAQ:
The steel type is known as Q355, which is more durable than regular steel. It is mandatory to use on high capacity car lifts.
Can it be used for trucks?
Yes, most of them can be used without adapters. In case your vehicle needs one, you can order them additionally.
Yes, the car lift is fully certified, and it can lift the claimed weight without any issue.
On which voltage it operates?
It can be used with 110V and 220V. The wiring is different, but there is an online user manual that can help you.
TRIUMPH NSS-8 Plum Crazy 8000Lbs 4 Post Car Lift


TRIUMPH NSS-8 is a car lift with the based ramp, as you can see. It is 84 inches tall, and the length is 175 inches. Drive through the width is 93 inches, and it will fit most cars and trucks without significant complications. Besides, the runaway length is 165 inches. Wheel stops, ramp are all made from aluminum. Bearing pulleys are robust and durable.
The car lift we have here is ideal when you are working beneath the car. It isn't great when you must remove a wheel. However, it is incredibly convenient and can be used in various locations. Aluminum construction is used to keep the weight as low as possible. Add the fact it has 4 posts rather than 2, and you can imagine how strong it is. The weight load capacity is 8000 pounds. Additionally, you can use the car lift for car storage. One car will be parked on the ramp while others go under it.
Pros:
4-post construction
Easy installation
Weight lift of 8000 pounds
Great for car storage
Cons:
Isn't suitable for wheel-based operations
Expensive
FAQ:
Can it be used for car storage?
Yes, it can, and it is one of the main applications the car lift has to offer. Using it, you can store 2 cars in the same location.
What's the highest weight load it can withstand?
The highest weight load is 8000 pounds. It is very high and can be used for all cards, most rucks, and even for bigger vehicles. An average car is around 2000 pounds in weight.
The car lift here is made from steel, all the main elements including posts. Ramp and several other components are made from aluminum.
Mayflower Blacksmith Base Plate Two Post car Lift


Here we have one of the best Car Lifts, and it is also a combination of the first two models we have tested. The model has a total capacity of 9.000 pounds, and as you can imagine, it is more than enough. It is 2-pole model, which is more preferred simply because you can use it for literally any car-related operation. The maximum lifting height is 75 inches with a regular setup. Truck adapters are available, and they increase lift up to 81 inches.
It uses a heavy-duty chain drive and has 2 hydraulic cylinders. There are 18 locking positions and also 2 point safety lock, which was reserved for more advanced and more complex car lifts. Keep in mind that 1.5" / 3" / 6" (3 set) adapters for trucks are included in the package.
Pros:
Value for money
Truck adapters included
2-point safety lock
Heavy-duty cylinders and chain drive
Cons:
Obsolete design
Poor customer support
FAQ:
How big is the floor plate?
The base plate is 100 inches in length while the width is 8 inches. This is a standard dimension for these car lifts.
What is the maximum height of the posts?
The maximum height is 111 inches for the 2 posts. It is designed to be used in various locations and for home garages.
How much is the weight load capacity?
The weight load capacity is 9000 pounds. It is one of the more powerful car lifts in this case scenario and located at the top of the list when we tested this factor only.
Can I install it all by myself?
Yes, the installation is straightforward, and you won't have any complications installing it by yourself. Keep in mind to follow the user manual and all instructions to the tiniest detail.
TRIUMPH NTO-10A 10000Lbs Two Post Clear Floor Car Lift


TRIUMPH NTO-10A is a top of the range car lift designed for the ultimate performances. The maximum weight load is 10.000 pounds, which is impressive. It can be used literally for any vehicle you have in mind, and you can lift it in the comfort of your garage. The height is 145 inches, while the width is 133 inches.
We can add that the unit is an asymmetrical car lift with 2 poles meaning it is a clear floor model. It is entirely made of steel and very durable. Shipping weight is 1407 pounds, so keep that in mind. You need 4-6 inches of 4000 PSI concrete to install the lift, and once you are done, you will enjoy its warranty, capabilities, and so much more.
Pros:
Massive weight load
Simple installation
Strong construction
Durable
Cons:
Lack of data regarding the model in question
Possible shipping issues
FAQ:
What's the weight load of this model?
You can use the car lift in question to lift up to 9000 pounds. Keep in mind that an average car is 2000-3000 pounds so you can imagine the true potential.
Is it symmetrical or asymmetrical car lift?
This is an asymmetrical car lift. It may look at the photo that it is symmetrical, but it isn't. Sadly, there are no a lot of pictures the manufacturer offers so that you can see.
Which requirements for installation are there?
All you need is concrete with a 4000 PSI rating and a thickness of 4-6 inches. This is relatively easy to acquire, and you probably already meet all the requirements in your garage.
BendPak QuickJack BL-5000SLX Portable Lift


First of all, there are several versions available for this model. The main difference is in the electric motors. You can choose between 12 V DC, 240V AC, or 210V AC options. We tested the BL-5000SLX versions, which is powered by 110V. We believe that it is the most commonly chosen option, and it will be the most popular among various users. This is a portable car lift meaning you can carry it with you and use it in different locations. It is small, compact, and easy to store in your garage. (BendPak)
The design made it especially popular among car owners who don't need massive car lift, but they do need to work on their car sometimes. The weight load capacity is 2 ½ tons, and it is reasonably high considering the type of car lift we have here. As you can see, the electric motor isn't implemented in the car lift. It is a separate unit, and you will need to transport it separately to use it in remote locations. The situation is the same regardless of which electric motor you choose.
Pros:
Compact design
Portable model
Various electric motors available
Easy to use
Cons:
Limited weight load capacity with some motors
The shipping time is long.
FAQ:
Can I use this car lift for SUV?
Yes and no. Keep in mind that the weight load is maximum at 2 ½ tons. If your car is more massive, you may need a different motor. Do not exceed the weight load limit.
Can I use it to store my car?
Yes, you can. The car lift doesn't make contact with the tires, so you can place anything you like under them when the car is lifted. The car lift itself cannot be used for this purpose.
Are there any safety measures?
Yes, there are 2 safety locking options offered. Make sure that you will have to use one when lifting the car. It is mandatory to remember.
Xk 10,000lbs Car Lift L1100 2 Post Lift Car Auto


The Xk 10,000lbs Car Lift L1100 2 Post Lift Car Auto is a heavy-duty model with 10000 pounds weight load capacity, which is one of the highest options we saw. It is designed to be used frequently and to be used by hobbyists and also car mechanics. The car lift comes with 5/16 inches cable and even 4.56 inches pulley design. This is selected due to the fact it decreases the tension of the cable and makes it last longer. Molecular self-lubricating sliders make sure that the entire process is smooth.
The door guard is present, as well. What this means is that you won't scratch your car door when opening. It is a small yet smart addition that we liked. Some facts about the model are standard. First of all, the shipping weight is above 1400 pounds. You will need a forklift to unload the truck once this car lift arrives at your destination.
Pros:
10.000 weight load capacity
Smooth operation
Long-lasting cable
Free terminal pickup
Cons:
Price
Limited quantities available
FAQ:
How much weight can this car lift actually lift?
The weight load capacity is 10.000 pounds, and it is one of the highest ratings available for garage-focused car lifts.
Are spare parts available?
Yes, the manufacturer offers spare parts for this car lift, and it is relatively easy to find them. Additionally, they are not very expensive.
Is it a symmetric or asymmetric car lift?
This is an asymmetrical car lift, and it is more preferable type these days.
BendPak Dual-Width 2-Post Asymmetric Car Lift


The model we have here is a bit newer and more appealing for those who want the latest features. More specifically, there is a system or better said a design that is known as enhanced car access. The car door can be open 30 degrees more than compared with conventional car lifts. The next main advantage is a system called Tru‐Metric. What it allows you is to use the car lift either as a symmetrical or asymmetrical car lift according to your needs.
The configuration can be narrow and wide according to the expandable top beam, which holds the poles in place. Additionally, there is a padded overhead safety shutoff bar. The release is a single point. The weight load is 10.000 pounds, and the colors of the car lift are blue and yellow. The quality is impressive, but this is the most expensive model on our list.
Pros:
Tru‐Metric system
Stunning attention to detail
Two width possibilities
30 degrees better opening car door range
Cons:
Very expensive
Complicated installation
FAQ:
Can I install it by myself?
Yes and no. Theoretically, you would be able to install it by yourself, but you may need help. Also, the user manual isn't very detailed and professional to help beginners.
Where is the car lift made?
The car lift is made in China, but it does meet the latest rules and requirements for the United States and Canada. We didn't discover any issues with the unit.
Is the car lift safe to use?
Yes, it is very safe and one of the best options out there. It has the latest technologies and also it is designed to be used daily.
Buyers Guide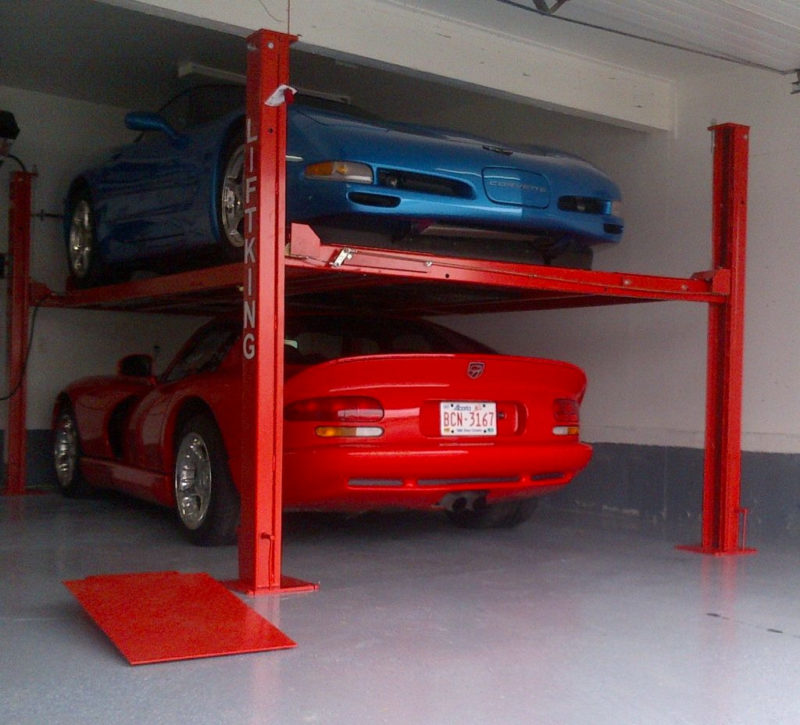 How can you find the Best Car Lift? The secret is to look at specific factors or parameters. They can help you by revealing the specifics you will need later when it comes actually to use the car lift. We have prepared all of these factors for you, and we must add that all of them have been used by our team of experts while testing these 7 models. Now we want to share them with you.
Type
Before we move to anything else, you need to know which type of car lift you need. There are several options, and as you can imagine, each one is different. Yes, all of them will lift your car but not in the same way. As such, we have created a list explaining the most commonly used types of car lifts.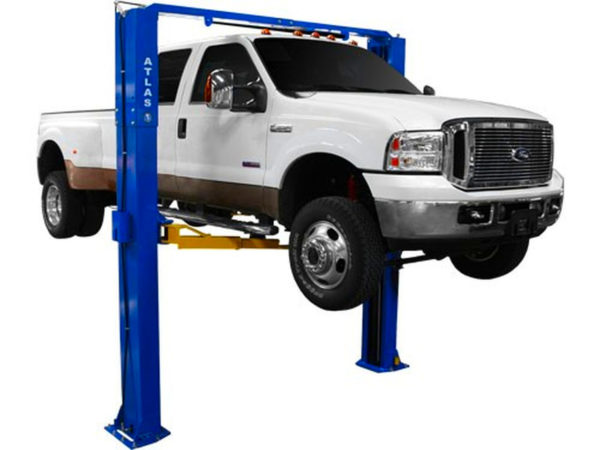 2-post car lifts are the most common of them all and due to a simple reason. They are the most affordable to own, they offer you the best access to your car, and they occupy the least amount of space in your garage. As you were able to see, they are most commonly used on our list due to the fact they are the most convenient. Installation is generally straightforward, and there are no significant complications. The only downside is the weight load, which may be low for special applications. Bottom line, this is the preferable option and the one we liked the most.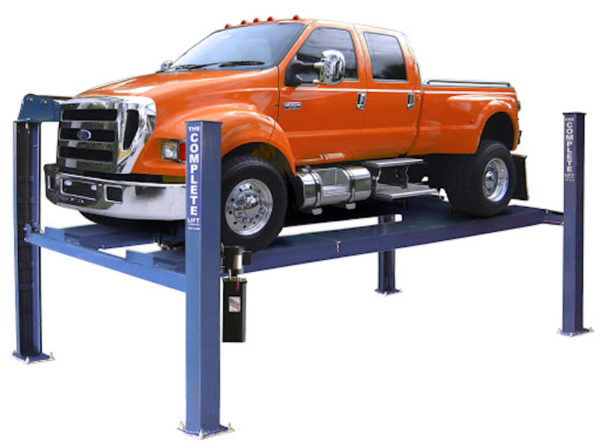 4-post models do offer better access to the middle of the car, but they will occupy the space around wheels, making them less effective for everyday use. They have 4 posts as you can imagine and they are more complicated to install. You will have to align all of the 4 posts perfectly, which may be complicated. They are also more substantial, more expensive, and they require more space. Unless you are working with massive trucks, you don't need one.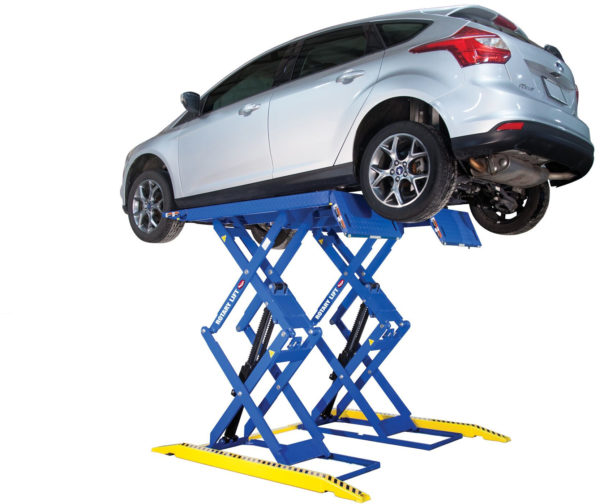 These are very simple to install, and many of them don't require any installation at all. They lift a car using its wheels so they will become occupied when the vehicle is lifted. But, they occupy a tiny amount of space, and they can be versatile. They do not have poles, but rather the entire lift is based on the ground and uses a scissor based mechanism to lift a car.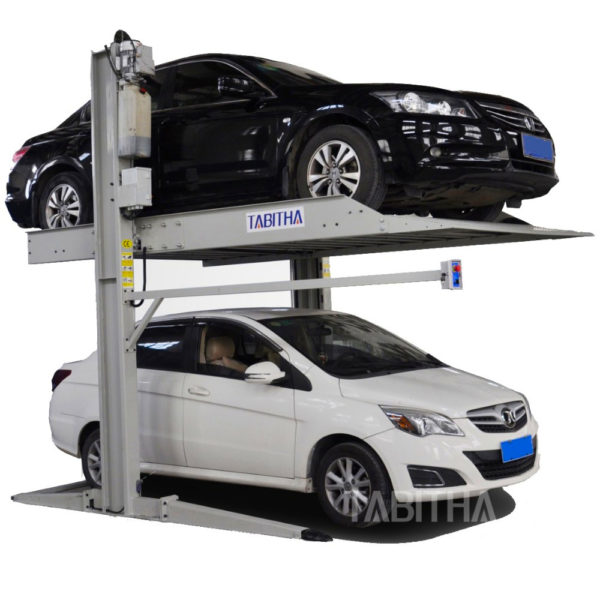 You saw these models every now and then, and they are common. They look like a scissor car lifts without the scissor mechanism. They are primarily designed to lift a car and park it in that position. Another vehicle will be pared under the first one. Yes, you do get access under the car for operations, and yes, the car lift will lift a car using its wheels. They are the most popular option if you have two cars to park in a garage.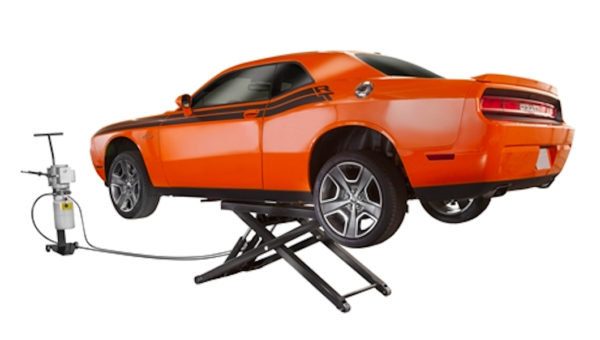 These are small and lightweight car lifts you can transport in your trunk. They have a separate construction and a different electric motor, which will be paired with hydraulics to lift a car. People who need a car lift occasionally or they want to use it while on a race track will choose this type.
Here we have a select type of car lifts that do have almost countless sub-types. For example, you can opt for a motorcycle lift, for a truck lift and similar. They are designed for just one type of purpose, and they are usually very different from another.
Installation
How wimple or better said how difficult it would be to install your new car lift? Generally speaking, portable car lifts do not have to be installed at all. Scissor types are straightforward, and 2-pole models are the next level. Once again, we can see that 2 pole car lifts are the best in this case scenario, and most garage owners can install them without professional help. Make sure you have a proper user manual, and you know what you are doing before starting a project of this scale.
Here is a great video showing you how to install 2 post car lift:
Weight load
You were able to see that all, even the Best Car Lift comes with a weight load limit. This is the maximum capacity it can lift and keep that weight elevated. It must be obeyed at all times, and it must not be tested in your garage. All manufacturers use proper tests and teams of experts to discover the maximum weight load. After the test, the car parts are checked to see there any damage to them. There must be no damages.
Weight load is generally around 10000 pounds for most models you can use at your garage. This is considered more than enough, and 99% of car owners won't need more. Keep in mind that the weight load is based on the overall construction, the lifting mechanism, and also the electric motor, which will be explained below.
Materials used
Yes, steel is mandatory material here, and it is the most preferable. You need a car lift with a minimum steel thickness of 5-6 mm. Anything thinner and you may not be able to get all the safety you need. Aluminum can be seen as well, but it can be used only for elements that do not elevate the car directly. For example, poles and arms must be made from steel, while drive on an element can be made from aluminum.
There are no other metals present here. Brass, iron, or anything similar may be used for small components, but generally, these metals must not be used for the main elements of the car lift. They are not strong enough to be used, and they should be avoided.
Electric motor
There are plenty of options when it comes to the electric motor you can choose from. Many models come with 110V, and it is a reasonably powerful option. An engine of this power can lift up to 10000 pounds without any problem. But, if you are looking for a higher weight load capacity of up to 20.000 pounds, you will need to switch to the 240V electric motor. It is more powerful, and it is more effective.
110V motors are more popular simply because they can be easily plugged in a power outlet, and you get ready to use a car lift. 240V motors are more complicated and more demanding to power, which may be an issue for average garage owner. These motors are mostly used in professional car garages where car mechanics work.
Maximum lifting height
Maximum lifting height is a prominent factor. It measures how high a car lift can lift a car in the air when used. Portable models can lift a vehicle only 2 feet and usually even lower. 2-pole models are once again an appealing option. They can lift a car up to 75 inches in height, making it easy to operate under it and get easy access to all main components. This is also an average lifting height, and it can meet expectations of us many, so there is no need to lift a car even higher.
In some cases, you may have to lift a car even higher, and this is done when you want to raise a truck or large vehicle. This is done with the help of adapters, which is our next part.
Adapters
Adapters are not the central part of the car lift, and they usually can be acquired only as an additional package or purchased separately. A most common alternative is truck adapters, and they do as you may imagine. They are used for trucks, and they can elevate a car higher. The situation is simple. If you have an ordinary car, you don't need these adapters. If you have a truck, you will need them.
Coating
The coating is an essential factor. The chances are high that you will hit your car lift or scratch it with a screwdriver, wrench or a hammer at some point. A durable coating makes sure that there are no traces of these small accidents present. It will protect the car lift for decades, and it will make sure it stays in perfect condition. Additionally, the coating will protect your car lift from corrosion, which is even more critical. Look for heavy-duty coating. It is designed for commercial applications, so it is more than just great for use in an average garage.
Symmetric or asymmetric car lift?
There are two main types of 2 pole car lifts, and we will have to explain it. The first option is a symmetrical car lift, and what it does is lifting a car in the middle. These were the first models and very popular. The only downside is being unable to open the car doors once the car is lifted. The second type solves this issue.
Asymmetrical car lifts lift the car as well, but the lifting arms are located more at the back, allowing you more space to open and close the door. These models are the most popular at the moment, and they are usually the best ones.
There is a select type, which is known as a combo. What this means is that a car lift can be used as a symmetrical and asymmetrical car lift. They are also very desirable and very appealing.
Instructions
One way or another, you need a proper user manual with appropriate instructions on how to install and maintain your car lift. It is something that is always included in the package but isn't always very helpful. Keep in consideration that we have mentioned models that come with poorly written user manuals.
Additionally, you may want to consider online help. Most professional models and most popular types we have explained above can be seen in videos and various manuals online, which will all help you install them more accurately and without any drawbacks.
Warranty
An average car lift will cost you between $1200 and $3000, meaning you do need a great warranty. A 24-month warranty on the parts is the best option and the most commonly provided by the manufacturers. A 1-year warranty is a decent option, but not great. Units with 6 months warranty are far from appealing.
FAQ
Can a car lift be used for any car?
Yes, it can be used for any car or a truck, but you will need to obey the maximum weight load limit. If it is followed, then any type of car and any size can be lifted easily.
Can I lift a truck using a car lift?
Yes, you can. However, in some situations, you will need adapters. These are additional elements that are not always included in the package, so you will need to purchase them additionally.
Which is a better, symmetrical, or asymmetrical car lift?
An asymmetrical car lift is better. It gives you more access to the car doors and makes using and fixing a car more comfortable.
Is there any maintenance required?
Yes, it is needed. You will have to replace hydraulic fluid and worn parts. This should be done by a professional.
Conclusion
We have tested over 10 models, and only 7 of them were good enough to be presented on our list. The Best Car Lift is right here, and you are ready to choose it from in the sea of options and possibilities. Make sure to include all the factors we have explained above, and you will find the best option with the best features you will like and use for decades. Read about more home garage equipment here.
Last update on 2023-10-01 / Affiliate links / Images from Amazon Product Advertising API