Stay Cozy Anywhere: Top 5 Best Propane Heaters to Keep You Warm
Propane heaters are one of the best things ever designed. They are compact, versatile, and they can be used literally anywhere. Well, almost anywhere. They work by using a compressed propane cartridge and burning it. As such, they are affordable to use, and they can be used where there is no other heat source. As you may know, already, there are a lot of different models out there, and we tested 5 most popular at the moment. There are a lot of facts you will need to know, so let's begin.
You may be also interested to check out our review of best infrared heaters.
Top 5 Propane Heaters Review
Table could not be displayed.
Heater F232000 MH9BX Buddy 4,000-9,000-BTU Indoor-Safe Portable Radiant Heater
Perhaps it has an interesting name, but this model is also one of the most popular and the best units money can buy. The first thing we will reveal is the compact size and being able to carry it anywhere you go. The handle is foldable, which makes it even better if you want to keep space in your car or a tent. The materials are strong and solid. There won't be any issues even after years of use.
Some of you will know that the tested model uses advanced features to protect the users. One of them is the low oxygen sensor. It means that the heater will detect when the oxygen level is low and turn itself off. However, this means that you won't be able to use it at 7000 feet of altitude or higher. It isn't designed for this purpose, and it is a common feature on high-end models. Anyway, we liked the overall safety this model has to offer.
You can get the additional hose and the filter if you prefer. In that case, the scenario always makes sure that the burner is far away from any flammable items and that there are no leaks. In addition, remove the gas cartridge once it is depleted. These safety precautions are standard and common for all propane heaters. The model we tested is one of the best units thanks to the advanced features, modern design, and all the essentials you will need. Keep in mind that the hose and filter we mentioned are sold separately.
Pros:
Safety features
Modern design
Available accessories
Tough construction
Low oxygen sensor
Cons:
Hose and filter are option extra
Odor is possible
AmazonBasics Havana Bronze Commercial Patio Heater
What if you are looking for a small and beautiful propane heater that is just perfect to use outdoors next to your patio furniture? Then you will need the AmazonBasics Havana Bronze Commercial Patio Heater. It is basic in design but stunning, and it more powerful than you may believe. For instance, the dimensions are 18×89 inches, but the power is 46.000 BTU. The model is powder coated and comes with an interesting design that allows you to use it literally anywhere.
We also liked the versatility besides the functionality. With 20 pounds cartridge, you will be able to use this unit for 10 hours without any loss of power or functionality. All you have to do is to place it wherever you like and start it. The heater will do the rest of the work instead of you, and we know you will be perfectly warm. Additionally, you need to follow safety procedures like in the first section. They are actually basic and should be used for all heaters of this kind.
The AmazonBasics Havana Bronze Commercial Patio Heater isn't great if you want a massive and powerful heater. It is designed to stay almost invisible and to make sure you are warm while sitting outdoors with friends or family. If you need a different color, you are good to go. This unit is available in 7 different colors, and all of them come with the same features and the same advantages.
Pros:
Available in different colors
Long-lasting gas cartridge
BTU is high
Fits nicely to any décor
Cons:
Sensitive top
Stability is poor
Dyna-Glo TT15CDGP 15,000 Liquid Propane Tank Top Heater – CSA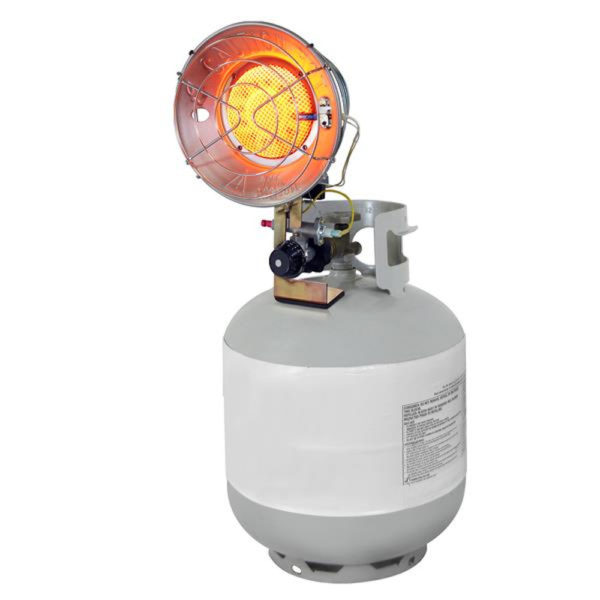 At first sight, the Dyna-Glo TT15CDGP 15,000 Liquid Propane Tank Top Heater – CSA is the weird-looking product. But, if you take a closer look, you will see that it is actually designed for outdoor applications. If you work or own a construction site, you will use this product, and you will get the best results. The maximum BTU is 15.000, but you can turn it down to 9.000 or use the medium setting of 13.000. It is up to you, and as you know, this depends on the outdoor temperature.
You will appreciate the fact that the unit comes pre-assembled and can be installed on any propane tank. All you have to do is to screw it down, and you are done. The heater will send heat to 20 square feet, and you can direct the heat using the overall design at the top of the unit. It is a nice addition that actually works and makes this model even more appealing. Of course, the tank doesn't come included in the package.
With a 20-gallon propane tank, you will get around 48 hours of heating performance. It will depend on the size of the tank and the setting you select. In general, you can expect between 30 and 55 hours of heating with a single propane tank. Once you deplete the tank, simply replace it, and you can continue. We will recommend this model for the users who need an outdoor heater to use while temperatures are low, and they need an extremely portable model. The design isn't advanced or anything like that, but this is a heavy-duty unit after all.
Pros:
CSA certified
Heavy-duty
Pre-assembled
3 settings available
Easy to use
The heat can be directed
Cons:
Simple design
Attention to detail
Heater F274830 MH18BRV Big Buddy Grey Indoor-Safe Portable RV Propane Heater
The 4th model on our list is also a very popular and appealing heater. There are a few advantages we will want to reveal to you. The first one is safety. This brand is known for the highest safety ratings in the industry and also for being the leader in this area. As such, you will like using the low oxygen sensor, and you will also have the sensor that will detect if the heater is tipped and shut it down immediately. In general, this makes the usage safer and easier for you.
When it comes to heating the area, you can use this model for up to 300 square feet. This is more than enough for most users, and there won't be any issues or anything similar. You have three different settings, which start at 4000 BTU, move to 9000, and the maximum value is 18.000. As you can see, this is a powerful model that can keep you warm at any given moment and literally anywhere. All you have to do is to turn it on and enjoy it.
The model is extremely practical, as well. Basically, it is similar to the first model on the list and has a similar design. You have a strong foldable handle, and you don't have to worry about any wires or anything like that. The model uses a centrifugal fan to send the heat all around the heater and keep all the people warm. It is an efficient system that has been used for decades and one that makes these heaters so popular and desirable today.
Pros:
Comfortable handle
Three different BTU settings
Centrifugal fan
Safety features
Durable construction
Cons:
Complicated to use
Some elements are made from cheap plastics
Texsport Portable Outdoor Propane Heater
The last model on our list is a very appealing unit that has been a popular choice by many people who are looking for an affordable and simple heater of this kind. The BTU is 2980, which isn't low, especially if you know that the entire model weighs around 1 pound.  The quality, on the other hand, is high. The unit is made from stainless steel and extremely durable. This metal is immune to corrosion and can withstand high temperatures.
We liked the overall simplicity and the fact this is a durable unit. It comes with a shut valve, which can make sure to turn off the gas when needed. In general, using the unit is extremely simple and can be more than just rewarding. Thanks to the stainless steel dish, the heater is able to send the heat in all directions and to make most out of its BTU rating. We believe that you will be more than just satisfied with the choice and you will use it all the time.
Keep in mind that it will be installed with a gas cylinder, and only then it can be used. There is no need to mention that the gas cylinder isn't included in the package, and you will need to get one additionally. This isn't an issue if you already have one in your house. Inserting the unit is easy, but we recommend you read the user manual before starting to use the heater.
Pros:
Small and compact
Easy to use
Appealing design
Lightweight
Stainless steel construction
Cons:
Poor customer support
Return policy
Choosing the best propane heater for your needs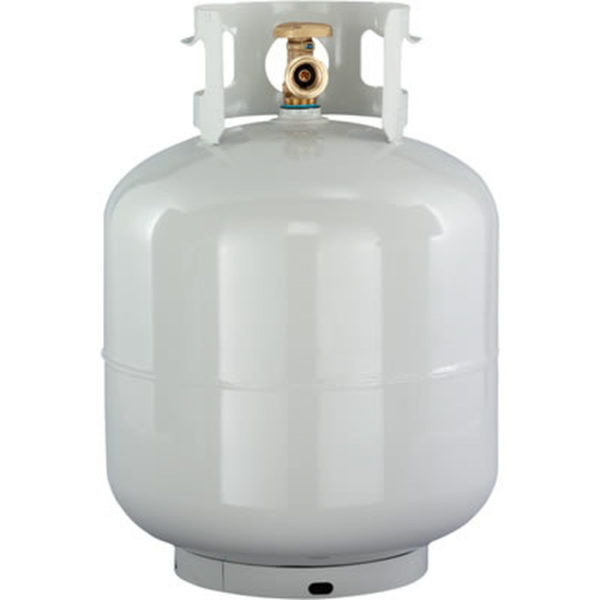 If you are still reading this, it means that you need one propane heater as soon as possible. This section will help you understand how to choose it and what you need to know before using it.
All models require a match to start the burning process. If you are planning to use one while camping, you need a match or a lighter. You also need to stay in a well-ventilated area and to make sure there are no flammable items next to the heater. The precautions are simple and straightforward, but we still recommend you read the user manual of your new heater and follow it to the point.
The next thing you will need to consider is the type of heater. As you saw, there are different types available on the market. Some of them are small and compact so you can easily move them and use them anywhere you want. Others are bigger, and you will have to make sure you have plenty of space while traveling in order to store your heater. It is up to you which one you actually need. Both types will keep you warm, and this is the main purpose, after all. However, we should add that more and more users choose bigger, as the first model on our list simply because it looks better and more advanced.
A propane heater will either require a gas tank or a gas cylinder to operate. There are no models that come with these elements, so you will have to get one additionally, although you can find kits that include the gas cylinder or several and a gas heater. Once again, they are known as the kits only.
One of the most important things to consider is the BTU. Basically, it refers to the temperature the heater can reach and the heating efficiency. The higher is better, and you can understand why. Don't forget that you need a model with adjustable BTU. As such, you can keep the temperature lower when the temperature is higher and vice versa.
Wall-mounted gas heaters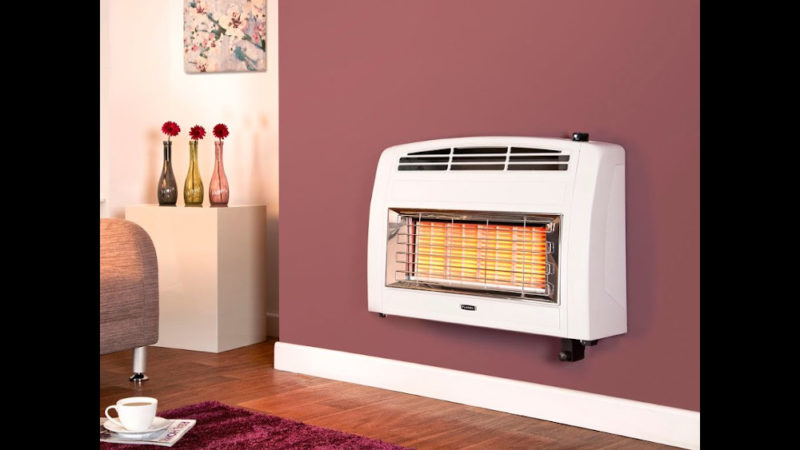 These heaters can be mounted on any wall, and they will heat the surrounding area. The main benefits are obvious, and you will appreciate it. The units of this kind are also more preferable if you have small children. They are safer to install and use, and they can be used in a garage, shed, cabin and etc. Of course, you can install on a tree in the garden or on your porch and get the most out of it.
Benefits and advantages of propane gas heaters
Below are the main advantages of these heaters presented to you. In a nutshell, they are extremely important and beneficial devices that can be used for all kinds of purposes and can be used literally anywhere.
A heater of this kind is an excellent method to keep your room warm at all times.
You can install one literally anywhere, even on a tree in your backyard.
They have fans who will send the heat evenly to all directions. Keep in mind that not all units have it, and some support a fan additionally.
You can keep any room or an area warm at any given moment.
There are a lot of models out there that are extremely affordable and come with advanced features and great quality.
A few precaution tips to keep in mind
There are a lot of tips of this kind we can reveal, but at the moment we will present you the most important ones. Propane is a gas without odor or color. This means that you can't see it nor smell it. Luckily in the recent period of time, manufacturers started adding artificial colors and smell to the propane in order to make it easier to notice by the users. It has been en effective method that has been with us for a few years.
The best thing to do is to make sure there is no gas leakage at any given moment. Always check the connections and the elements of the system and only then start the heater. Never use a damaged heater with broken components and don't try to repair parts all by yourself using a tape. This isn't an effective method, and you are at a higher risk of causing a severe injury, explosion, or something even else.
If you detect propane in the room or an area, there are a few things to do. The first one is to call firefighters. Always leave the room as soon as possible and make sure there are no electronic gadgets and tools plugged it. We will also add that you MUST NOT light a cigarette or use a match. If you do, you will cause a severe explosion. The point here is to stop the gas leaking as soon as possible and avoid using things, items, or gadgets that can produce a spark or an open flame. If that happens, the propane will ignite, and you have a major explosion.
These are basic precaution tips that should be used by all of you. You need to make sure that all the parts are working properly and replace the old heater after 5 years or sooner if there are damages to it. It is an affordable investment that will keep you safe and warm for a longer period of time.
Safety of propane heaters
Here is a video showing the test and demonstration of the safety of propane heaters when using the garage.
Conclusion
There is just one way we can use to explain the propane gas heaters. They are excellent. First of all, they are practical, affordable and they are useful. You can use them anywhere you like and as long as you want. They are also cheap to run and won't require any repairs or upgrades. They are eco-friendly as well. Now, choose a model you like the most and start using it immediately. You will be warmed than ever before. See more about garage equipment here.
Last update on 2023-10-01 / Affiliate links / Images from Amazon Product Advertising API