5 High-Capacity Engine Hoists for Heavy-Duty Lifting: Our Comprehensive Review
Welcome to our best engine hoist review! Anyone who's ever experimented around cars and their repairment, whether for personal fun and enjoyment or out of necessity, knows how difficult it is to reach and lift certain parts of your vehicle. If you have ever tried to lift the engine, you probably know what I am talking about. This task is everything but comfortable, and it is almost impossible to get it out safely without damaging it or having your and your buddy's muscles fail you at some point. "No pain, no gain, right?" Well, not exactly. At least not in this case. See more garage equipment here. In case you are also interested in car lifts check out our best car lifts review.
If you are often repairing or you are planning to open a garage car repair business, probably the best investment you can make is to get yourself a decent engine hoist. Engine hoists or cranes are specifically designed to help you lift, move, and put engines back in place. Now, there are plenty of them on the market, but not all are as handy as their manufacturers deem them to be. This is why I did a little research. On my quest to find the best engine hoist, I have found some solid ones you can confidently use in your garage, knowing that they won't fail you or damage the engine. Here is the list of top 5 best engine hoists that won't disappoint you.
Top 5 Best Engine Hoists Reviewed
Here is the comparison table which shows you the selected engine hoists that were reviewed and how they compare one to another:
Photo
Editors Pick





Product Name
Dragway Tools 2 Ton Folding Hydraulic Engine Hoist Cherry Picker Shop Crane Hoist Lift
OTC 2004 4,000 lb. Capacity Folding Engine Hoist / Shop Crane
Performance Tool W41029 Folding Wheeled Engine Crane for Vehicle Maintenance, Yellow, 2-ton Capacity
Sunex International 5218 1.5 Ton Foldable Engine Hoist
CLIENSY 2 Ton Red Color 4400 lb Folding Engine Hoist Cherry Picker Shop Crane Lift
Editors Pick
Photo

Product Name
Dragway Tools 2 Ton Folding Hydraulic Engine Hoist Cherry Picker Shop Crane Hoist Lift
Photo

Product Name
OTC 2004 4,000 lb. Capacity Folding Engine Hoist / Shop Crane
Photo

Product Name
Performance Tool W41029 Folding Wheeled Engine Crane for Vehicle Maintenance, Yellow, 2-ton Capacity
Photo

Product Name
Sunex International 5218 1.5 Ton Foldable Engine Hoist
Photo

Product Name
CLIENSY 2 Ton Red Color 4400 lb Folding Engine Hoist Cherry Picker Shop Crane Lift
1. Dragway Tools 2 Ton Engine Hoist

Dragway Tools Engine Hoist is a folding engine crane made of thick steel, constructed to be able to lift up to 2 tons of weight, which is precisely what a decent engine hoist should be able to do. It a hydraulic model constructed to be easily moved when needed, with six rotating wheels designed to resist the pressure of the weight and allow for simple transportation from spot A to spot B. There are six quality caster wheels attached to the structure which are geometrically arranged to carry the weight of the construction and the engine, distributing the pressure equally and preventing damage. Because it is made of quality steel, which makes it a reliable and durable tool to have around when operating around cars and semi-truck types of vehicles. To quote my hoist dealer rightly said, "Reliable is what you ultimately want in a hoist." I couldn't agree more. The model comes with a 12 inch forged steel chain and a bottom range of 102 inches. The vertical mast is made of thick steel for sturdiness and durability. This Dragway Tools engine hoist comes with a 5/16 inches hook, which allows for easy maneuvering and lifting.
Pros:
A heavy heavy-duty engine hoist
Easy assembling
Folds for easy storage
Easy to move around and use
Cons:
Hardware is not packed correctly and may need replacement.
Affordable
FAQ:
Can the item be disassembled for storage?
The item is partially foldable, which makes it more convenient for storage, but it also can be fully disabled and reassembled when needed.
What is the weight of the item?
The hoist weighs 165 Ibs.
What is the distance between the hook and the jack?
The distance is 62.5 Inches.
Can leg extensions be removed?
The manufacturer says, "Leg extensions are removable, but removing them prior to using the hoist is not advisable or entirely safe." You can remove them, but you shouldn't if you want to stay safe.
2. OTC Folding Floor Crane

With 4000 pounds of capacity and a boom reach that goes from 25 inches to up to 46 inches, this engine hoist from the OTC family is a specialty tool that can easily become your best friend in lifting heavy engines. Due to its construction, it can safely remove or put back the engine without having to do the heavy lifting yourself. When it comes to this one, I was told that "if you were looking for an engine stand that's easy to work with and will last, this is it." The truth is, this heavy-duty tool is sturdy, no doubt about that. It has a boom retracted, and with the bottom extended, when working, you can count on 1000 pounds of capacity. It is suitable for operating with smaller floor spaces, as this tool is foldable and easily adjustable. It weighs 40 pounds and has a solid construction, which ensures safe maneuvering with heavy objects. Although engine hoists are sturdy, this item is made to be foldable and allows for easy storage. Because this is a compact engine hoist of 61x9x29,5 inches, it doesn't take much floor space when stored. The front wheels have 5 ⅞ inch rear casters and are carefully designed to carry the weight of the construction and the engine. It comes with a user manual, which allows for simple use even for those who are operating with an engine hoist for the first time.
Pros:
It's compact
Folds for easy storage
4000 pounds of capacity
Suitable for smaller spaces
Retractable boom
Cons:
Pricier than some other hoist engines
May not be suitable for larger engines
FAQ:
Does the hoist come preassembled?
This engine hoist requires assembling and comes in pieces.
What are the dimensions of the crane when folded?
When folded, the crane takes 16″ x 17 ½" of floor space.
What is the shipping weight?
The shipping weight is 253 Ibs.
3. Performance Tool 2 Ton Hydraulic Engine Crane

Coming from a trusted Swiss manufacturer and designed to lift up to 4000 Ibs, this hydraulic engine hoist is a high performing patented tool created for garages and repair shops. Thanks to the adjustable boom, it allows for easy angle regulation for better reach of the engine. It comes with a solid steel hook and a chain specially designed to lift heavy engines and resist breaking or deforming under the pressure of the weight. With an appealing look, this automotive mechanism is not only a useful tool but a nice asset in every professional garage. Because legs are made to be foldable when needed, this engine hoist leveler is compact and easy to store, saving a lot of valuable space in the repair shop or garage. The structure is made of top-quality steel and weighs 227g, which provides necessary stability when maneuvering with engines. To back up the quality they promise, the manufacturer provides a full warranty that is available when using by authorized dealers, and this makes the Performance Tool 2 Ton Hydraulic Crane a worthy investment.
Pros:
Folds for easy storage
2 Ton capacity
Comes with a manufacturer's warranty
Adjustable boom
Cons:
Pricier than some other hoist engines
The construction may be prone to rust if unkept
FAQ:
What are the parcel dimensions?
Parcel dimensions of this crane are 17.8 x 10.2 x 10.2 cm.
Is this engine crane durable?
Yes. This engine hoist is made of quality materials and specifically designed to carry a heavy load, such as a car engine.
What is the shipping weight of this engine hoist?
The shipping weight is 10 pounds or 4,6kg.
4. Sunex International 1.5 Ton Engine Hoist

Sunex International engine crane is a corded, electric version of automotive models and a hoist that performs faster than some other available on the market. It is a heavy-duty tool that comes in two boxes and a warranty provided by the manufacturer. Thanks to smart industrial design, it adapts easily to any engine shape and can lift up and move up to 4000 pounds of weight. It is a combination of the solid main body, a handle with rubber grip for secure handling, four front wheels, a swivel hook, and a chain, which can be easily attached or removed from the engine. The jack on this model is hydraulic, meaning it can move the boom faster when not carrying a load. The boom itself can be driven in four different directions, which makes it a highly versatile tool. Both the legs and the boom can be folded when needed, which gives a lot of free space in the storage and makes this crane easy to put away when not used.
Pros:
Foldable legs and boom for more accessible storage
The boom is easy to maneuver with
Can lift up to 4000 pounds
Includes a manufacturer's warranty
Cons:
It is pricier than some other models
The tools come in a lower quality case
FAQ:
What is the country of origin?
This engine hoist is manufactured in China.
Does the hoist come with additional equipment?
Yes. The hoist comes with parts needed for assembling, additional accessories, and a pressure gauge.
What are the weight and the dimensions of the item?
This engine hoists weigh 0.48 ounces, with a shipping weight of 215 pounds. The dimensions are 48 x 20 x 48 inches.
5. CLIENSY 2 Ton Engine Hoist

Made of heavy gauge steel that ensures the stability of the structure at all times, this 2-ton hoist is a tool to rely on. Being a 4400 Lb folding crane, it is heavier than some other options available on the market, which adds to the necessary sturdiness engine cranes should have. It is a certified heavy-duty crane you can adjust in four different positions, and these are 0,5 ton, 1 ton, 1,5 tons, 2 tons, depending on the weight of the load it is intended to carry. The model has six fully rotating wheels supporting the structure, which make moving the hoist easy. Because the legs are positioned low, this is the tool that gets under the vehicle without threatening to damage the bottom and without having to lift and disassemble parts of the car. Ultimately, as it was explained to me, "This is a multi-functioning tool, which works well with any type of heavy load found in the shop or garage and can be used to move other objects that weigh under 2 tons", which sounds great.
Pros:
Sturdy heavy-duty construction
Adjustable crane positions
360-degree fully-rotating wheels
CE Certified
Cons:
Needs assembling
More massive than some other engine hoists available on the market
FAQ:
What is the maximum lifting height?
With boom extension, the maximum lifting height of this engine hoist is 88 ⅘".
What is the boom height and extension capacity?
The height of the boom goes from 1450mm to 2300mm. The extension capacity of the boom is from 41 ⅘" to a maximum of 63″.
What kind of engines is the item suitable for?
Thanks to an 8 ton power unit, this hoist can lift almost any load that weighs under two tons and is suitable for lifting and moving gas engines and the majority of diesel engines.
Buyers Guide
How does an engine hoist work?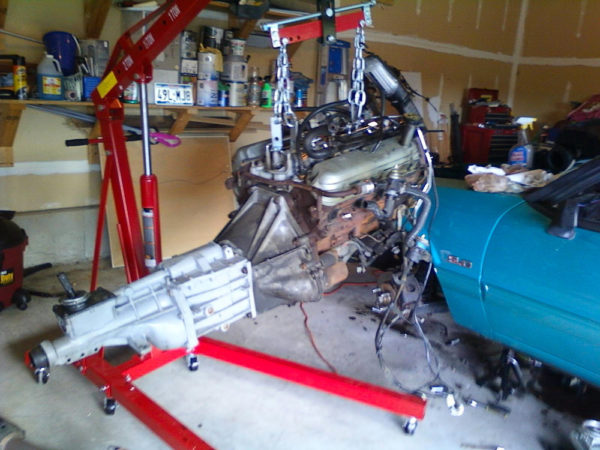 There are three main types of engine cranes, and these are electric, hydraulic, and chain hoists. Hydraulic engine hoists or cranes are the most commonly used type of hoists in car workshops and operate with hydraulic cylinders and are designed to lift a heavy load, such as a car engine. The critical elements of these tools which make them perform the way they do are the cylinder, the boom, and a winch. Engine hoists also have four to six wheels, which allow the hoist to be moved closer or further from the vehicle. The cylinder is filled with a special hydraulic liquid, frequently a hydraulic oil, which, for the crane to lift the load, needs to be under specific pressure. The pressure is increased by manual-pumping the winch, located along the spine of the hoist construction. Once the pressure is high enough, the operator can securely lift the engine from the vehicle. The structure has two legs divided at a specific angle, the spine and the adjustable boom with a hook and a chain, depending on the model. Lifting is possible when the boom and the pressure in the cylinder is high enough for the operation to begin, and hook safely attached to the engine. The weight of the engine is balanced out by the weight of the crane, the pressure and the geometry of the construction." Once the engine is lifted at the desired height, the hoist can be moved, and the engine lowered once the pressure is carefully decreased, which is done by adjusting the bleed valve', as simple as that.'
Electric hoist, although not as commonly used as the previous type, works automatically, without manual pumping, while chain hoists are always manual tools, and less frequently used for lifting engines.
How to choose the best engine hoist for you?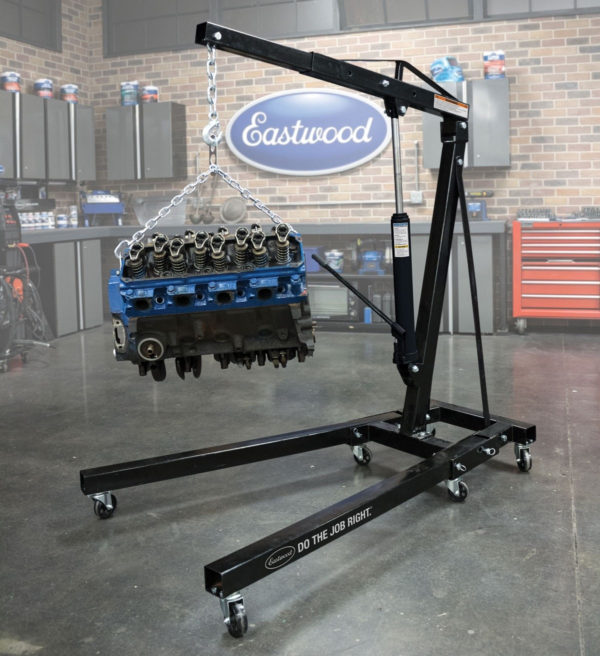 Hydraulic Hoists are typically the best option among hoists when it comes to lifting engines, as they raise at a quicker pace, are affordable, easy to operate, and have better lifting capacities compared to electric and chain hoists. The first thing to pay attention to is the weight of the hoist itself. Even though the weight of vehicle engines varies, where the weight of car engines can go from 150 pounds to up to 800 pounds, it is always a better option to go for the hoist that weighs at least 2 tons, which is still a better option than 1-ton engine hoist, especially if you are buying it for business purposes, as my friend says "If it ain't a 3-ton solid piece it ain't gonna lift". There are even bulkier options, so the bigger the engines you intend to lift, the bigger should the weight of the hoist be. It is wise to go for foldable hoists, primarily if you are operating with limited space in your garage or shop, as these are far easier to store than non-foldable ones. Boom is another element to pay attention to. It needs to be adjustable, and the more it can be expanded, the better, as this allows for easier maneuvering and makes the hoist and versatile tool. Legs should ideally be low set, so they don't hit or damage the car bottom or exterior, and the hoist should have a long reach.
How is an engine hoist used?
The engine hoist can be used both indoors and outdoors. Considering the hoist is adequately put together according to the user manual, to use an engine hoist, place it above the opened hood, with the hook and the chain being parallel and aligned to the engine. It is essential that the engine is entirely unattached from other car parts and wires and ready to be lifted and secure the hook to the chain or lift slings. Once the engine is secured, start lifting it from the vehicle by increasing the pressure in the cylinder by slowly and steadily manually pumping the winch until the engine is high enough above the car. With the load still attached, carefully distance it from the vehicle and move it to where you want to unload the engine. The engine is lowered by lowering the pressure by slowly adjusting the bleed valve. Lowering the engine is much faster than lifting, so consider this and pay extra attention to carefully releasing the load to prevent the engine damage while lowering it. Once it is dropped, release the hook and the chain and move the hoist away until the next use.
Here is a great video that shows you how to use an engine hoist:
What to pay attention to when buying an engine hoist?
A high-quality engine hoist is made of heavy-duty materials, where any plastic parts should be avoided. The general rule is that the sturdier the construction is, the better, as hoists need to lift sometimes up to 1000 pounds. Thick stainless steel is always a good option, especially if coated with an anti-rust layer, which will extend the life of the hoist. It is still better to go for a hoist that has rotatable stainless steel wheels covered in thick rubber, where models with six have a slight advantage compared to those with four wheels. Most models come with a compatible chain and a hook, where the hook and the chain should also be made of durable materials and thick enough to support the weight of the engine when lifting. The design should be such that the legs are narrower towards the spine for eh construction, as this relieves the pressure on the structure in the central area, and the boom is ideally fully adjustable and shorter than the legs. If you are from the US, for ensured quality and cheaper postage, choose the made in USA hoists.
Final thoughts
So, when you Goggle cheap engine hoist for sale have in mind that hydraulic engine hoists should be sturdy tools as they are essential. A worthy investment for anyone frequently dealing with and fixing engines and are the safest and most efficient way to move the engine, compared to much riskier alternative methods. Thanks to the adjustable boom and supporting wheels, it makes removing and placing the engine an easy task, where it takes only little skill and effort to set it up. This heavy-duty tool is designed to lift, transport, and lower heavy load requires minimum manual force to get going, doesn't make bills, and can serve in your garage for many years to come. And with this we will conclude our best engine hoist review.
Last update on 2023-10-01 / Affiliate links / Images from Amazon Product Advertising API