Top 3 Car Vacuum Cleaners to Keep Your Vehicle Spotless
How you can clean the interior of a car in less time? The answer is a car vacuum cleaner. There are over 10000 different models on the market and each one claims to be the best. In order to remove any illusion and make your choice as easy as possible, we were able to compile a list of 3 models that are simply stunning and come with all the essentials you are going to need. Of course, we will present to you the buyer's guide which should help you pick the one that is the best for you and your car.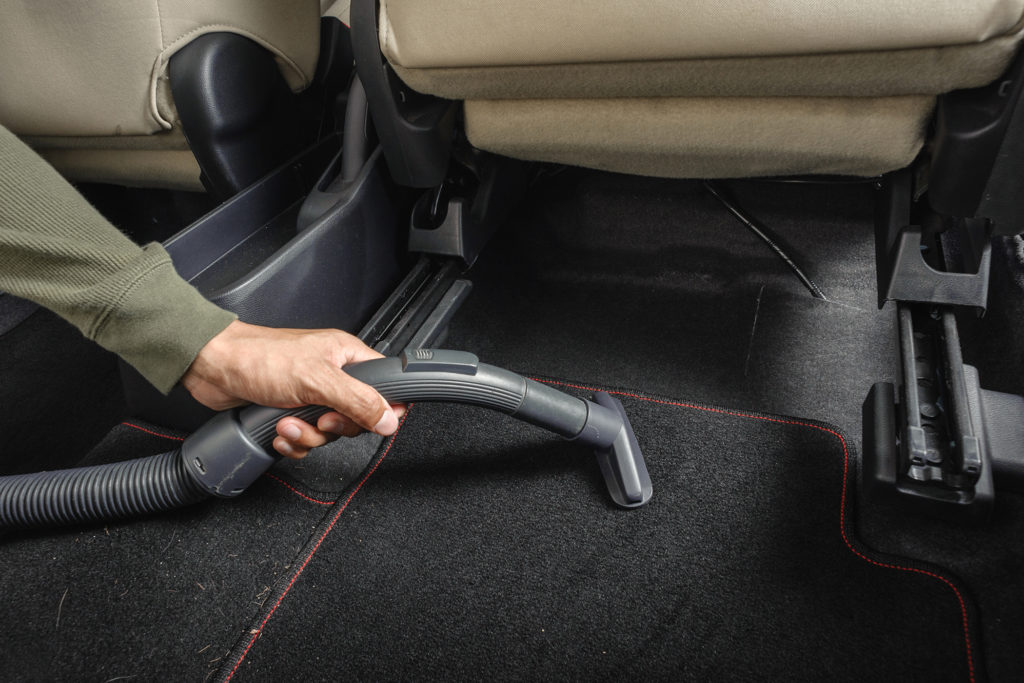 Top 3 Car Vacuum Cleaners Review
Table could not be displayed.
Car Vacuum, HOTOR Corded Car Vacuum Cleaner
The product we have here is based on the latest technology which makes it more appealing than you may believe. First of all, you get an advanced HEPA filter made from stainless steel. It can be washed and reused as long as you need it. There is no need to invest in a new HEPA filter ever again. Be free to include this criterion in your decision.
The vacuum cleaner works on the 12V power source and comes with an LED located on the top of the unit. This is great when you want to clean your car at night or when the visibility is poor. The LED is bright and you can use it all the time, obviously. The model comes with 16.4 feet power cord which makes it easy to use all around the vehicle, even on large family cars. The power is 108 Watts which is decent for most of us.
To clean the vacuum clean all you have to do is to remove the container cup below and empty it within seconds. In the package, you get 3 different nozzles so you can clean all parts of the car interior easily and effortlessly. We should add that nozzles are an important addition to each car vacuum cleaner and they should be considered as one of the first factors.
The tested model is an excellent choice if you are looking for a small, compact and versatile vacuum cleaner to use all the time. It has HEPA filtration which is impressive and it comes with all the features and essentials you will need. The design is an advantage as well. Although we are not biased, we should mention that the unit has one of the most appealing designs of them all. You will likely be impressed with it as well.
Specifications:
Manufacturer: Hotor
Dimensions: 14.9 x 5.3 x 3.7 inches
Weight: 2.44 pounds
Power cord: 16.4 feet
Nozzles: 3
HEPA filter: Yes
Wattage: 106
Amperage: 8.8
Voltage: 12V
Pros:
Powerful and effective
HEPA filter made from stainless steel
3 nozzles included
The power cord is long
Easy to clean
Modern design
LED light
Cons:
Bissell 3624 SpotClean Professional Portable Carpet Cleaner
The model in question is a bit different unit that is very popular at the moment. Over 3.500 people purchased it and all of them are perfectly happy with their purchase. There are valid reasons for that. In essence, the vacuum cleaner is powerful, bigger than usual models you can find in this category and more powerful. It is more sophisticated as well.
The first thing we will reveal is the power and versatility of the tested model. It can be used for carpets, rugs and car interior. The design allows you to remove the dirt, debris and also stains using the accessories included in the package. All of this means that you can keep your car interior perfectly clean at all times. The dimensions are 10 x 14 x 14 inches while the weight is 17 pounds only. This makes the unit versatile and compact. It is a corded model, keep that in mind.
The package is massive in the lack of a better word. You get a stair cleaner, 8 ounces cleaning formula that allows you to remove all the stains from literally any surface and the 5 flex hose. The hose is a very interesting element. It can be used for hard to reach places in your car or home and it is very easy to use. We liked the package and we can add that it is one of the biggest advantages this particular model has to offer. Other things and features we can mention include ¾ dirt container and 22 feet power cord.
So who of you will need this model? We believe that most owners who will order it are the ones who want to maintain their car and the garage and the house perfectly clean and they need a compact yet powerful vacuum cleaner. Yes, it is slightly larger than other models of the same kind but this can be an advantage as well.
Specifications:
Manufacturer: Bissel
Dimensions: 10 x 14 x 14 inches
Weight: 17 pounds
Power cord:22 feet
Hose: 5 flex
Cleaning solution included: Yes
Type: Corded
Pros:
Powerful unit
Versatile
Accessories included in the package
5 flex hose is an excellent addition
Cleaning solution in the package
Long power cord
Stair cleaning accessory is included as well
Cons:
Expensive
Bigger than similar models
Armor All 2.5 Gallon, 2 Peak HP, Utility Wet/Dry Vacuum, AA255
Armor All 2.5 Gallon, 2 Peak HP, Utility Wet/Dry Vacuum, AA255 is a more advanced vacuum cleaner. The first and foremost we should mention that it can be used for cleaning dirt and fluids. This is possible thanks to the interesting design and the implementation of the latest technologies. The vacuum cleaner comes in a massive package that includes brushes, accessories and all you will ever need. It has a tank with a capacity of 2.5 gallons that is made from polypropylene. The vacuum cleaner will stop working once the tank is filled.
The power cord is 10 feet long which isn't the always sufficient length but will probably be sufficient for most of you. It is a corded model that can be plugged into a wall socket in your garage and it will work perfectly. One benefit here is the power of the electric motor. It has 2HP which is more than most other models available. You can feel that power while using the vacuum cleaner and you will complete all the related tasks in less time. The motor is paired with a sound diffusor which basically makes the unit quieter and more appealing to use.
The model is 10.6 x 14.2 x 14.4 inches in size and weighs only 7 pounds. This makes it incredibly compact and versatile. It is easy to store and can be used within seconds. You will have a great time using this model for all purposes you have on your mind and you will be able to enjoy using it for years thanks to the great level of quality and a great warranty.
The vacuum cleaner we have here is more appealing for homeowners who want to keep their garages and car clean and free from dirt or liquids. It is more powerful than average units for this purpose and it comes in a package that includes all the accessories you will need. An interesting fact is the size and weight which are both kept to the minimum.
Specifications:
Manufacturer: Armor
Dimensions: 10.6 x 14.2 x 14.4 inches
Weight: 7 pounds
Tank: 2.5 galloons
Materials: Plastics, metal, PU
Type: Corded
Power: 2HP
Warranty: 2 years
Batteries: No
Pros:
Very powerful model
Easy to use and versatile for all car and garage-related applications
Can be used for dirt and liquids
Auto shut down feature
Long hose
Available accessories
All the accessories can be stored on the vacuum cleaner itself
Cons:
Short power cord
Bigger than similar models
The best car vacuum cleaning  buyers guide
Before you make a decision and get a car vacuum cleaner, you should understand some of the factors and know why they are important. In return, you will get the best model which will serve you for many years without any issue and which will meet all your requirements. But, which factors you need to consider? They are all mentioned below.
Price range
It is a smart idea to set a range before you start looking for a new car vacuum cleaner. This simple trick will help you get the best model for the budget you can afford and will help you eliminate all kinds of potential units. It is a simple trick that is commonly used by consumers who want to find the best deal. You need to set a budget that will allow you to get the high-end model with all the features you actually need.
Size
Size is important for two reasons. You will be able to store your car vacuum cleaner into the trunk and you will be able to use it in narrower places. Keep in mind that portability is dependent by the type of vacuum cleaner and the dimensions. Corded models are usually more powerful and bigger while battery-powered units are smaller and more compact. They are also more affordable and can be used while on the go.
Power output
In this case scenario, you need to consider the power of the vacuum cleaner. There are several differences and several options to choose from. The first one is for the corded models. They are more powerful and as such, you should aim for 2HP or more. The suction they offer is impressive and can be compared with actual, house-focused vacuum cleaners. Models that are powered by a battery should provide a decent working time of 30 minutes or more. Other units you can consider should have 15Volts of power or more.
Power source
All vacuum cleaners can be divided according to their power source. We have corded and cordless models. Corded ones are more powerful and more appealing to use for heavy-duty operations. They are bigger so maneuverability may be an issue. On the other hand, you will be able to clean the car from all the dirt in less time. Cordless models are smaller and they are designed to be as practical and convenient as possible. You can use them as an addition to a regular vacuum cleaner or reach tight and narrow places. It is up to you. In general, corded models are more versatile and more expensive while cordless are smaller and more compact. In the ideal world, you would have both types.
The battery of the unit
This factor obviously refers to the battery-powered models only. You need to consider a unit that can last at least 30 minutes or longer with a single battery charge. This is the average period of time you will need to clean the car and make it free of any dirt or debris. In addition, we liked models with a battery indicator. It is a helpful way of knowing when to recharge the battery and you need to do it before you start cleaning. The power of these models will decrease as the battery drains and therefore make cleaning impossible once the battery is almost drained.
Overall design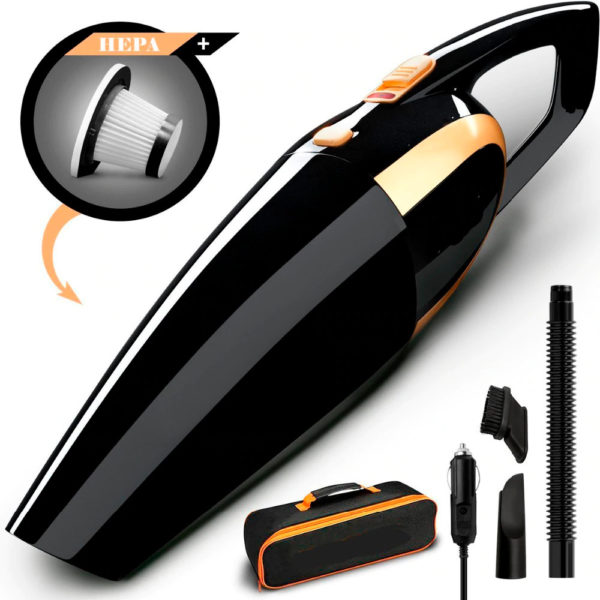 The design can be defined in two ways. First of all, you will want a modern and nice looking vacuum cleaner. They are more appealing to use and they look better in your garage or a trunk. The second thing to consider is the ergonomics. In essence, the best vacuum cleaners will be ergonomic in design which allows you to clean the entire car without causing any fatigue. They are simply more rewarding when used and they can be used for older people or even children.
Suction capabilities
Suction refers to the ability of a vacuum cleaner to suck the dirt and debris. There are countless options out there and each one is different. The goal here is to find a model that can provide average or above the average suction. It will be able to remove all the dirt and debris from the car floor and it will make sure your car is perfectly clean in no time. The suction is linked to the power of the unit. More power usually means better suction.
Tank size
The tank size is used to define how much dirt you can keep inside the vacuum cleaner before you have to empty it. You will see that all the models have different sizes of the tanks so this matter cannot be generalized. However, we can reveal that most of you need a model with between 2 and 6 gallons of tank size. Those units are very versatile and can be sued for a long period of time before you have to empty the tank. Believe it or not this is a more important side of the vacuum cleaners and the one that needs to be considered as soon as possible.
Auto-shutdown feature
This feature simply means that you can use the vacuum cleaner as long as needed without having to worry about the full tank. Once the tank is filled with dirt and debris the vacuum cleaner won't start. It is a safety feature that prevents spilling of the dirt and makes use simpler. Keep in mind that not all models come with this feature so you will need one that has it implemented into the design.
Weight
Overall the weight of vacuum cleaners varies significantly depending on the power and the size. Your model needs to be between 2 and 7 pounds in weight. The unit of this weight is reasonably easy to use and can be used for all the purposes you have in mind. And yes there are a lot of models that can meet the criteria. They are constructed from lightweight materials that are tough and strong so there won't be any issue present.
Filtration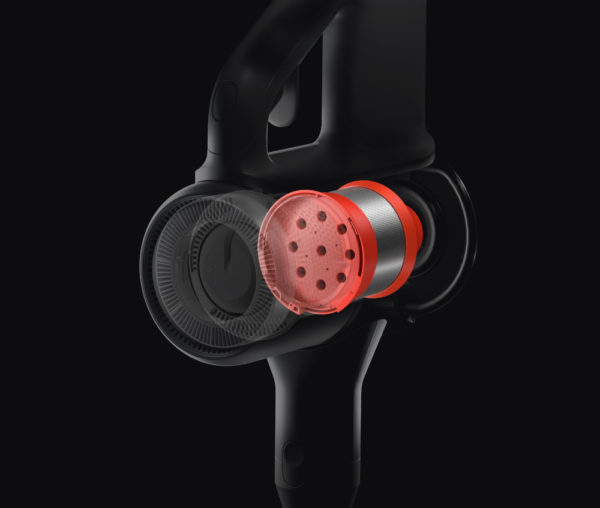 Filtration is something we all consider as the top priority. In the world, there are countless types of filtration used to make sure the dirt stays in the tank. You need to consider this as one of the top priorities. The HEPA filtration is the best due to the fact it removes 99.8% of all particles. It is the one we liked the most and the one that we recommend for all of you. You can have a model that comes with a steel filter that doesn't have to be replaced or a paper one that will need replacement. It is up to you.
Accessories available and included
Accessories are something that can make a vacuum cleaner so much better. Look for additional brushes, hoses, and accessories that can make your unit be more versatile. As you were able to see earlier, some models come with an accessory for cleaning the stairs, while others come with accessories to remove hard to reach areas. Because they are already included in the package and you don't have to pay for each accessory they are worthy addition to consider. Always take a closer look at the ac accessories that are present with that model and make sure to get as much as possible. You never know when you will need one.
Dry and wet cleaning
Some vacuum cleaners can be used for solid dirt only. They are the most common of them all and they are also very affordable. But, others can be used for dirt and liquids and in some cases you will need to consider this type. The main purpose is to be able to clean the car interior from all the threats and issues spilled there. If you have small children you do need this feature and you will have to consider only models with it. The best part is the fact models that can be used for both types of cleaning are not very big and they are compact in size, practical and reasonably affordable.
Warranty
Warranty is always something a consumer should consider. We liked vacuum cleaners that come with longer warranties. In general, you will know that that unit is well-made and it can last for many years. Add the affordable price and you definitely have a well-made model. We can't specify which duration of the warranty is the best but in general, most products come with 2 years of warranty, which is decent. There is no need to add that models without a warranty should be avoided.
Power cord length
It makes a vacuum cleaner limitless or it will limit its use. A model with a power cord of 20 feet can be used all around the car, even a large vehicle. A model with 6 feet power cord can't be used and you will need an extension cord and more time which can be annoying. All you have to remember is that all vacuum cleaners that are paired with longer power cords are more versatile and easier to use. They are recommended by us.
Customer support
In case you need some issue solved or you need the additional help customer support is the first thing that will be used. As such, always pay close attention to the models that have outstanding customer support. These days most of them are available all the time and they are free so you can solve the problem with professional help in no time. Of course, we were referring to professional help agents that know their products and can assist you over the phone.
On-unit storage
This feature is borrowed from the standard vacuum cleaners. In allows you to keep all the accessories on your vacuum cleaner at all times. As a result, you can easily switch to another accessory and use a vacuum cleaner for a different thing.
How to vacuum clean the car
Here is a video giving you quick tips and tricks on how to vacuum your car interior efficiently:
Conclusion
All of the vacuum cleaners mentioned above are high-end products that are made to impress you. We tested them in real life and we provided you with honest reviews. In addition, there is also a buyer's guide present above so make sure to read it before you decide which one is the best for you. We have listed all the factors that we used while testing car vacuum cleaners. Read more about garage equipment.
Last update on 2023-10-01 / Affiliate links / Images from Amazon Product Advertising API