5 Free Garage Door Opener Apps for your Smartphone
We all love technology, and we want to keep track of the latest developments. As you are well aware, the technology applies to all spheres of life. One of them is linked to garage door openers. Now you can download and install a simple app free of charge and control your garage door using the smartphone. Below are 5 apps that stand out from the crowd and come with great features.
See more about garage door openers here. We have also done a review of the best garage door openers.
Tap It Open Garage Door Opener App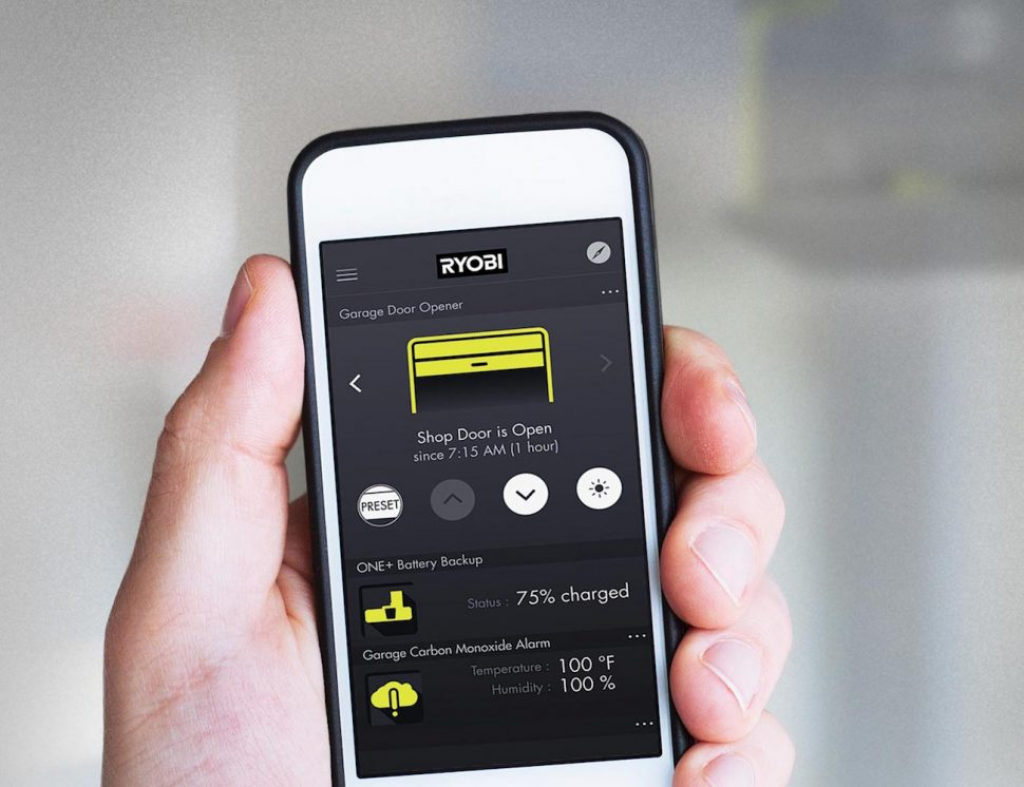 Tap It Open is one of the more popular apps. At first sight, we can see that it uses Bluetooth to control the garage door opener. The app itself is developed for Genie garage door openers, so you will need this type of garage door to use the app. It is available for all Android smartphones and tablets.
Some of you may believe that because it uses Bluetooth, it is obsolete. On the contrary. Using Bluetooth is an advantage. The app is extremely safe to use and will also require a password from you to activate it. Only you can use the app, and now you don't have to worry about lost garage door opener controllers, etc.
The app is well-developed and includes all the main features you would expect. It is easy to use and will work on all smartphones and tablets. It must be added that the app doesn't require additional components or anything similar. You will need the garage door opener, a smartphone, and the app.
Pros:
Easy to use
Works on all Android devices
Intuitive design
Security
Cons:
iOS support isn't an option
Basic features
GoGogate 2 App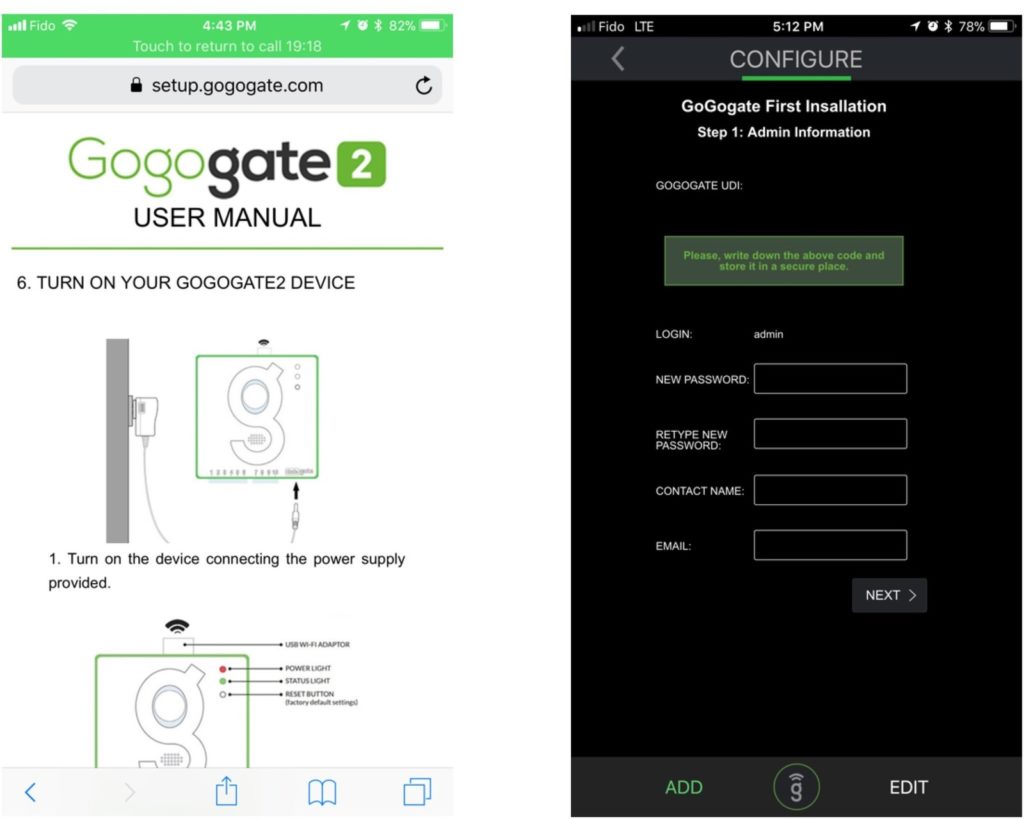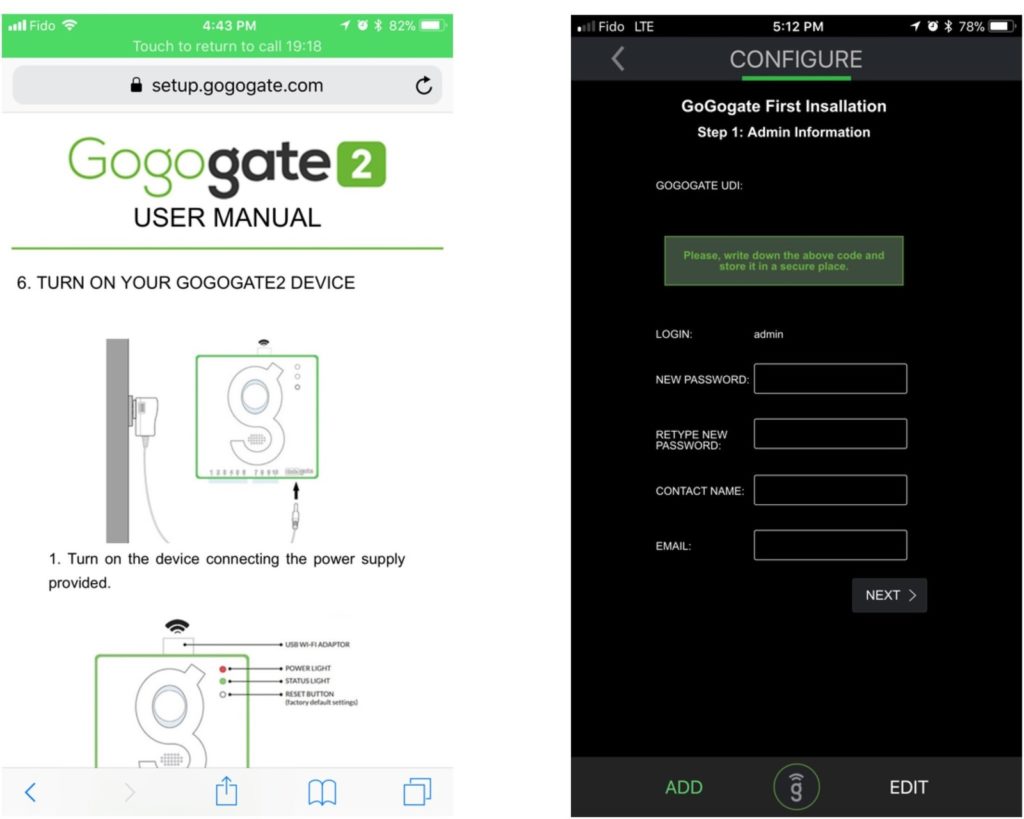 GoGogate 2 is a slightly different choice we have prepared for you. This isn't an app, but rather a device. It should be used with Skylink IFTTT protocol, and then you have all kinds of features at your disposal. The first set of features is standard. You can control the garage door opener, get notifications, and similar.
The second part of features is more advanced. You can check the temperature, battery health, and other things. The device and the app will work perfectly to make your life much more comfortable. You will get notifications when the door is used or when you forget to close them.
The system allows you to get complete control using Wi-Fi or internet cable. The installation is simple and will require just a few minutes of your time. The best part is the fact you can control the garage door using your smartwatch. If we know that this gadget is more than just popular, we can understand its importance. Last but not least, the app is compatible with iOS devices only.
Pros:
Useful notifications
Smartwatch compatibility
Wi-Fi or LAN connection
LEDs
Cons:
Complicated for some users
No Android support
Chamberlain's smartphone app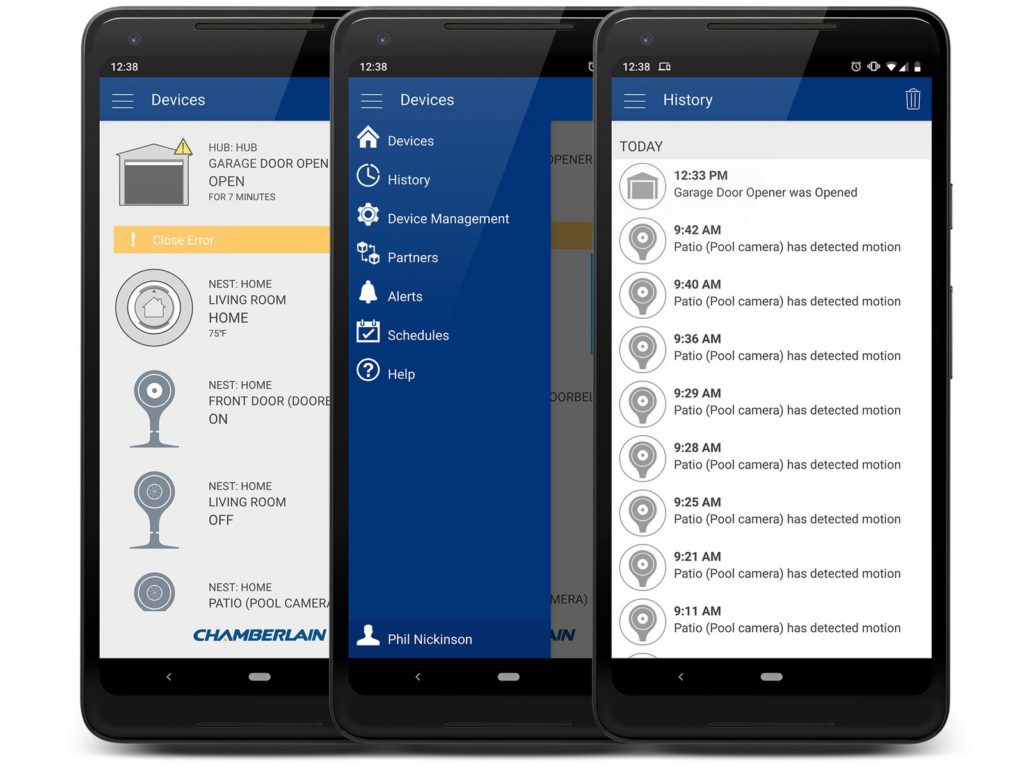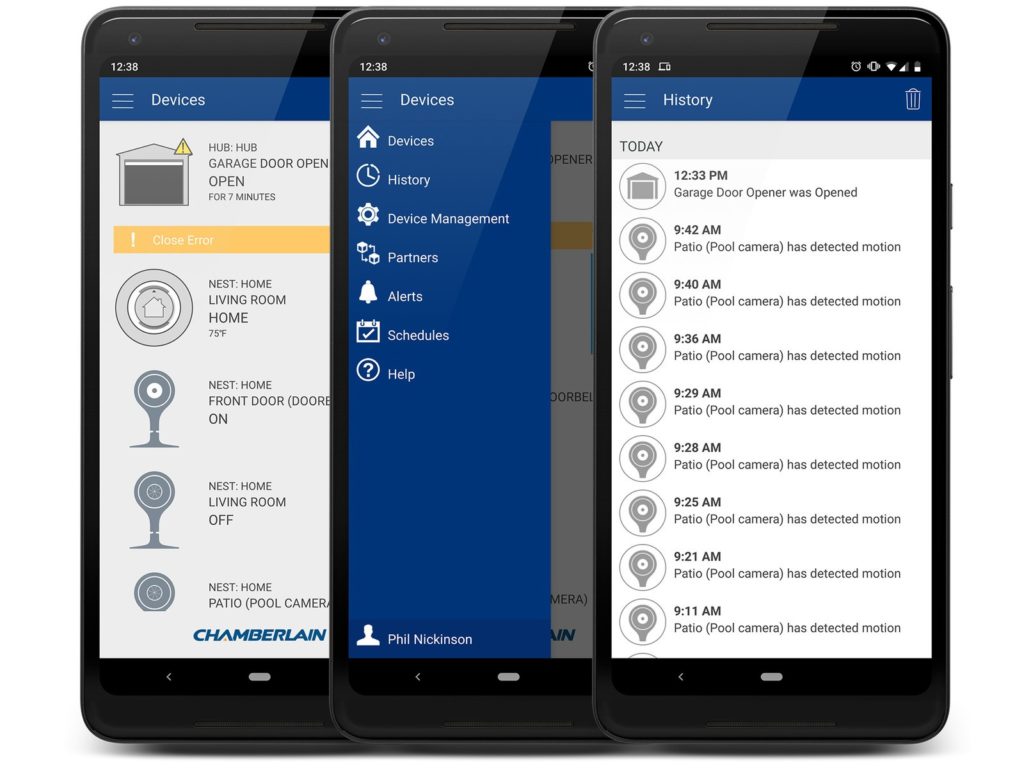 This app is one of the most advanced we were able to discover. It is superior, and it comes with all you will ever need. First and foremost, this is a MyQ Home app that can be used on any smart device. From the app, you can control the garage door openers (as many as you like), interior, and exterior lights. However, you need MyQ hardware to use the full set of features.
Notifications are available. They can be customized precisely as you like. This means that you can get a notification when the garage door starts opening or closing and make any adjustments you want. Yes, you can get announcements related to the lights as well. You can use the app to turn them on or off.
Within the app, you can add passwords and make your system safer and more secure. Besides, each user can adjust different security levels and make the entire system more suitable for his neighborhood and his specific usage. The new hardware can be added at any given moment, and there are no limits on how many items you can control.
Pros:
Multiple devices can be controlled
Users can customize the app and notifications
Adding passwords is useful
Controlling the interior and exterior lights
Cons:
Works only with MyQ Home hardware
Complicated to set up
GarageMate Opener App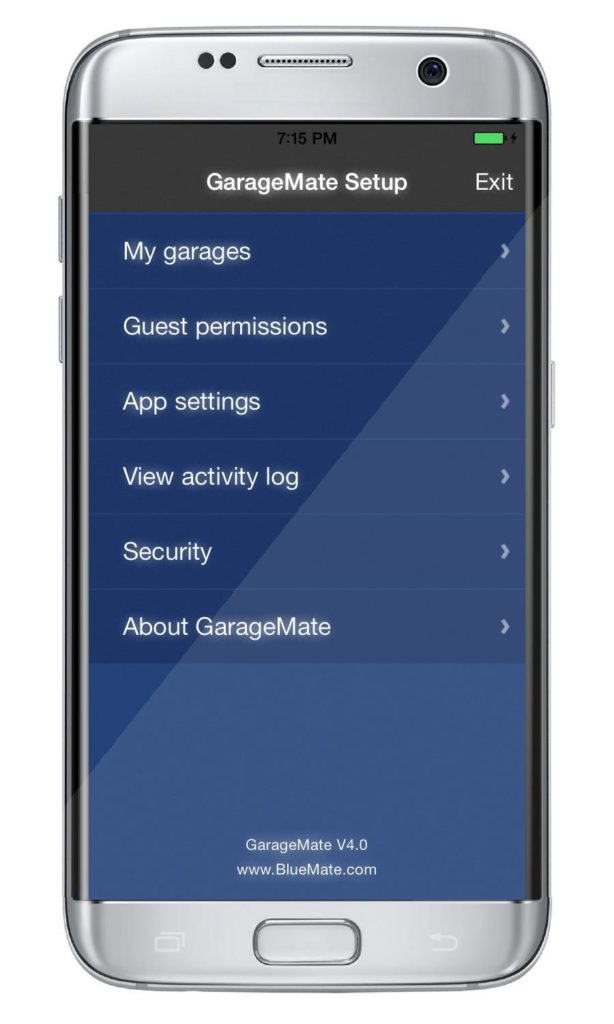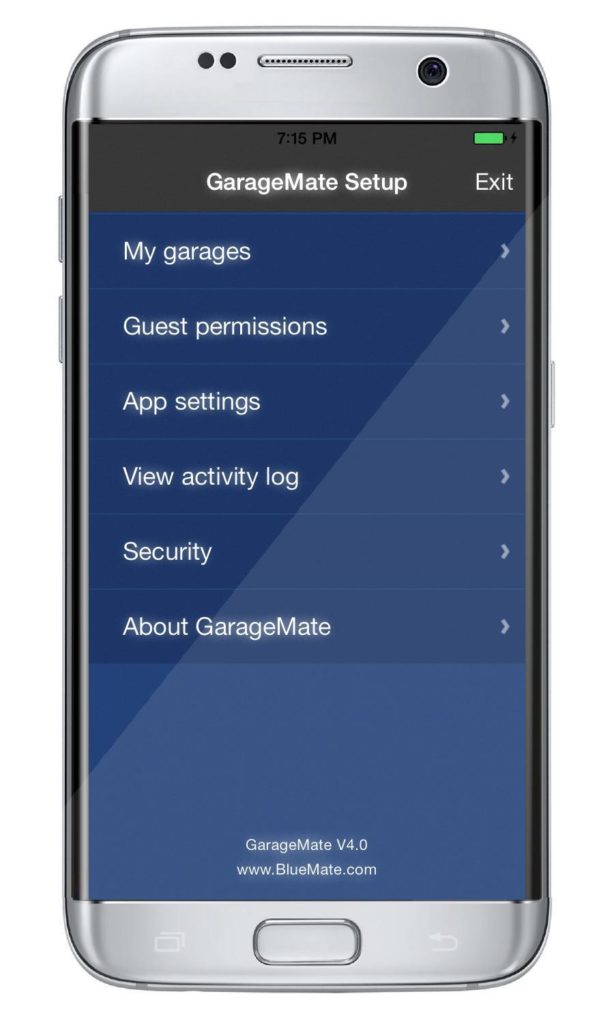 GarageMate is a stunning app that will work with any smartphone on the market and with any garage door system. The manufacturer made it compatible with the Bluetooth 4.0 found in Apple smartphones and Android 4.4.3 present in Android devices. To use the app, you will need a GarageMate receiver. It is added to the garage door opener, and it should be plugged into a socket.
There is no limit on how many garage doors you can control. You can add as many as you like. But, the unit will operate with your smartphone only, using the Bluetooth connection. If your friend or another person wants to open your garage door, you will have to permit him to do it.
The entire system is easy to use and extremely safe. It will work with all the systems you can have today, and you can install the receiver without reading the user manual. The app is basic and will get the job done without any issue. We recommend it for families where Apple and Android devices are commonly used.
Pros:
iOS and Android compatibility
Overall safety and security
Supports the latest Bluetooth version
Works with any garage door opener
Cons:
Lack of advanced features
Issues with older devices
OpenSezMe App for Garage Door Opener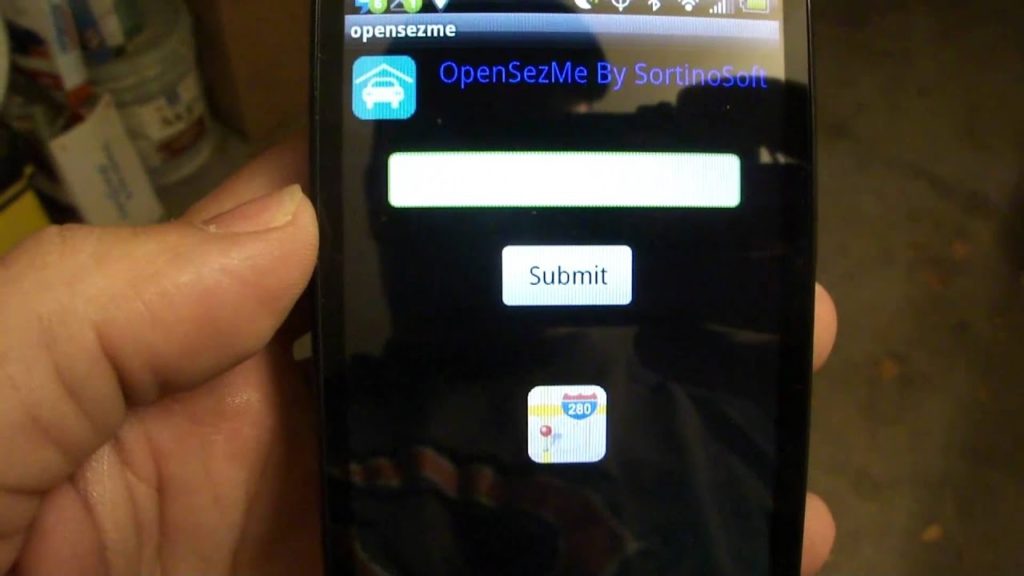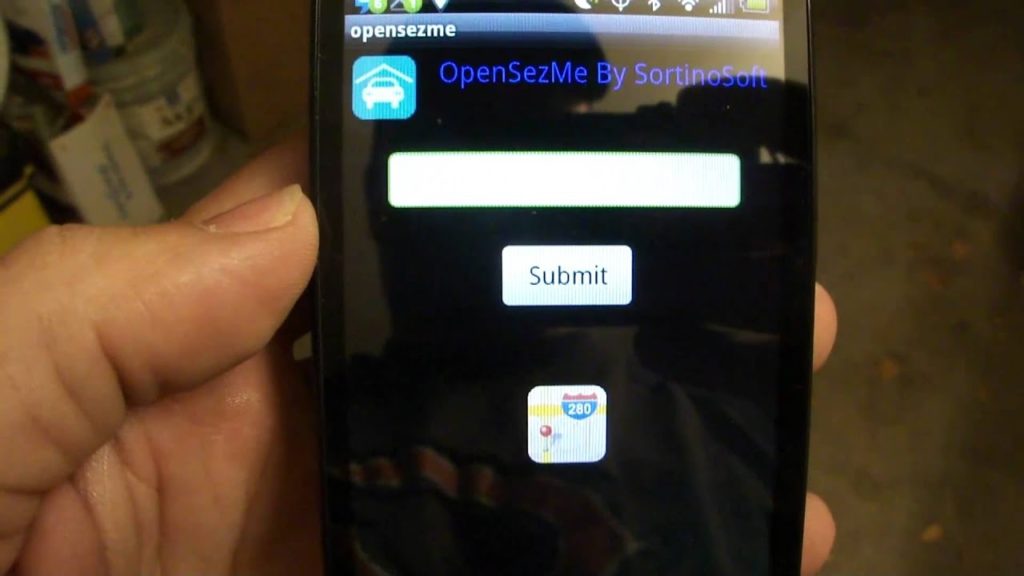 This app will use mobile data to connect to the garage door opener. As such, it doesn't support Bluetooth, which can be an advantage if you have an older device. However, the app will use biometric security protocols to ensure that the highest level of safety and protection is present at all times. You don't have an option to set up patterns or PINs.
The app can be linked to any garage door opener, but it runs only on Android devices. Once connected, you will be able to control the garage doors literally from anywhere in the world.
The app comes with the highest safety and simple design. It corresponds to users who need these things from an app and who want to use a data connection rather than Bluetooth.
Pros:
Uses data connection
Garage door opener compatibility
Biometric security
Doesn't require Bluetooth
Cons:
Obsolete user interface
Limited options
The final word
These apps will use either Bluetooth or data connection to link to the garage door opener and allow you to control the door without a need for a remote controller. We only used high-end apps with the highest level of safety and the best features. You can choose the one that matches your criteria and start using it today. Now you can implement the latest technology into your garage door opener.
If you need more help, see How to use Smartphone as a Garage Door Opener?