Tips for Storing your Shoes in a Garage
If you have a single pair of shoes, this articles isn't something you will have to read. But, if you are like most other people and you have countless pairs of shoes you are in the right place. Shoes are messy when not stored properly and they occupy a lot of space. Your closet is probably filled with them and with pairs, you will wear once a year. This is the article which will help you store all the shoe in your garage properly and get the most out of the space you have.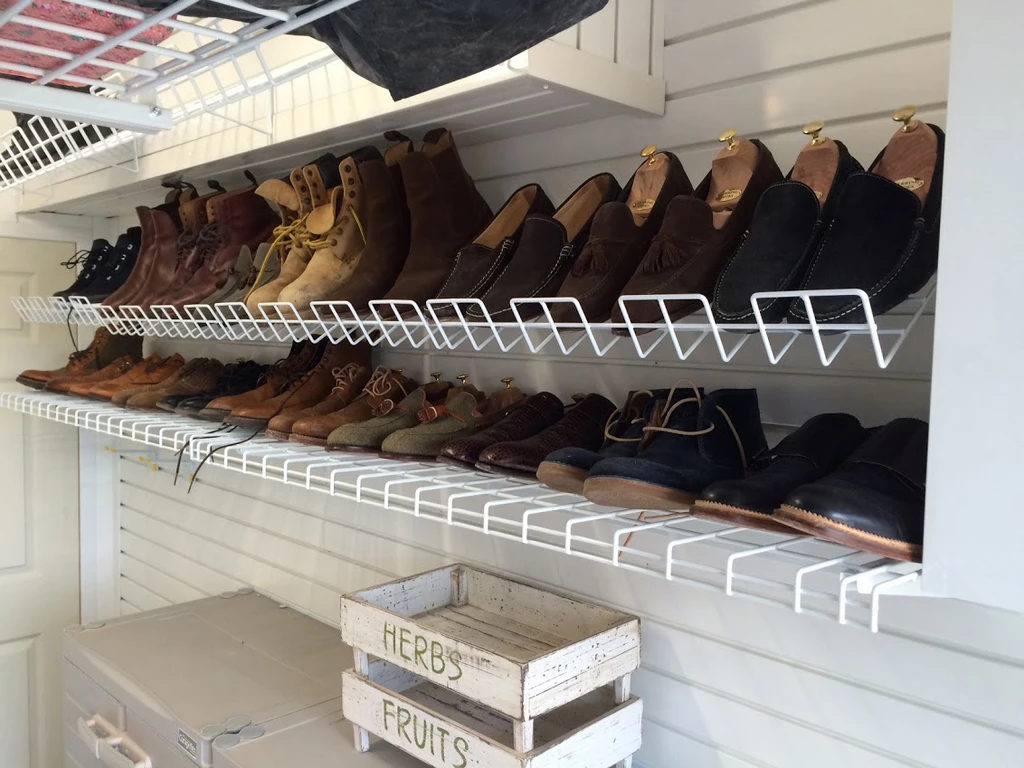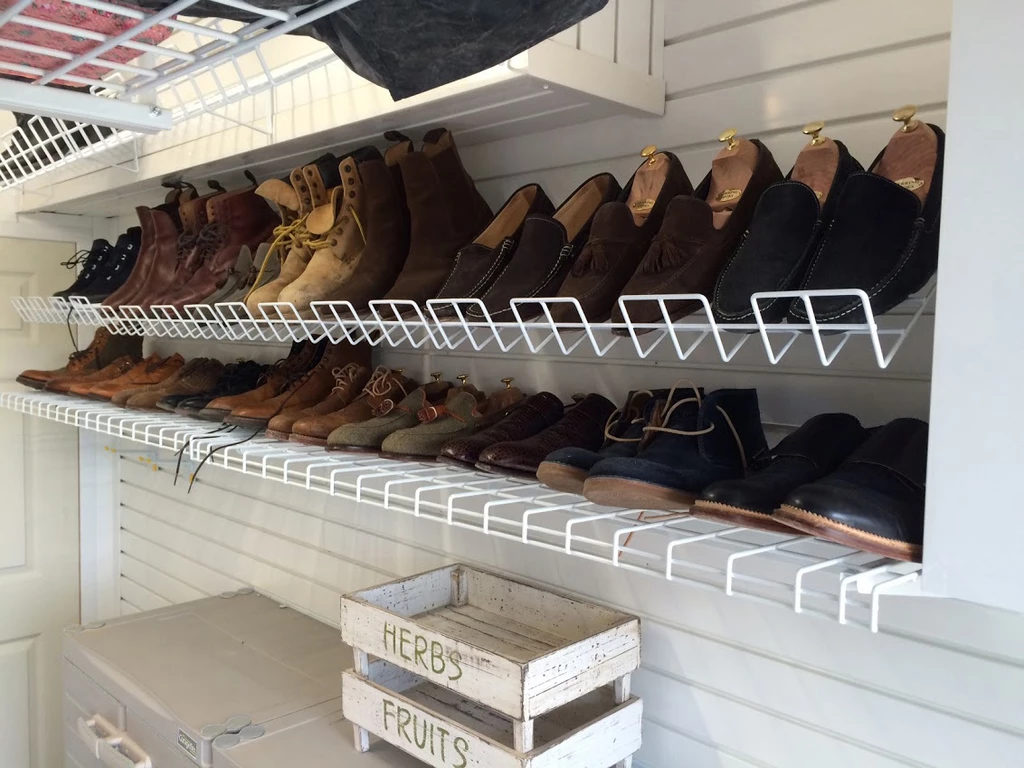 The importance of the garage chose storage
The main reason why you would consider what we have to say here is space. As aforementioned, when aren't stored properly, shoes occupy a lot of space and they are messy to keep and store literally anywhere.
Luckily with a few simple tips, you can store all the shoes you have in a garage. Keep in mind that we are referring to the works shoes, dancing shoes and etc. Below we will guide you through the process and reveal all the main factors and tips you can use starting today. The end result is more space all around the house and garage. You will also keep all the shoes in one place and make sure they are ready for you at any given moment.
You may also be interested to read How to Organize a Messy Garage?
Where you can store your shoes?
The best place is a garage and this is going to be our place of choice today. On the other hand, we can see that a utility room is an appealing choice as well. Bb using these places you will free the space in your house and you will be able to find any pair of shoes you like and you need.
Ideally, you will store them in a place in a garage within easy reach. There is nothing worse having to look for the shoes all the time and having to remove all kinds of items in order to reach them.
Which shoes need to be stored and where?
The main thing to remember here is that you can store different types of shoes in different zones of your garage. The first zone has to be designed and used by your primary shoes. They are the ones you will wear most of the time and they are usually light shoes, sneakers, slippers and etc.
The second zone you will need to use is a sports zone. Basically here you will keep all the shoes that are used for your hobbies or sports. If you like skiing, you will have suitable boots which will be located precisely here. The next time when you go on a ski trip you can get your pair within seconds. This zone is used by all sport and hobby-related shoes.
Golf and bowling shoes can be held in your club. This is the best place simply because you will be ready to go to the club without having to carry your equipment and you will be able to prepare yourself for the match within seconds. If you don't have a cabinet at the club, you will have to keep the shoes in the aforementioned zone.
What about wet shoes?
If you have wet shoes, for example, you like in an area where rains are common you can't store them immediately after taking them off. Mold can appear or the shoes will be wet the next time you want to wear this pair. The solution is to get a simple tray for all the shoes. The tray will be placed beneath the shoes and it will capture all the debris, water and etc. Empty the tray when it is full and you are done.
The second option is slightly more advanced and better. It is known as boot dryer and it is a simple gadget that will make your shoes completely dry within seconds. After they are dried you can store them without worrying about any issue. If you live in an area with plenty of snow and rain, this is a device you need.
The storage space is determined by the number of pairs you own
Most of us have around 12 pair of shoes. They range in type and purpose. But, some of you will have more, much more shoes to store. If you are one of them you do need a bigger zone for storing the shoes. Keep in mind that the size of the space is precisely determined by this factor. It is always a better choice to start with a larger storage area and increase it if needed than to start with a small one.
Your children have shoes as well and they need to be stored in this part of the garage. People who have 2 or more children need to maximize storage space as soon as possible. Soon you will have dozens of pairs that need to be stored properly within minutes.
Storing clothing in a garage
One, the important thing to consider is that you can store clothing in your garage as well. Of course, this refers to the raincoats, work clothes and etc. If you want to keep it next to the shoes, make sure to invest in coat hangers and containers that are designed for this purpose. Adding a cabinet or two is probably the best choice and you can attach them to the walls, keeping the floor space unchanged.
Affordable shoe garage storage solutions you need to consider
There are a lot of products of this kind and each one comes with its own set of pros and benefits. We were able to find 2 of them that are very affordable and appealing to use. They offer plenty of space and they can be used in any garage. Let's see them right now.
Seville Classics Resin-Wood Composite Shoe Storage Rack
This is an excellent product that has been used by thousands of users all over the world. It is extremely affordable, yet practical and it can be stacked up to 2 or 3 units or you can place them one next to the other. It has three shelves and you can fold the entire unit flat and store it when not in the use.
One of the additional benefits here is the fact you don't have to assembly the product. It is pre-assembled so all you have to do is to place it in your garage and it is ready to be used. The feedback from the owners is more than just positive. In addition, it is made from strong materials and can withstand heavy-duty usage.
Honey-Can-Do Bamboo 2 Shelf Shoe Storage Rack
The next product is actually made from bamboo. Some of you will know that this type of wood is immune to moisture and very strong. It has been used for all kinds of items for centuries. The storage product is more than just affordable and it requires basic assembly which won't be an issue for all of you.
Here we can also see that you can choose between 2 or 3 shelves version. We tested both of them and we are more than just pleased with the overall effect and the practicality.
Free shoe storage options
Yes, there are some free items you can use to store the shoes in a garage. The first thing is the cinder blocks and the plywood. Even if you don't have these elements in your garage you can find them almost free and make any shelf you like within minutes. The main benefit here is the freedom you have. Simply said you can store as many shoes as you like and you can make any storage you prefer.
The second option is to use an old bookshelf. There are all kinds of them that can be found in yard sales and each one will provide plenty of space. In addition, this method looks nice and more expensive than it actually is.
See more helpful tips in Tips to Maximize Garage Space.
What if you have too many shoes?
If you are like Imelda Marcos you will need advanced storage option. The woman in question is the wife of the former president of the Philippines. She has over 3000 pairs of shoes. Ideally, you will decrease the number by throwing away or selling old and damaged shoes. You can do the same thing for the shoes that won't be used in the future. Now you have fewer pairs of shoes and you can easily store them.
Of course, for some of you, this isn't an option. This means that you need to invest in several shoe storage cabinets and you can make a zone for keeping the shoes in a garage much bigger. It isn't a big issue and you will need time and basic elements.
The final word
The bottom line we can say is that you should use your garage for storing shoes as often as possible. This is a massive place where you can keep all the shoes you own and you can arrange them precisely as you need. Use the aforementioned options and maximize the space. Keep in mind that adding coat hangers and similar gadgets or items in the garage can have an even better effect and can help you keep all the clothing and shoes you own.