The Top 7 Kids Workbenches: A Comprehensive Review
Would it be great if your child can have tons of fun and also learn a few useful things he will need later in his life? Yes, it is something we all need. Luckily for you, with the best kid's workbench, this is easier than ever before. Now your child can play for hours, have a safe level of fun, and also learn how things work. But, there are a lot of possibilities out there, and we have to present to you only the best ones. There are 7 of them we find exciting and worthy of our and your time. Let's meet them right now.
Top 7 Kids Workbench Reviewed
Here is the comparison table showing the first 6 kid's workbenches and toolsets and how they compare one to another:
Photo
Editors Pick






Product Name
Black & Decker Jr. Small Workbench
Melissa & Doug Solid Wood Project Workbench Play Building Set - STEAM Toy, Wooden Kids Work Bench,...
Step2 Deluxe Kids Workbench – Includes 50 Toy Workbench Accessories, Interactive Features for...
Black+Decker Junior Kids Tool Set -Deluxe Tool Set with Tool Box with 42Piece Tools & Accessories...
Liberty Imports Musical Learning Workbench Toddler Toys for Boys Girls Kids, Baby Early Education...
Melissa & Doug Take-Along Tool Kit Wooden Construction Toy (24 pcs)
Editors Pick
Photo

Product Name
Black & Decker Jr. Small Workbench
Photo

Product Name
Melissa & Doug Solid Wood Project Workbench Play Building Set - STEAM Toy, Wooden Kids Work Bench,...
Photo

Product Name
Step2 Deluxe Kids Workbench – Includes 50 Toy Workbench Accessories, Interactive Features for...
Photo

Product Name
Black+Decker Junior Kids Tool Set -Deluxe Tool Set with Tool Box with 42Piece Tools & Accessories...
Photo

Product Name
Liberty Imports Musical Learning Workbench Toddler Toys for Boys Girls Kids, Baby Early Education...
Photo

Product Name
Melissa & Doug Take-Along Tool Kit Wooden Construction Toy (24 pcs)
Black & Decker, Jr. Small Workbench


Black & Decker, Jr. Small Workbench is the best kid's workbench and the one we liked the most. The main reason is the fact it offers realistic gameplay and comes with 24 different tools and accessories. Drill and also screwdriver are battery-operated, making even more fun while playing. The set is appealing and designed for children aged 3 and above.
The dimensions of the set are 16 x 5.5 x 17.8 inches, and the weight is 5 pounds. All you need are 4 AA batteries which are not included in the factory package. The quality is reliable, and all pieces are well-made.
Pros:
24 different tolls
Battery operated screwdriver and drill
Realistic design
Well-made
Cons:
Too small for some users
High price
FAQ:
Can the drill rotate the bits?
Yes, but it cannot drill anything, nor can it injure your child. After all, this is only a toy.
Are there additional kits?
Yes, there are available kits you can purchase to make this set even bigger and more appealing to your child.
No, batteries are not included in the package. You will need to purchase them additionally. The set requires 4 AA batteries.
Dimensions are 16 x 5.5 x 17.75 inches, and weight is 5 pounds. It is a reasonably big set for children.
Melissa & Doug Wooden Project Workbench


Here is a wooden kid's workbench set for your loved one. First of all, it is made from actual wood and has strong joints. Keep in mind that it is designed for children ages 3-6 and should not be used for younger ones. The set includes a vise, which is fully operational with a low clamping force, of course, wooden tools and also a rack for your tools. There is additional storage shelf children can use to organize or store their tools.
Probably more important is the fact the set comes with tools that are realistic and also made using real wood. It offers countless possibilities, and there are various options a kid can enjoy for as long as possible. Size is 26 x 24 x 19 inches making this a large set. The weight is 15.5 pounds.
Pros:
Big set
Plenty of tools and accessories included
Realistic design
Storage shelf
Cons:
Heavy
Complicated assembly
FAQ:
The set measures 26 x 24 x 19 inches in size, and the weight is 15.5 pounds. The height is 26 inches making it tall enough for kids of the recommended age.
Are there any small pieces?
No, there are no small pieces, and there are no issues of any kind. Using the set is perfectly safe and comes without any complications.
Yes, some assembly is required. It isn't the simplest, and you may have to replace a few screws, but in a nutshell, most parents will be able to assemble it in under 30 minutes.
Step2 Deluxe Workshop Playset


If your child is interested in DIY projects and you need to find matching toys for him, look no further. Step2 Deluxe Workshop Playset is here and comes with plenty to offer. It is a very realistic, professionally made set that offers 50 pieces. They include drills, screws, nuts, pliers, hammers, screwdrivers, and also 17 additional parts made from wood.
Durafoam is used for the construction of wooden pieces. It is done due to safety and to make the entire set more appealing to children. There are 4 different projects a child can complete using these pieces, and all of them are included and well-explained in the instructions.
Pros:
Massive set
4 projects a kid can complete with instructions
Storage space
Large working surface
Cons:
Expensive
Wooden pieces are made from Durafoam
FAQ:
Are the batteries required?
No, batteries are not included, nor are they needed. This isn't a battery-operated toy.
Does it include tape measure?
No, there is no tape measure included. It isn't included in the design, and there is no need to use it for 4 projects we have mentioned earlier. Anyway, you can get an additional one if your child wants it.
Yes, the set can be used indoors and outdoors. Plastic is durable and will last despite the exposure to UV rays and the elements.
Black+Decker Junior Kids Tool Set


If you are looking for a cheap alternative, then this package is an excellent choice. It is a 42-piece toolbox suitable for children aged 3 and above. One of the most exciting features is a mechanical drill, which includes changeable drilling bits. A child can switch them when needed and play accordingly.
Another attractive advantage is the fact this unit comes with a box that can be built by a kid. It is one of the most straightforward and most rewarding and you, which will have tons of fun trying to accomplish this mission.
Pros:
42 pieces included
A box should be built
Mechanical drill with interchangeable bits
Attention to detail
Cons:
Simple design
Too small for some children
FAQ:
Does drilling bits rotate?
Ye sit rotates. There is no battery inside, and you can hear plastic gears. As we have mentioned, this is a manually powered drill.
Are children happy with the toy?
Yes, children are more than just pealed. There are plenty of possibilities, and there are a lot of options for a child to play in.
Can screwdriver be used for turning screws?
No, it cannot be used for turning screws. It is made from plastic, and although it makes sounds when used, it cannot be utilized for undoing screws.
Liberty Imports Little Engineer Multifunctional Workbench


The set is an excellent idea for a toddler aged 18 months or above. It includes hammer, chainsaw, screws, wrench, and many other tools. There is also a bench clamp. Additionally, all the tools are color-matched, meaning that a child will boost his coordination and cognition within weeks.
Additional things we can mention include 7 different melodies a child can listen while playing, and a parent can decrease the volume at any given moment. The set is suitable for all children aged 18 months and above.
Pros:
Affordable
Includes melodies
Color-matched pieces
Advanced design
Cons:
Smaller than advertised
Some parts are poorly made
FAQ:
The dimensions of the set are 11.5 x 9.9 x 6.9 inches. The total weight is 2.65 pounds making this a relatively small set with plenty of capabilities.
What is the recommended age range?
It is recommended for all children aged 18 months and above. There is no upper age limit.
Yes, all the materials used are entirely BPA free, and the manufacturer offers specifics and additional resources.
Melissa & Doug Take-Along Tool Kit


This right here may be the best kids workbench for parents who are looking for simple and small but loaded with pieces options. It comes made from wood with 24 pieces included. There are the child-sized hammer, nails, screws, screwdrivers, wrench, and many other tools. All of them look realistic, and the quality is fantastic.
The set is preferable for children ages 3-5 and comes with 100% customer satisfaction. Additionally, there is a personalized set you can order. The manufacturer will display the name of your child or a message you want. Dimensions of the set are 9.9 x 5.5 x 4.8 inches, and the weight is 1.5 pounds.
Pros:
Boost creativity of a child
Excellent value for money
Plenty of pieces
Made from actual wood
Cons:
Some parts are too big
Complicated for younger children
FAQ:
Where is the set being made?
The set is being developed in the United States, but it is made in China. Quality control is above average, though.
What is the size of the peg holes implemented?
The size is roughly the same as nickel and can be slightly larger.
Are the screws compatible with other sets made by this brand?
Yes and no. Some sets are compatible, and they can be used with these pieces, while others are not compatible and obviously cannot be used when mixed.
Master Workbench by Hape


The last set on our list is Master Workbench by Hape. If your child likes to build things and he wants a realistic toy, this is one to go for. It offers 35 pieces that include a hammer, saw, bolts, screws, and more. In a nutshell, the complete miniature workshop is present and included. The set is suitable for children age 3 and above and comes with adjustable height.
This unit won countless awards in Canada thanks to its design and realistic tools. We also like the fact that it comes with storage space suitable for various pieces and different projects.
Pros:
Realistic design
Award-winning design
35 pieces included in the package
Adjustable height
Cons:
Made from plastics (some parts)
No circular saw
FAQ:
Which materials are used?
The manufacturer used plastic and wood. When combined, this set is robust and durable, but at the same time, it looks great.
What is the recommended age for this set?
The set is recommended for children age 3 and above. We know that there are children aged 6 who are still using the set and have plenty of fun.
Can the height be adjusted?
Yes, a parent can adjust the height of the set quickly and within seconds. This makes it possible for children of different ages and heights to use the set.
Buyers Guide for The Best Kids Workbench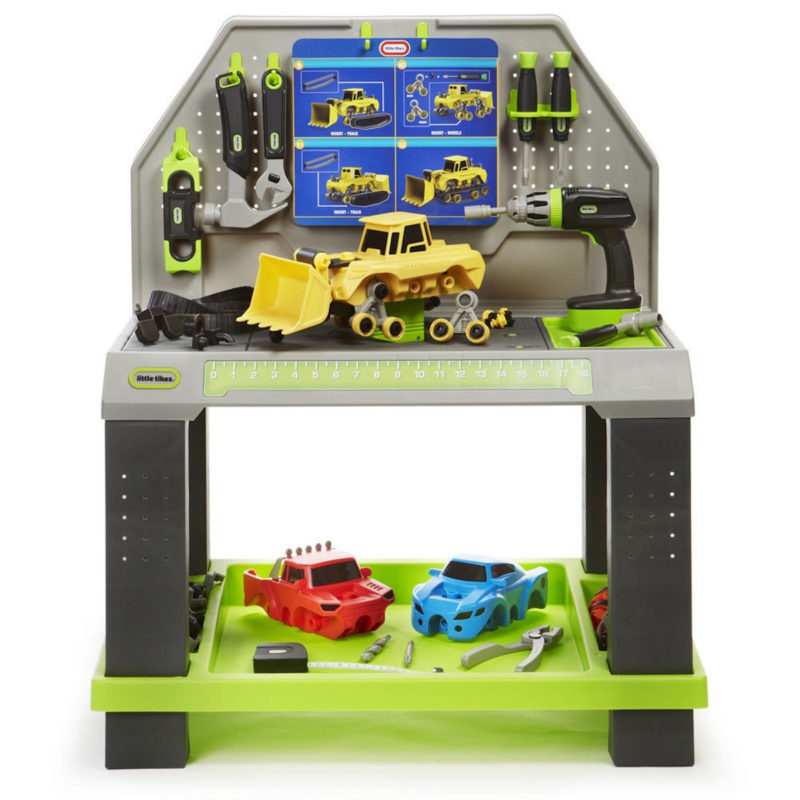 How can you find the best kid's workbench and how you can make sure that it has all the pieces you have been looking for? The answer is buyers guide, and we will help you by revealing all the parts and all the essentials you need to know before looking for the ultimate set.
Age range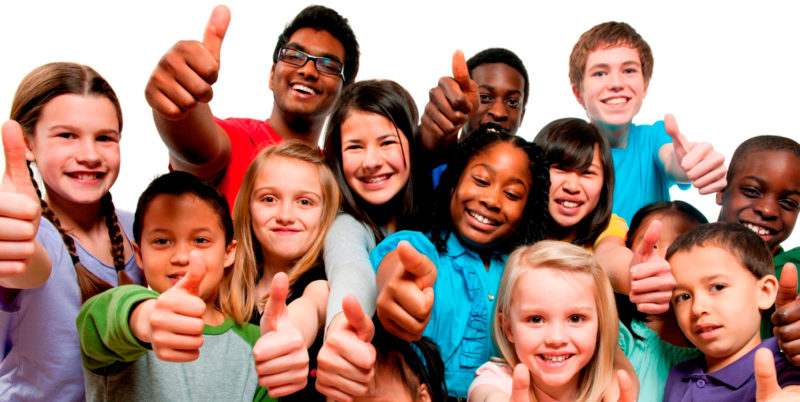 There is no need to begin here by telling you each of these sets, and every toy has age recommendation. It is designed for children of a certain age. What this means is that the pieces are optimized for the hands of a child of a specific age. For example, if a child of 1 year uses a piece for a child of 3 years, he won't be able to grab on the toy. Although there are countless options out there, all manufacturers will list the age span which the toy can be paired with. All you have to do is to find a corresponding toy and get it. It is that simple. Don't get a too big toy and then wait for your child to grow to use it. It isn't fun in their eyes.
Type
You were able to see several types included in the list. The most common are large models with large workbench. These are the most popular at the moment. They are the largest, and they offer the most possibilities. However, they are too big for some children or some children's rooms. On the other hand, we have younger children who need a smaller toy as well. You have to choose according to your capabilities and also the age of the child. Just to clarify, other types include toolboxes, portable working surfaces, etc.
Pieces included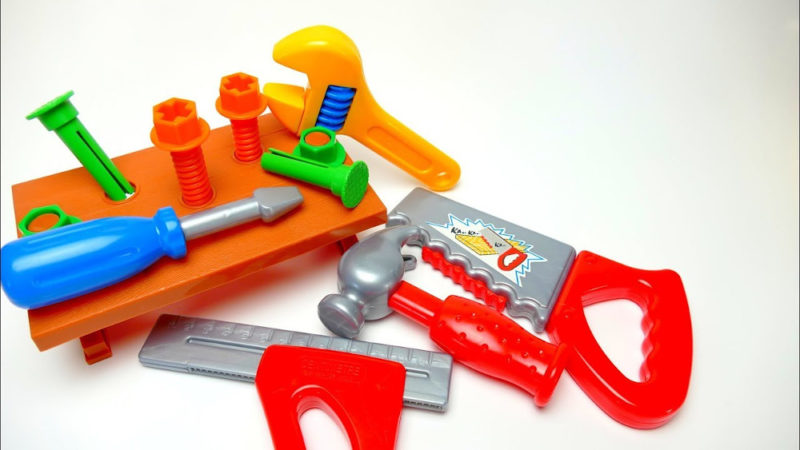 The first thing you will notice in each of the 7 product reviews above is the number of pieces. It is an essential factor, and we believe it is one of the most desirable. The situation is straightforward. More parts mean more possibilities, and for a child, it can make a massive difference. He can play longer, and he can always mix and match.
In a nutshell, there are sets between 10 and 50 pieces. Once again, we believe that bigger sets with the higher number of tools are more preferable and more desirable by parents and also children. Besides, it is possible to find a middle. Sets with 20-30 pieces are considered as an excellent compromise, and we liked them. They are not too big but still offer plenty of options.
Materials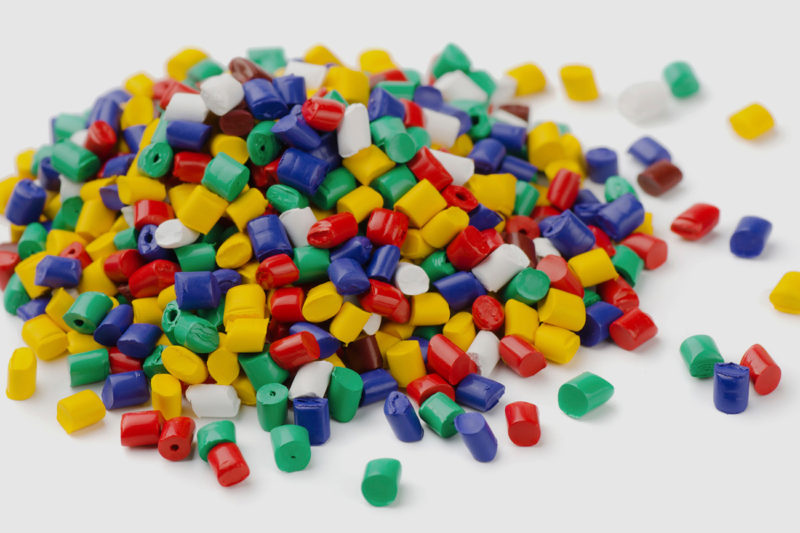 As you may know, there are not plenty of options to choose from. There are a few, though. The first one is wood, and it isn't as common as you may imagine. Wood is used for more significant, more substantial products and due to a reason. It is used to make more durable constructions. However, it also increases the cost of the product!
Plastics is commonly used, and it is cheaper, lighter, and can come in various colors, which is always a good thing. It is up to you which material you need and want to choose, but remember what we have discussed here. We must add that if the plastic is the primary material, it must be BPA free. All manufacturers use it these days, but keep your eyes open just in case.
Color scheme
You may believe that color are essential to make a toy stand out from the crowd and make it look spectacular. The truth is different. Colors should be used to improve the cognitive skills of a child. Some sets, as the ones you have seen on the list, come with the matched color game. A child can use the colors to place toys in corresponding slots, and this is what you need. It isn't the most crucial factor clearly, but it is something you may want to consider.
Size
As you would assume, the size of the kid's workbench is mandatory. Smaller ones are designed and made for smaller children. Larger are made for bigger children. But how can you make the right choice? The secret is to look at age recommendation once again. You will see that with age, size increases. Another sub-factor you need to consider is the size of the child's room. If you have plenty of space, why not opt for a more massive toy. If the room is small, then you will have to opt for a smaller toy.
Storage capabilities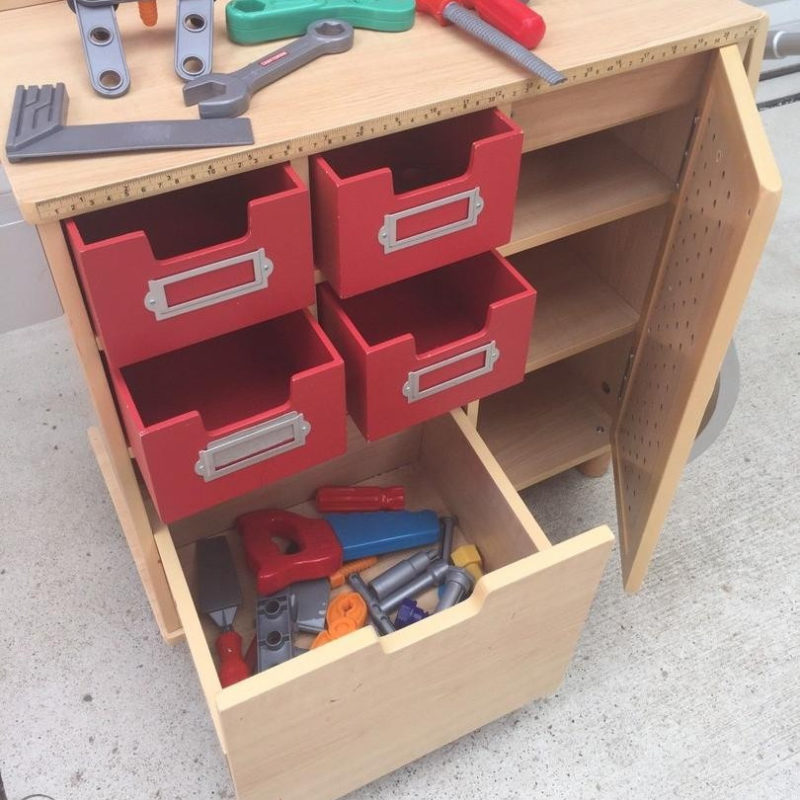 Here is another factor we all liked. Many of the toys on our list have storage capabilities. A child may not use them, but they do have a purpose. When tidying the room, you can throw all the pieces on the storage shelf of the set, and you are done. It helps you clean the room and also keeps all the parts in one place.
Assembly
Most of these workbenches are too big, so they need some assembly. It is a relatively simple task, and 99% of you won't have any complications. Nevertheless, you may want to check the user manual first and to make the toy correctly assembled. For more massive toys, this is even more important. It prevents falling apart or anything similar.
Here is a great video that shows how to assembly one of the kids workbenches:
https://www.youtube.com/watch?v=oRf16Gi6Io8
Projects included
Some workbenches come with additional pieces that can be used to create or better said built various projects. Some offer even 4 different types, and this is a definite advantage. Your child will use that toy for a more extended period and can enjoy more.
FAQ
Is the age range recommendation always the same?
No, age recommendation isn't always the same. Every toy we have listed here have a different age range. It is mandatory to look for toys that meet the age of your child. They will be the safest, and the chances are high that your child will have the most fun using that toy.
Which material is better, wood or plastic?
As you can assume, these are entirely different materials. Wood is more durable, more reliable, and more expensive. It is also more appealing for some parents. Plastics is cheaper, more versatile, and even more commonly used. Both types are safe for making kids workbenches.
Are kid's workbenches safe to use?
Yes, all of them are safe to use. Various associations have tested them, and there are no issues found. The same rules (small pieces, BPA, colors, etc.), the same as with other toys, apply to the requirements.
Do these toys have obvious benefits to children's development?
Yes, they do have apparent benefits. They increase and improve coordination, cognitive skills, and also imagination. This is almost always present with all the toys of this kind, but the matter cannot be generalized.
How many pieces does my child need?
Ideally, you will adapt the number accordingly to the imagination of your child. If he likes trying new things and masters them quickly, you need more pieces. They typically range between 20 and 50. Another benefit is that sets with more pieces are more appealing for an extended time than sets with fewer parts.
Are batteries needed for these toys?
Yes and no. Batteries are required for some sets and especially for some pieces such as an electric drill. They are not always needed, and most sets do not have electrical components. You may have to get additional AA batteries if needed, but this is far from expensive investment.
Check out also some real garage equipment here.
Conclusion
The best kid's workbench is right here on our list. We spent over 20 hours testing all of these toys, and we had great fun. We checked the quality, the features, and also the possibilities of the sets, and we have listed them accordingly. Our rating is obvious, and now is the time you make your own. Use our buyers guide to find the best option for you and your child.
Last update on 2023-10-01 / Affiliate links / Images from Amazon Product Advertising API