Garage storage systems: Benefits, advantages, and tips on how to get the most out of each one
A garage is a place like no other. You literally place all your items that are not suitable for the house anymore and you can add tools, bicycles, equipment to the equation. The situation is even worse during the winter and we can soon see that a garage will be loaded with all kinds of stuff. You won't have free space and moving around a garage will be almost impossible. But, there is a simple alternative that will keep your garage well-organized. The answer is simply known as garage storage system.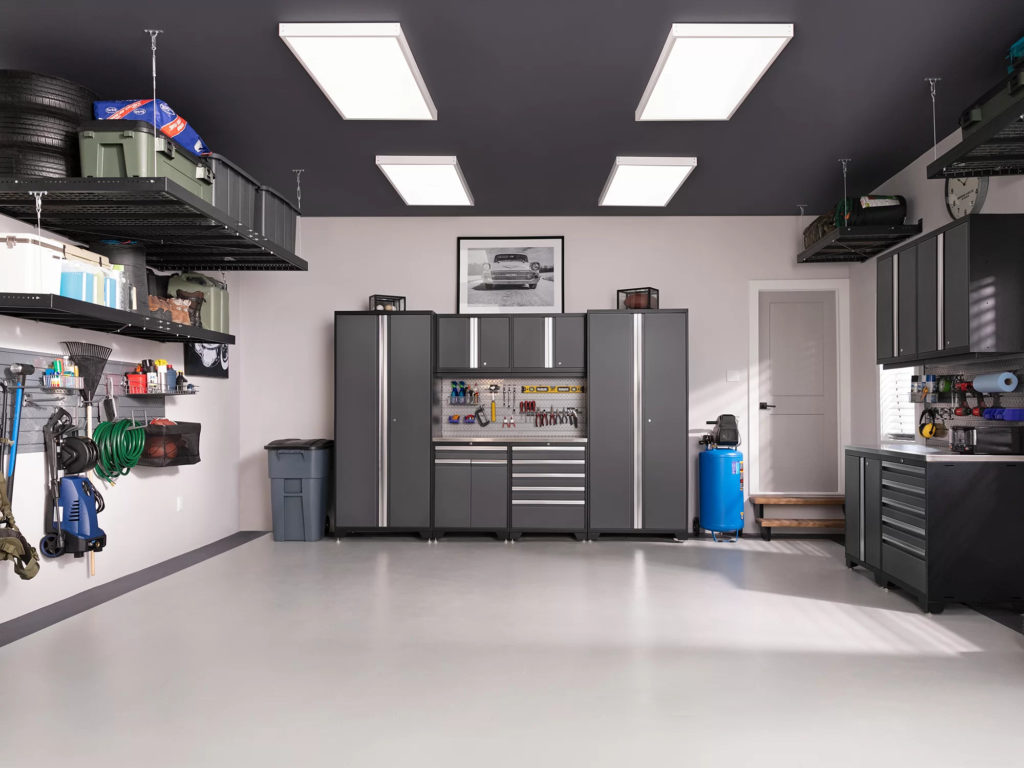 First things to do
Before you move to organization and labeling you will need to take care of a few things. All of them are explained below and you can see obvious importance. In a nutshell, these are the first tips you should incorporate to your garage and now you will see why.
Your garage contains the countless amount of garbage that doesn't have any purpose. Simply throw all that and you will see free space appearing all across the garage. Garbage is all the old stuff you don't need and all the things you will never use.
Throw away useless items as well
Most of you believe that garbage should be thrown, but useless things should share the same passion. This is mandatory in order to make sure space is freed from the things that don't have any purpose. You already know that we are talking about old toys, clothes and etc. If you don't like to throw things away, then have a garage sale and make sure to make some money. Boxes containing items that can be returned to the sellers obviously don't meet this criterion and they should be removed from the equation.
There are countless tools you can hang which are lying on the floor of your garage at the moment. When you hang them, you will get a lot of additional space without having to make any issue or any additional adjustment. This is a smart tip that makes a massive difference.
Labeling will make sure all the things are within your disposal at any given moment. You will be able to find any item or a thing you are looking within seconds if you know where to look for. If you don't, then you will need days. Using the labeling machine is a modern and appealing way to label things around your garage.
Main advantages and benefits when using a garage storage system
Believe or not, there are a lot of benefits and advantages when you decide to use a simple garage storage system. In general, your garage will be a better place to spend some time and you will be able to use the garage for smarter things. Anyway, the main advantages are listed below.
You will eliminate the floor mess
Obviously, when you throw away all the garbage and the things you don't need, you are left with tons of floor space that can be used for the first time after many years. Your garage will look better as well and you can see people who are making positive comments about your creation.
It isn't actually new, space has been with you at all times, but now you can use it for the first time. This is probably the most important and the most appealing benefit when using a system of this kind. Space can be used for new machines, equipment or storage if you prefer.
Each item can be found within seconds
There is no need to waste hours and hours into finding the needed item now. Because all the items are carefully organized you can find anything that you need within seconds. Just look at the labels of the boxes and at the sections you created.
A garage looks so much better
There is no need to add this, obvious advantage. Your garage will look so much better than ever before and your friends are going to tell you that. On the other side, you didn't have to invest a huge amount of money or anything else in order to get this benefit.
How to organize the garage space properly?
You may think that organizing your garage space to get the most out of size is a complicated task. Actually, it is one of the simplest things you will have to do in your life. All you should do is to follow the main points we will explain below.
The first thing you should do is to classify the things and items in your garage. Make a list of all the items you want to store and organize. Then use the logical sorting out and create areas of items in the garage. One area can be for tools other for equipment and so on. Don't sort the items you will never use. Instead, sell them and make an extra profit.
Don't forget about shelves and cabinets
Both of these things are extremely important for the proper organization. Using shelves and cabinets will help you store more items and more tools in a smaller area. Add them to the walls and all 4 corners of the garage if that is possible. You will get a lot of storage space and you can divide it accordingly. Here you can be creating and you will get the best organization within minutes.
Be prepared to use pre-made items
These items refer to the bicycle hangers, additional shelves and etc. What this means is that you should always invest in the pre-made piece of equipment that allows you to place and store more items in your garage using the same amount of space.
You may also be interested to read How to Organize a Messy Garage?
Maximizing the storage space
You will need to maximize the storage space as much as possible. All that space is present as we speak and you can use it within seconds, but you need to know where to look first. Here's where.
Walls are a massive amount of space that is mostly not used in all garages. But, if you add hangers, hooks, and plates for tools you can use that space. The best part is the fact you can set all up as you like and there are no rules or limits here. Be free to find a layout that suits you the most and enjoy.
Use racks, over your head
The overhead racks are an excellent way to save space and get additional storage location. These racks are a bit expensive and they will need a lot of time to install but they offer more space than you can imagine. In addition, using the racks is simple and easy, something you will appreciate in the future.
Boxes and cabinets are a must. Together they will help you create a well-organized and made space that comes with all the essentials and all the things you will ever need. They are cheap, you can label them and you can decide how many you need.
See more tips at Tips to Maximize Garage Space
Conclusion
Even the smallest garage offers a lot of space if you follow our points here. Our mission was to help you maximize the space in your garage and organize all the things you have. Now is your turn to make this a reality. See more about garage storage systems.