Top 3 ALEKO Gate Openers – Compare Features, Pros and Cons
Every now and then you will need a new gate opener. It might be the first installation and the first unit you will use or it can be a replacement model. Anyway, you should consider gate openers made by ALEKO. This is one of the best-known companies and they have been offering excellent models for years. We were able to find 3 units that are simply perfect and come with all you will ever need. Let's check them all out.
At a glance
ALEKO AC1400 Electric Sliding Gate Opener
The unit is very powerful. It comes with high-end 1.5 HP electric motor which can be paired with a gate of up to 50 feet and the weight of impressive 1400 pounds. The motor is located in aluminum housing so it is immune to rust and corrosion. Yes the installation is slightly more complicated than we hoped but once you are done, there won't be a need for frequent maintenance nor will you encounter any issues. This model is made for sliding gates.
ALEKO AR1450 Slide Gate Opener
This model is more powerful than the first unit. It can be used for gates of up to 55 feet and the weight of 1600 pounds. Installation is basically the same as with the first model. We liked the stop and reverse safety features and we liked the sheer power the unit can provide. It is an excellent choice if you need a heavy-duty model to use for many years to come. The only drawback is the fact you don't get tracks included in the package so you will need to order them additionally. It is also designed for sliding gates.
ALEKO AS1200 Electric Gate Opener
ALEKO AS1200 Electric Gate Opener is different than the first 2 models. It isn't suitable for sliding gates but rather for swing gates. The model is extremely easy to install and you can complete the task within minutes. We want to recommend it for users with dual swing gates of medium size.
Best 3 ALEKO gate openers
ALEKO AC1400
ALEKO AC1400 is a masterpiece suitable for the highest number of homeowners. First of all, we have the compatibility with all gates up to 50 feet in length and the weight of 1400 pounds. The electric motor is 1.5 HP and it is a heavy-duty unit. We also liked the ability to use up to 100 remote controllers with this model.
The package will arrive in 20.2" x 16.9" x 10.4" box with a weight of 20 pounds. It will include the opener, the metal mounting plate, additional hardware, 2 remote controllers and 20 feet long chain. You get all you will need to install and there is a useful user manual included. You can get online help as needed. However, the installation is a bit complicated due to many components so you may need to hire a professional.
One of the main advantages is the immunity to rust. The control unit is protected with aluminum housing which won't rust. But the base is made from metal so it will rust. Ideally, you will protect it with paint before installation.
Pros:
Powerful unit
Affordable
Great package
Aluminum body
Cons:
The base plate will rust
Installation is complicated
ALEKO AR1450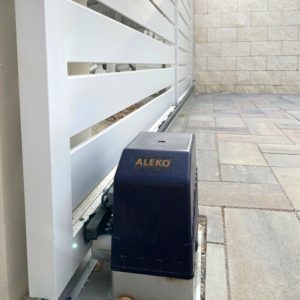 ALEKO AR1450 is one of the most powerful gate openers available on the market. It can be used for all gates up to 55 feet in length and the weight of 1600 pounds. This makes it suitable for all sliding gates and you will want to know that all the elements are optimized for the heavy-duty purpose. What this means is that the gate opener will last for decades and will be a wise investment.
The operations are smooth and you can notice this the first time when you activate the gate opener. It also supports stop and reverse sensors but you will need magnets in order to use this feature. They are sold separately and they are not included in the package.
The package itself comes in 13.4" x 13" x 10" box with a total weight of 20 pounds. You also get user manual with the steps for installation but it isn't very useful. The user manual is complicated and steps are difficult to understand. You will probably need additional help or you will have to hire a professional.
Pros:
Super strong motor
Durable components
Heavy-duty
Smooth operation
Cons:
User manual
Magnets are not included in the package
ALEKO AS1200
ALEKO AS1200 is designed for mid-size swing gates. It can be installed on any unit up to 10 feet in length and 660 pounds of weight, per a leaf. The unit can operate two parts of the gate. The installation is easy and you get all you will need in the package. It includes the remote controllers, swing arms, accessories, and DVD with the instructions. The package comes in a box with 18" x 7" x 35" and the total weight of 28 pounds.
We liked the simplicity of the unit. It is small, powerful and compact gate opener that can be used for most homeowners. It is also very affordable so this isn't an expensive investment. Whenever you want you can purchase additional items such as keypads, buttons, and solar panels.
The unit is above average but it still has a few drawbacks. The first one is the customer support which isn't great. The second one is the warranty, which can be better. The bottom line is that the tested model performed well on all our tests and it should be considered as a worthy option. You will have a great time installing it and using it.
Pros:
Available accessories
Value for money
Easy to install
Installation DVD
Cons:
See full review for Aleko AS1200.
Benefits of using a gate opener
There are countless benefits of using a gate opener on your gate, but we will list the main ones. If we combine all the benefits we can see that you will get more modern household with several other advantages. But now we will take a closer look at the main benefits.
The first and the main reason why people use gate openers is added continence. When you are tired from work you don't have to leave the car, open the gate and then do it all over again. With a press of a button, your gate will open and you can enter your property. In this case scenario, we can see that the gate openers are game changers and definitely something worthy of your time.
It is known that gate openers improve the overall safety of your property. Now you can choose when to open or close a gate and to lock it when you don't want someone to enter. This also means that burglars will choose another house rather than yours, specifically due to the increased level of safety.
Finally, you can have more and better privacy than ever before. A gate opener will help you make your household special and only yours. All you have to do is to get a gate opener and install it. It is a simple and affordable investment.
Now you don't have to tell people you don't want guests. Only you and people you allow can enter the property. You will also look like a businessman or a successful person with this simple investment.
Cost-effective investment
All insurance companies will give you a better quote and better plan if you have a gate opener. It is considered as added safety to your property and as such you will be better protected. This is the main reason why a gate opener is considered an effective investment.
Your property will look better
The last benefit is obvious. With a gate opener, your property will look better than ever, more modern and a more appealing place to be. You will have a great time thanks to modern technology and you won't have to open the gate manually ever again.
How to choose the best ALEKO gate opener?
In order to choose a gate opener that meets all the requirements you have, you will need several points to consider. All of them are mentioned below in the corresponding order. The end result should be a gate opener that is perfect for your specific gate, fast and reliable.
The first thing is to make a decision are you looking for a sliding or swing gate opener. This is related to your gate so there is just one answer. If you have a swing gate, you probably have one or two sections. Some gate openers can be used for single side gates while others can be used for both sections. Take this into account as the primary factor.
Measure the gate and try to determine the overall weight. This is a factor that will determine the needed power. Basically, if your gate has a weight of 1500 pounds you will need a more powerful gate opener. If it weighs 500 pounds you will need an entry-level model. Never install underpowered gate opener to a gate. It will work slowly and it will fail after a short period of time.
Now you will have to measure the length of the gate. It must be within the range according to the ALEKO user manual or product description. What this means is that a gate of 26 feet will need more powerful gate opener due to massive length. You need to match it in the same way as with the weight factor. The goal here is to have a gate opener that fits nicely and perfectly on the gate.
How many times you will use a gate opener per day? Some of you will use it twice, while others will use it 20 times. The more times you have a need to open and close a gate, better and more durable gate opener you need. Yes, all of ALEKO models can withstand years of use, but those of you who will use the unit multiple times per day need a more powerful and stronger system. The last thing you want is your system to fail after just a few months.
Consider the available accessories and additions. They are usually available in the form of solar panels or additional locks. Some of you may need this while others don't. It cannot be generalized and it is your individual preference. Keep in mind that solar panels are a desirable addition that will save money over time and help you have an eco-friendly system. We all like solar panels and we believe they will become the main alternative in the future.
Sensors are important in the realm of gate openers. Here you will need safety sensors that will stop the gate in a case of obstacle and open it. You also need sensors that will open the gate as soon as you approach it. The last but not least are sensors that can close a gate once you enter, they are known as shadow sensors. Ideally, you will have all of them on the gate opener.
Last but not least, you need to consider your budget. There is no need to get a gate opener with all possible features and that is expensive if you must save for it a couple of months. A mid-range model will serve you well so it should be your main outcome. The goal is to find the best value for money you can afford and to keep all the features and systems you will use daily.
The final word
All we can say at this point is that ALEKO gate openers are special. They are excellent value for money, they are powerful and they come with all the features you will ever need. If you want a heavy-duty model that can withstand anything you can throw at him, this brand is more than just appealing. Some of their units can be used on gates with a total weight of 1600 pounds and a length of 60 feet.