Ultimate ALEKO AR1400NOR-M Review
There are countless small and entry-level gate openers that are excellent for smaller gates. ALEKO AR1400 isn't one of them. This is a powerful model designed for massive gates of high weight and it can be used for gates made from steel or iron. On the other hand, the price is more than just affordable. These should be glimpses of the information you need right now. Below you can see the full review of the tested model.
About ALEKO company
ALEKO is located in the United States, in Seattle more precisely. They have been making gate openers since 2005 which makes them one of newer manufacturers. However, their models are well-known for superb quality, advanced features, and a great warranty. In addition, this brand makes some of the most powerful and most durable models you can possibly purchase today.
Main features and characteristics
Power of ALEKO AR1400
ALEKO AR1400 isn't an ordinary gate opener. As we have mentioned above, it is made for heavy and long gates. The bottom line is the ability to install this model on any gate with up to 1400 pounds of weight and the length of 40 feet. Yes, you can install it on a gate made from any material and the gate opener will work perfectly.
150 feet range
Here we have an interesting advantage. The ALEKO AR1400 is suitable for homeowners who want to control their gate opener from a long distance. The system is fully operational from a distance of 150 feet regardless of which remote controller you use. Keep in mind that if the range decreases you will have to replace a battery.
1.5HP motor
The main reason why the ALEKO AR1400 is so effective and so useful is in its electric motor. The unit has 1.5HP and it is a heavy-duty component. What this means is that you can use the gate opener for versatile operations, heavy gates and also as frequently as you want. It will still work like a charm.
Up to 100 remotes can be used
The system is capable of being used with 100 remotes. You get 2 included in the package but you can purchase additional ones whenever you want. As you know already, programming is a must. ALEKO gate openers are easy to program and you won't need additional help here.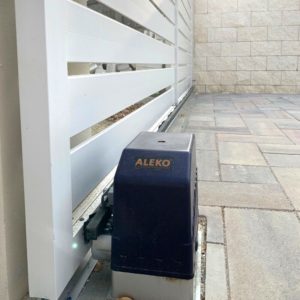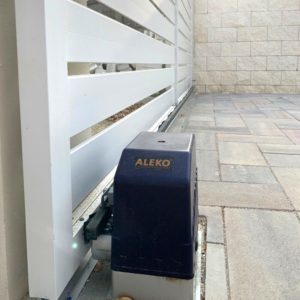 Who will benefit the most from using ALEKO AR1400?
There are a lot of potential owners of the ALEKO AR1400. We believe that the biggest number is homeowners who will need a strong and powerful gate opener suitable for opening and closing massive doors. After all, this is the main advantage of the tested system.
The second type of people who will benefit the most are homeowners who seek affordable gate opener. This particular model is one of the most affordable units you can have. It is actually more affordable than much smaller gate openers.
Last but not least, commercial requirements can be met as well. This makes the ALEKO AR1400 ideal for business which needs many remote controllers and a reliable gate opener. Due to the low price, we can add that new business are most likely to choose the unit in question.
Pros:
Power
Reliable electric motor
Up to 100 remotes
Great package
Value for money
Cons:
Complicated to install
The base is prone to rust
What others have to say about ALEKO AR1400?
We will help you even more by listing you the reviews and the comments from the owners who installed and have been using the ALEKO AR1400 for quite some time.
Owners like the powerful and reliable electric motor. It is known that the unit will work perfectly after years and it doesn't require frequent maintenance or anything similar.
The power is an important benefit this unit offers. It targets users with heavy and massive gates that need to be open and closed as soon as possible.
A helpful user manual is probably something you will need at some point. We are glad to add that this system comes with a superb guide that can help you more than you know.
The last benefit or advantage if you prefer is the ability to use up to 100 remote controllers. All you have to do is to program each one and you are ready to use it.
Additional things you need to know
The model comes with a 1-year warranty which covers the entire system and we can add it is one of the more appealing warranties. You can order the gate opener from Amazon and it will be shipped within days.
The package arrives in the 18.4" x 17.6" x 10.7" box and a weight of 27 pounds. It contains all you will need to install and use the tested model. Don't forget that the installation is a bit complex.

Conclusion
The ALEKO AR1400 gets 5/5 star rating. We were impressed with the overall quality, power, and low price. It is the best possible investment and it is going to serve you as long as you need it. All we can add is the fact this is one of the most desirable gate openers today, due to a simple reason.