Warning
: Trying to access array offset on value of type bool in
/home/dentlelb/garagesanctum/wp-content/plugins/fusion-builder/inc/lib/inc/class-fusion-images.php
on line
185
5 Best Garage Door Lubricants to Keep Your Door Operating Like New
Best Garage Door Lubricants
If you take a moment and look for the garage door lubricant you will see countless possibilities. There are different products, with different characteristics and with different benefits. Yes, most of those products will do the trick, but we wanted to know which ones are the best. Below is the list of the best lubricants ranked according to their efficiency.
Professional lubricants
They are the most expensive and the best. The reasons for that are the chemical compound of those products. They protect the mechanism but don't damage the components and they will last for a long period of time. If you use a professional lubricant you can lubricate your garage door once per year!
Silicone lubricants
They are a separate type and as the name suggests they contain silicone. The main advantage is the lifespan. A lubricant of this kind can last for months and it will provide excellent protection of all the components. When it comes to price they are reasonably affordable.

Grease
It is the most common lubricant and one of the most affordable. We prefer grease due to the fact it will remain on the components longer than standard oil for instance. The drawback is the fact it will collect dirt and dust that can damage the mechanism.

Oil
You can find and use any oil you like and get the same benefits. Oil is affordable and will be extremely easy to apply to the main components. The lubrication is impressive and this method is one of the most popular due to a reason. However, oil can be messy and will require you to clean the surroundings and the door.

WD 40
It is important to add that WD 40 isn't a lubricant. It is used to remove corrosion so you cannot use it for lubricating your garage door. Some of you may believe it will do the job, but this isn't the case you need to remember that!
Maintaining your garage door: What you need to do and which type of lubricant you should use?
A garage door is a complicated system that involves hundreds of components. In order to do its job, all of these components must work perfectly in harmony. However, there is wear and tear involved. It can damage some of those components and cause massive failure. To make sure this doesn't happen to you, you need to inspect your garage door and lubricate them a few times per year.  Now we will guide you through the entire process on how to select the best garage door lubricant.


Inspecting the garage door mechanism
Ideally, you would inspect the garage door mechanism and lubricate it once per month if you use it every day. Yes, you can perform the inspection or look for signs and lubricate it a bit rarer.
To inspect the garage door all you have to do is to look at the hinges, rollers, and springs. Don't forget about the tracks. They deserve maintenance as well. The goal here is to see if there is any friction. If it is you will see a shiny part of the component. This means that the metal components are rubbing one on another and damage themselves each time you use the garage door. If there are elements that are too damaged, you will have to replace them as soon as possible. If you can see a little wear and tear you need to lubricate the mechanism only.
There are signs you need to look for. They can help you determine when the right moment for lubricating the garage door mechanism is. The most common symptoms or signs are:
Weird noises when the garage door is opened and closed
Cracking noise when the door is opened
Slower mechanism
Wrong alignment of the garage door
Difficulty opening and closing of the door
You may have all of these symptoms or just one. It is important to add that you need to pay close attention and make sure to act immediately as you notice the first one. This will ensure that the mechanism is working properly and without any issues.
Which components have to be lubricated?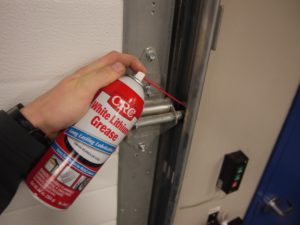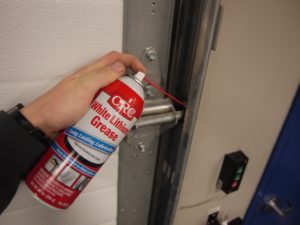 Lubricating is used to eliminate the friction between metal components. As such, you should lubricate moving parts of the garage door. Before applying lubricant, clean the surface and make sure there is no dirt or dust! There are several of them, but at the end of a day you will need to lubricate:
Springs
Springs are usually the first thing you need to lubricate. When spring isn't lubricated it will make weird noises when the door is used. In some cases, it can even break and cause massive damage. Luckily springs can be easily oiled or lubricated and you will see the improvement immediately.
Rollers
Rollers are extremely important as well. They move each time you use the garage door so if you don't maintain them, they won't able to move as easy as they should. This can damage the mechanism or the electric motor. For lubricating rollers you need grease.
Hinges
Yes, they must be lubricated as well. Most of them are made from metal and they require monthly lubrication. However, some are made from plastic and if you don't lubricate them they can break under stress. Regardless of which material is used for hinges make sure to apply a lot of lubricate on each one.
Locks
Perhaps it sounds confusing but locks on the garage door should be lubricated as well. If you don't, they will rust and corrode. This means that you won't be able to insert the key or to unlock the door! It is especially important to lubricate them during cold months due to the fact oil will prevent them from freezing.
Conclusion
Now you are ready to inspect your garage door and maintain them properly. In return, the mechanism will last for decades and you won't have to repair the garage door or to replace them. All you need is a lubricant and a few minutes of your time. And now you know how to select the best garage door lubricant.