6 Garage Lighting Ideas you can Shop Now!
What all garages have in common? It is the lighting. Without proper or with poor lighting your garage will be almost useless. This is a huge mistake that can cause severe issues and make completing various projects a nightmare. The only solution is to pay close attention to the lines below and see some of the best options.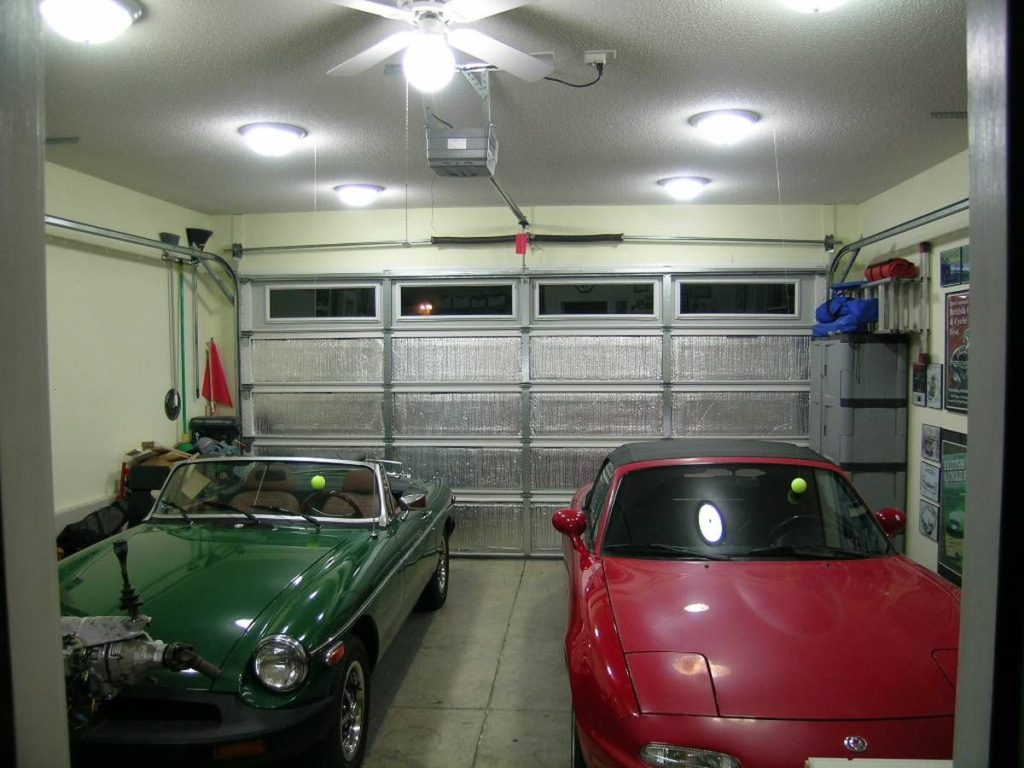 Track garage lighting
Track lighting is the best option and the one that will help you with all future projects. The main goal here is to install multiple tracks of lighting and each one should have between 4 and 6 fixtures. By using this you will cover the entire garage and there won't be any dark spots. At the same time, you won't be able to cover the light source while working.  You may believe that this is an expensive option and you are partially right. However, it is a worthy investment and there is no better alternative at the moment.
To get the best results and the best lighting always use LEDs. They are more affordable than you may believe and they can last for years. In addition, they also provide white light that is the most appealing for all garage owners.
Massive light neon bars
This has been the most common option as well as the most appealing for some garage owners. If you like working on the bodywork or to paint your car, you will definitely need this type of lighting. It offers the best performance and the best results. The initial installation may be a time-consuming process and reasonably expensive, but it can help you get the ultimate lighting. There are no drawbacks here and you can get the illumination at any given moment.
The number of neon bars you will need depends on your individual preference. An average garage suitable for one car should have at least 2 units. Here, the more is always merrier. The unwritten rule is to set 4 feet fixtures 4 feet apart through the garage. You can choose to do it horizontally or vertically, it is up to you.
Install mini lights
This is one of more affordable options and definitely worthy of consideration. In this case scenario, you will have to install mini lights into the cabinets (one per each cabinet) and a few fixtures around the working space. You need small lights with 5 watts power as the maximum. Even 2 watts will do the job and help you see all you need to.
Some of you may use this idea as an addition to the first one. This is definitely an option but you will only need mini lights inside the cabinets. The tracks lights can be used as the main light source.
LED puck lighting
This form of lighting is the latest innovation in the world of garages and deserves special attention. The main advantages are the visual appeal and the light source that is durable and extremely affordable. You also get a lot of sources so you can cover the entire garage or just a part that you need to illuminate. The only drawback is with improper placement. If you place the LEDs inadequately you will get dark spots, something each garage owner will try to avoid as much as possible.
Installation of this lighting is time-consuming more than complicated. You will need basic tools and basic knowledge. There are no major complications associated and there are no issues you need to worry about. The last but not least you can always add more LEDs and cover another part of your garage.
Door lighting
Here we have one interesting option. Door lighting is essential when you want to make a garage more convenient. The light will go on as soon as you enter the garage and can stay on as long as you need it. Usually, larger light fixtures will be more appealing and considered as more usable, but you can get any size of LED or fluorescent light and get decent results. Installation is simple and can be completed within minutes. You don't need additional switches or anything similar.
Most of you will understand that this idea is usually considered as an addition and we agree on that claim. Unless you have a very small garage this light source won't be able to cover the entire area and you will have dark spots. But, as additional lighting, it is one of the best and the most appealing options.
Shop lights with reflector
This idea is worthy if you have a tall garage. Without this element, this idea won't be very appealing. The next thing is to consider the number of fixtures you need. An average garage will need at least 4. Of course, you can add new ones and make it even better. Another way to calculate the best number is to look at the car. Each car should have at least 2 fixtures. Multiple the number of cars with 2 and you will get the ideal number.
Keep in mind that an important element is the reflector of each fixture. It should be implemented due to the fact it will increase the illuminated surface. It also makes the illumination more professional and brighter, allowing you to complete various tasks at any part of day or night. When it comes to the price, this is generally a more affordable alternative. It is also easy to install and it can be a worthy investment.
Conclusion
These garage lighting ideas are the best of the best. You can choose any one of them and make your garage perfectly illuminated. In return, you will get visibility at night or day and you can tackle all kinds of projects. The last advantage is the overall appeal of your garage. It will look more professional and more ''capable''. If you have clients here you will look more professional as well and you will be able to start more advanced projects.
Read more about safety & security for your garage.