5 Types Of Garage Floor Coverings
You can literally change the look of your garage within hours. As some of you may know, you will be able to get this benefit by using the garage floor covering. These days you can get all kinds of them and the most popular ones are 5 options we will discuss below. There are amazing benefits you will get as well and it will be mentioned in a minute.
When choosing the best garage floor covering for your property you can consider several options. The most common is the roll over covering. Basically, you will roll and use adhesive to glue down the covering to the garage floor. Once done the garage will look like a brand new facility and you will be able to clean it within minutes.
The second option is tile. You will need more time and more experience to apply this covering but you get advanced protection and you will also be able to admire the overall look of the floor.
Regardless of which covering type do you choose, you will make your garage a much better place to be. It will look better, it will be better protected and you will feel like you work in a high-end car garage. There are still a lot of facts and points you need to know before deciding which covering is the best for your specific garage floor. Let us guide you through the entire process.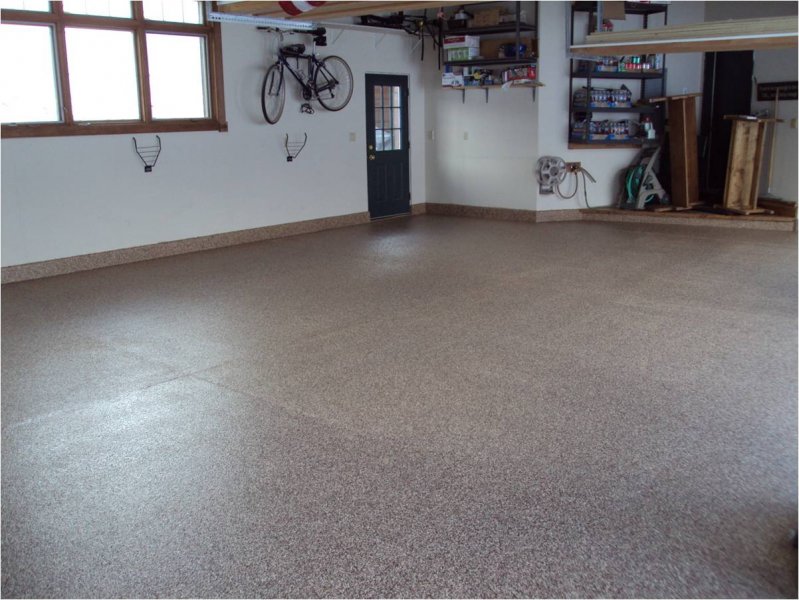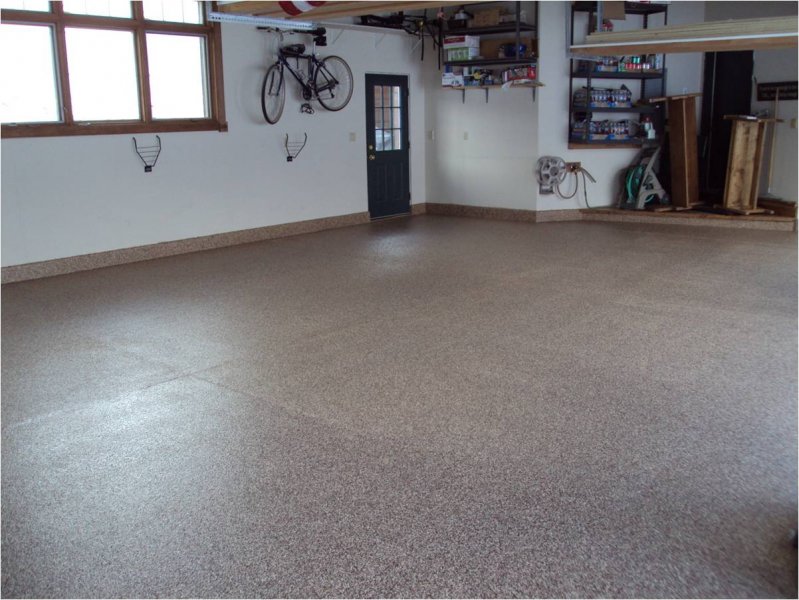 Benefits of using garage floor coverage
We did mention that you will get some benefits but we didn't take a closer look at this section. The bottom line is that you can get all of those benefits by using the lowest amount of money possible. Anyway, the benefits include:
The gas odor will be significantly decreased. Let's face it, nobody likes this smell.
The garage floor will be so much easier to clean. You will need a few minutes instead of a few hours.
If your car drips oil or another fluid you can prevent floor damages easily and without the use of anything special.
Your garage floor will be extremely well protected. Instead of having to add a new coating or replace the floor due to damages you can invest into a workbench or tools.
You may still believe that this investment is extremely expensive and it cost like a new floor of your garage. This is a mistake. As a matter of fact, the investment is the most affordable you will ever make and you need basic tools, basic experience, and a few items. Of course, you need the covering which is reasonably affordable. The size depends on the floor dimensions and you can always mix and match to find the best option.
5 types of coverings you can use on your garage floor
Interlocking covering
Interlocking garage floor covering is probably the best and the most appealing option for all of you. First of all, to install it you don't need advanced experience or anything like that. You need a few hours of your time and you can complete the task all by yourself. This is similar to the epoxy covering but the interlocking system doesn't require from the garage floor to be perfectly flat or clean. All you have to do is to clean the concrete and apply the panels. They will lock and make the surface perfectly flat.
The next advantage is the cleaning. You will have massive panels that are extremely durable and resistant to fluids, oils and etc. To clean it you will use a pressure washer and nothing more. It is extremely easy and can be completed within seconds. Keep in mind that you also get a look of the high-end workshop and your concrete is perfectly protected.
One benefit we especially like is the versatility. You can get interlocking coverage in any color or pattern you like and match it to the rest of your garage. There are no limits here and each homeowner can make any effect or look he likes. All the panels are made to be durable so you don't have to worry about this.
We can add that interlocking garage floor covering won't be slippery when wet. As a matter of fact, this is one of the most important benefits you will get. Even if you damage a tile you can replace that single unit not the whole covering. There is no need to add that this is an extremely affordable option and can be one of those benefits that will make you want this type of covering as soon as possible.
The bottom line is that interlocking garage floor covering is an outstanding choice for all people who want to work in their garage and who want the professional look. It is also desirable for those who need an affordable option that will last, easy to clean and can be repaired within minutes.
BLT – G-Floor roll
BLT is one of the leaders in the world of garage floor coverings. They have been making all possible types and they offer low process but high quality. In addition, they also offer adhesives, tools, and equipment needed for this upgrade. Today we will refer to the G-Floor roll out option which is very popular and considered as one of the best by many people.
G-Floor roll out is an impressive option. It is made from pure and high-end polyvinyl (100%) and it is extremely easy to install. Believe or not you don't even need adhesive. Simply cut the roll out in any size and shape you need and stick it to the garage floor. Of course, you need to clean the surface first and you will need to make sure there are no major cracks. The entire process can be completed within an hour and the end result is the modern, appealing and gorgeous look. This type of garage floor covering is also insulation, therefore, it will prevent water and moisture from reaching the garage.
This type of covering is available in various colors. You can choose between Sandstone, Metallic Silver, Royal Blue, Slate Grey, Brick Red, Midnight Black, and Forest Green. The thickness varies as well. The entry-level version is 55 mm in thickness which makes it ideal for standard garages and applications. The next thickness is 75 and it is used for commercial garages mostly. The thickest option is 85 mm and it is known as an industrial covering for the strongest floor protection. The width of the roll will vary as well. They offer 7.5 as the narrowest, 8, 9 and 10 inches. All of the options are maximized up to 10 inches.
We liked this option thanks to its affordable cost and the overall simplicity. Your garage will be well-insulated and you can get any look you like. At the same time, the installation is simple and the possibilities are almost endless. Of course, you will also be able to clean the floor as easily as possible and the concrete will be 100% protected at all times.
Rubber floor coverage
Rubber garage floor covering is actually a sub-type of roll out system. The main difference is in the material used. Here we can see that the rubber is used, obviously. The covering is very popular at the moment and it is known as one of the toughest covering types of all times. You will need and use this type if you want to protect your garage floor from literally anything and to make sure the concrete beneath looks like new after decades. If you want to get the professional workshop look, this is covering for you. If you want to get the more room-based look you should go for lithium and etc.
Cleaning is as easy as you may believe. The rubber covering is so effective that the dirt won't move around the garage nor anything else. It will stick to one place and make removing it simple and easy. The next advantage is related to the installation. Being a roll out type in its core you will get a roll of it and you can apply it to any floor within an hour or even less. There is no need to explain the installation in-depth due to the fact it is already explained above, in the roll out section.
Besides all of those benefits and advantages, you will also get a complete look of a high-end garage. The rubber is used as heat and water insulation meaning you will eliminate the moisture in your garage. Add the superb concrete protection and you can get a clear idea why this type of covering is so popular. It is also easy to replace when you want and comes at very affordable prices.
However, we must add that rubber roll out covering isn't great if you keep a motorcycle or a car in your garage. The main issue is in the heat which will occur after a vehicle is driven. The heat can cause your tires to melt or lose its composition which is a major issue.
To summarize, rubber roll out covering is great if you want to protect the floor of your garage perfectly and to make sure it stays intact after so many years. It is a more professional type of covering that should be used for garage owners who need the aforementioned benefits such as durability, simplicity to clean and concrete protection. It isn't great if you keep your vehicles inside a garage.
Vinyl
Vinyl garage floor covering is an option as well. This particular one is well-known for some, basic benefits we saw earlier. The main one is the versatility. You can choose any color or type you like and you can install it without professional help. Vinyl covering is one of the easiest to install and all it takes is your time, not much if we can add.
But, vinyl is also a great option if you want to change the look of your garage within hours. It is easy to clean and it will keep your concrete perfectly preserved for many years to come. In addition, cleaning is easy because this is safe and strong covering that can be installed in any garage. It isn't sticky nor slippery which makes it a nice option for those who will spend hours in the garage working on all kind of projects.
To repeat vinyl garage floor covering is extremely easy to install it will protect your floor from all issues and it is durable. It is one of the cheapest alternatives here and requires a little time to be installed. Once installed you can be positive that the garage will look nice, it will stay like new and your floor will be protected from all threats and damages. Did we mention that you can choose any color and pattern you like?
This type of garage floor covering is ideal if you don't have a lot of time to work with the covering and if you want to change the appeal and the look of the garage in one day. It is also recommended if you are on a tight budget and looking for durable yet cost-effective covering. There are no major issues with vinyl covering. It is slightly less durable than other types yet it is much cheaper.
Epoxy floor covering type
The epoxy garage floor covering is excellent due to so many reasons. First and foremost you can get any color and any design you like. There are countless options out there so we won't waste your time. Choose the one you like and apply it to the floor. However, the applying process is slightly more complicated than that.
The main thing to remember is that if your concrete is new, you should wait 30 days at least. This is needed for the concrete to become stronger and completely dry. If you apply the epoxy before the mentioned time frame it won't stick properly. The next thing to consider is that you should remove all the tools, items and etc. from your garage. You will literally paint the entire floor so nothing should be present there.
The damages on the concrete should be repaired before applying the primer. Clean them then use fresh concrete to apply the thin layer and make all of them flat. Then, clean the entire floor of your garage and make sure there is no dirt old paint, oil or anything similar on the surface. Now you are ready to start applying the primer.
Let the primer dry nicely and then apply the main coat of epoxy. Finish with the last coating or the protective layer of chemical and you are done. Keep in mind that all the items that are still present in your garage should be protected. Use plastic sheets to cover them. The brush or a roller you were using should be cleaned in a bucket of water and soap. Once you are done, your garage will look excellent.
This is a very resilient type of coating that looks nice and can help you clean the garage in less time, protect the floor and also make it a better place to be. The coating does require time to be applied but once you are done there is no maintenance at all.
You may also be interested to read Polyurea Garage Floor Coating Ultimate Guide. See also Garage Floor Clear Coat Guide.
The final word
These were 5 garage floor coverings that are available today. They are the best and the most popular of them all and you can choose any you like. Just make sure to match the covering with your requirements and to follow the strict instructions when it comes to installation. It is one task that can be completed in one day but will make your garage look great for decades or even more. It is the best upgrade you can complete all by yourself on a tight budget and in just one day. Read more about garage flooring.