Garage Floor Clear Coat Guide
If you finally decide to convert your old garage into the new one then garage floor clear coat is one of the best ideas. It will make your floor the toughest one and save your floor from all kinds of dust or any kind of damage.
For those who want their floor looks shinier, the garage floor clear coat is the best option. In this article, we are going to cover some common questions.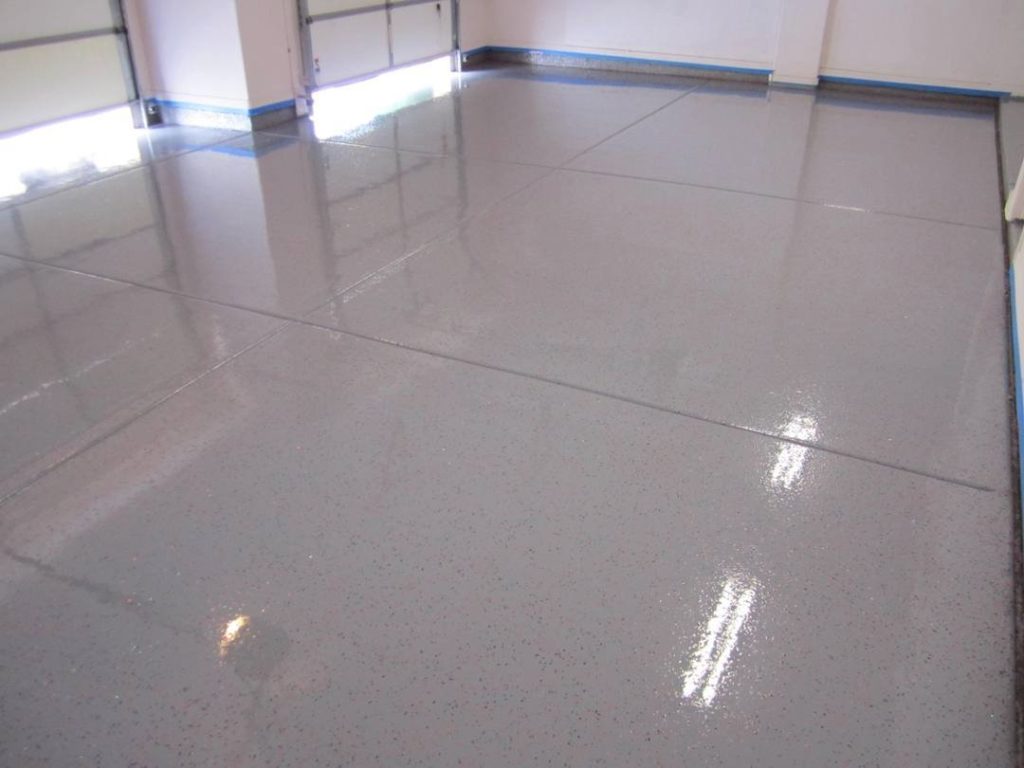 Frequently asked questions about garage floor clear coat
Should I clear coat over epoxy resin garage floor?
Yes, applying the garage floor clear coat would be a good thought. With giving your coat an attractive and glossy finish, the garage floor clear coat also protects the color flakes and underlying base color coating. From the varieties of garage floor clear coat, the best clear coat for the garage floor is rock solid clear coat.
See also Best Garage Floor Epoxy – 2019 Buyers Guide
Can you use polyurethane on concrete?
Using wood polyurethane on concrete will protect your garage surface from corrosion and different chemicals. The polyurethane sealers make a protective layer with the concrete surface which helps to save it from any kind of chemicals or dirt. You may use them on the interior an exterior concrete as well for a transparent and high durable finish.
How much does it cost to the epoxy garage floor?
In general, the per square foot epoxy floor coating is starting from $3 to $7. Although you may have to spend more if you increase the number of layers or if the floor is not properly maintained.
For a two-car garage, the price ranges between $1300 and $3080 and for a three-car garage, the prices change to $2880 to $3600.
What's the best concrete floor paint?
1-part epoxy paint is the best type of concrete floor paint because it will protect your floor from mold and mildew, oil, and all types of dirt. To give more protection and more depth to your floor so that it will look more attractive than before, you can switch to the garage floor clear coat. It not only creates a grosser looking finish but also it's also a better medium for anti-slip additives.
How long does garage epoxy last?
If you properly maintain your epoxy garage floor then it may last from 2 to 3 years. Don't worry they require very little maintenance and very affordable in price. To make it safer and attractive you may use the best epoxy clear coat which also helps to protect the floor from color flakes.
See also 10 Best Garage Floor Coating Review you can DIY Quickly
What is the best epoxy for garage floors?
Among the two types of epoxy garage floor ie. the premixed 1-part and Latex acrylic, the premixed 1-part is better because it makes a strong bond with the concrete. And that is the reason behind the hardness of the epoxy garage floors. To provide extra durability and to protect color coat you can also use the garage floor clear coat.
What is the best product to seal concrete?
it's very hard to decide which is the best product to seal concrete as there are several products are there in the market. From all, there are only two that used generally and they are firm forming sealers and penetrating sealers.
What happens is the dirt and grease start damaging the floor and that is the main reason why these floors tend to a short lifespan. Both the sealers are good to seal the solid surfaces or concrete surfaces.
There are many types of Concrete Sealers on the market, and each has its individual properties. However, the most commonly used sealers are both film-forming sealers and penetrating sealers. Though both are designed to seal solid surfaces or concrete, they work in different ways. To find out which is the best concrete sealer for your project, it is best to understand the difference.
Does polyurethane stick to concrete?
Polyurethane is a sealing agent and can easily stick to the concrete to provide you a smooth and damaged free garage surface. The durability and resistance value of the polyurethane is very high.
What is the best sealer for painted concrete?
You will find many sealers in the market but the best one of all is Seal-krete 1 gal. it helps to give your garage surface a premium and attractive finish. Is has many benefits like it is oil and gas resistant, scratch proof and exceed the paint's life. In case your concrete floor is having moisture damage then apply clear seal today and get free from these small but hectic problems.
Should I seal concrete before the carpet?
Yes, it would be very good for your floor to get sealed before the carpet because Sealing has many great benefits like it helps to save the surface from any kind of moisture and spills. You can securely sit on the carpet as you know that there is no moisture. But before placing the carpet on the surface make sure that the surface is totally leveled and properly cleaned.
Conclusion
Garage floor coating is very important nowadays as the garage is not just a place where you just throw your old items. To make it look good and tough, the epoxy-coat clear coat is best as it will save the floor from all types of damages. On the other hand, to seal and increase the shine of your coating garage floor clear coat could be used. You will find a variety of garage floor clear coat, choose according to your requirements. Apart from the garage floor clear coat, if you want to clear coat your patios, walkways or high traffic area then the Rustoleum clear top coat the best option for you.