DIY Garage Floor Coating – What You Need To Know
DIY garage floor coating has always been the best way to pass the weekend. If you require a space for weekend projects or a home garage for entertainment purposes, it doesn't have to be boring! Epoxy garage floor DIY will give a sleek, classy look to your garage without spending a fortune. This step by step guide will not only help you on how to keep your garage clean and safe but will help in producing a perfect extension of your home.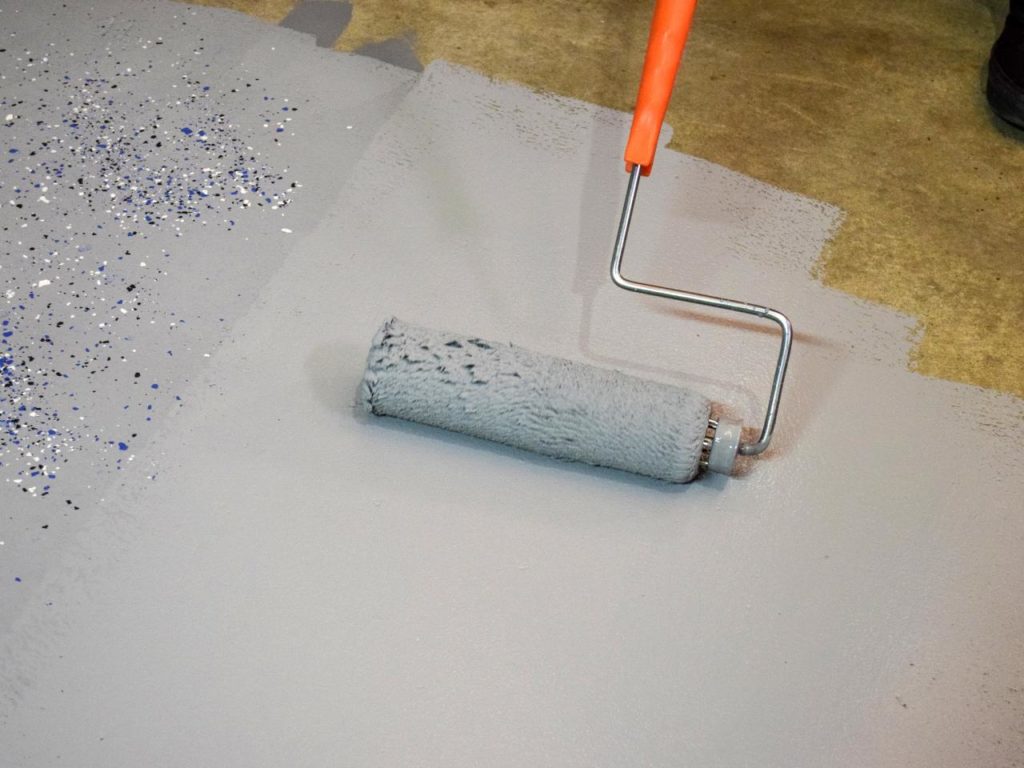 Frequently Asked Questions About DIY garage floor coating
How much does it cost to seal a garage floor?
Here is the first question that pops up on the mind when it comes to garage flooring. Sealing a garage floor varies according to the type of material being used. Either you want to seal the floor or you want to give it a more decorative look, the epoxy garage floor is a perfect coating. It protects the floor against the wear and tear that comes with heavy foot traffic. DIY garage floor coating costs way less than hiring a professional. Wondering how much it is? For a 200 sq.ft garage floor, the cost is $100-$500. This is without an epoxy garage floor installers fee.
Should you epoxy your garage floor?
Well, the answer is it depends on your budget. If you are seeking to save some bucks while putting your DIY skills to test, you can get it done yourself. However, with the thorough preparation that is essential for the epoxy garage floor coating, you might consider hiring a professional.
Read also 10 Best Garage Floor Coating Review you can DIY Quickly
How do you prepare an epoxy garage floor?
DIY garage floor coating entails much more than taking a brush and painting. Adequate preparation and correct application is the key to a standard good looking surface. Firstly, inspect the garage floor to see if it will accept the floor coating. In case you want to use an epoxy coating, clean and abrade the concrete if it is sealed or painted. This is to ensure a long-lasting floor and eliminate peeling. Also, check for any visible moisture and acid etching is a great way to ensure that the concrete is dry.
Once the floor has been prepared, it is time to apply the primer. However, it is important to check the directions for use on the bottle before mixing. With rollers, a paintbrush and a splash can, you can get started. Most garage floor epoxy kit contains a resin and a catalyst i.e hardener. Mix these and start the application. Don't forget to leave it to air dry before stepping on it.
Read more at Best Garage Floor Epoxy – 2019 Buyers Guide
What is the best garage floor paint?
Knowing the best garage floor paint to use might be a challenge. That is why various brands and paint companies have come up with formulas for a clean looking and safe floor. KILZ 1-Part Epoxy Acrylic Paint is one of the best garage floor epoxy that is highly esteemed. The durability as compared to epoxy covering with less cost is something to be desired especially if it is a DIY garage floor coating.
More interestingly, you don't need a primer for Kilz 1-Part epoxy paint and only two coats are perfect to achieve the desired result. This type is cheaper than most floor paint and it has an acrylic base which allows you to cover enough areas with small quantities. However, the drying time is extended and it can even take a week to completely dry.
How much does it cost to pour a 24×24 slab of concrete?
When it comes to home garages, concrete slabs are awesome foundations. The slab thickness will determine the cost of concrete slabs. The average cost per square foot of a concrete slab is between $1.36-$1.88. While a typical 24×24 slab of concrete will cost $3,554 for 4″ thickness.
Should I seal my garage floor?
It is important to seal and maintain the garage floors for long-lasting durability.
Most garage floors are prone to cracking and moisture due to heavy foot traffic. Using and applying the right sealant helps in keeping and protecting your garage floors.
What type of flooring is best for a garage?
In choosing the right flooring that will stand the best of time but also add some style to your garage, using good flooring is important. There might be different options that range from interlocking tiles to carpeting. However, durable flooring that can withstand any weather is the key. Epoxy flooring is one of the smartest and cost-saving ways for durable garage floorings. best garage floor epoxy can be used on concrete floors and it has different color options to make your garage your pop. however, it does not adhere to moisture therefore, ensure your floor is moisture-free. What's more? It is easy to clean and it is oil stain resistant. With garage floor epoxy lowes, your garage floor will have a hard glossy finishing.
How long do epoxy garage floors last?
The lifespan of DIY garage floor coating is between 2 to 6 years depending on the usage and the traffic. It can last for years if it is adequately maintained.
Is epoxy worth the money?
Epoxy garage floor ensures your garage is glossy and clean looking. Apart from the fact that this garage flooring is cheap, it is also durable, safe, and stain-resistant. Moreover, with the various garage floor epoxy colors, add some sparkles to your garage. It is absolutely worth your penny!
Is epoxy flooring cheaper than tile?
If installed properly, epoxy flooring pride in its durability and affordability. Also, it can withstand the heavyweight of cars and it is resistant to any stains. A DIY garage floor coating can't get any better!
For tiles, they are available in different colors, however, it has a lot of disadvantages as compared to epoxy flooring. It can be easily broken if a heavy object is dropped on them, thus, it isn't quite safe. Moreso, it got stained easily and it requires cleaning all the time. For all your garage work, and the messiness that comes with it, tiles might require extra efforts.
Should I paint my garage floor?
Should I paint my garage floor or should I hire a pro? The answer is it depends! You might be contemplating between these two options, Getting a professional is cool. They can help make grinding and acid washing of your floor easier especially when you want to use epoxy. However, with the right preparation, a DIY painting will make you save some dough. Also, this is the opportunity to put your DIY garage floor coating skills to test and with the right preparation, you can get the right result.
Is Polycuramine better than epoxy?
Both are perfect for great garage floors and they have their advantages and disadvantages. Polycuramine has a good review of being easy to install than epoxy especially if you planning a DIY garage floor coating. It is more oil-resistant and UV rays as the color don't change when exposed to sunlight. The pitfall is that epoxy is thicker than polyurea. Also, the polyurea garage floor coating preparation process is only etching, thus, it delaminates within a short period.
However, with regards to garage floor epoxy reviews, epoxy is praised for its durability and coverage. Also, if you are in need of a floor that can resist moisture while providing a strong surface, epoxy is better. It is also good for floors that have seen better days and need repainting. However, it requires more preparation to get the perfect result. Also, it is likely to change to yellowish when exposed to UV rays.
Is it better to paint or stain concrete patio?
To beautify your concrete patio, homeowners claim both are perfect for making your patio pop. however, deciding on whether to paint or stain your concrete patio depends on what you want.
Concrete stain penetrates the pores of the surface, thus increasing the durability. therefore, you need not worry about your patio floor flaking or chipping in a long while. However, if it does, it can be rectified using a sealer.
For paint, it is the best DIY choice and is quite inexpensive. However, it is susceptible to peeling or flaking especially if the floor is not well-cleaned before application. Consider your needs and choose the one that best answers it.
Conclusion
Whether you decide to DIY or get a professional, it all depends on your budget and your needs. However, DIY garage floor coating is easier if you follow the steps. With the right preparation and application, you are guaranteed a perfect garage floor.