Polyurea Garage Floor Coating Ultimate Guide
In concrete floor technology, the Polyurea garage floor coating is among the best options to choose from. It's a very advanced, curing and a fast hardening technology which will prevent your floor from gas, oil or any harmful chemicals. With this floor coating, you can get yourself a floor that looks new every time after being maintained. If you want to know more about polyurea garage floor coating, this article is for you!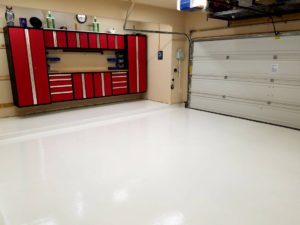 Frequently asked questions about polyurea garage floor coating
Is polyurea better than epoxy?
Polyurea garage floor coating has excellent reviews by the consumers. Not only can it withstand any harsh weather, but it is also stain-resistant and can be easily cleaned. What's more, polyurea UV stability is something to consider if you desire a long-lasting flooring. However, one of the shortcomings is that it needs a professional as it has a limited pot life. Therefore, for a polyurea garage floor coating DIY, it might not be suitable. Good news for the DIYers! With single part polyurea floor coating, you save yourself the stress of hiring a pro. Not only is it easy to apply, but it also has an unlimited pot life. Epoxy, on the other hand, is less costly, but the color tends to change when exposed to UV. See Best Epoxy Floor Reviews.
How much does polyurea cost?
Depend upon the type of quality you are choosing for polyurea, the cost differs accordingly. The per square foot cost of polyurea is around $4.50 to $7.50. And if you are taking 1 gallon with the full percentage of polyurea then you have to pay in between $35 to $38.
What is Polyurea floor coating?
Polyurea garage floor coating is a floor protection technology. The mixture of the chemicals and it formulations produce a good hard surface. This surface coating will provide you with a high-class gloss finishing and an attractive look. For more perks, one of the best polyurea garage floor coatings, a single-part polyurea coating garage floor kit entails a single clear component. This means there is no need for mixing components. Likewise, you don't have to apply the primer. How best can you save those extra bucks and energy, if not with single-part polyurea garage floor coating
Another important reason to choose polyurea garage floor coating is its ability to resist UV rays and high tolerance of heat in summers. Moreover, with this floor coating, your floor will be safe from chemical damages and scratches. If you are someone that goes dirty with all the oil spills or chemical while working in your garage, Polyurea is a great floor protector.
See also Garage Floor Clear Coat Guide.
How much does it cost to coat garage floor?
It depends upon the type of coating you are using for the garage floor. Apart from that, the size and the quality of your floor also matters. If you are using a good quality floor coating then it will be costly. It is important to bear in mind the protection of your floor from scratches, chemicals, UV rays, and much more. With single part polyurea floor coating, you are guaranteed of a high gloss finish. If you are going for the cheaper one then it has to be adequately maintained. Wondering where to buy polyurea floor coating? Different companies and manufacturers have polyurea garage floor coating for sale in the markets and on various shopping sites.
For polyurea, the per square foot cost starts from $4.50 to $7.50. In case, you are buying 1 gallon with 100 percent of polyurea then it will cost around $35 to $38.
For Epoxy, it ranges from $3 to $7 per square foot. In case, you have a garage floor with a space of 2 cars then it will cost around $1320 to $3080. If the number of layers you used for coating are more, then the cost will increase accordingly.
You may also like to read DIY Garage Floor Coating.
What is the difference between polyurea and polyaspartic?
The Polyurea garage floor coating made when resin combines with a catalyst to make a curing reaction. It's a subcategory of polyurethane which is something similar to Epoxy. What makes this product popular is its no VOCs and fast cure rate. Also, the reason why people prefer polyurethane to polyaspartic is that it is less expensive.
On the other hand, Polyaspartic is an aliphatic polyurea which is also good in the first cure rate. Hence, it can be said that the polyaspartic coating is much similar to polyurea but not the same thing.
What is the best epoxy paint for garage floors?
Among all, the best epoxy paint for the garage floor is Rust-oleum. It is because it saves your garage floor from the oil spill, hot tire pickup, gasoline and road salts. It's really a long term investment.
How long does polyurea last?
The polyurea garage floor coating lasts for almost 25 to 30 years. This is because it is made with mixed properties, thus, making a hard bond with concrete and provide toughness. Apart from this, it has UV resistance quality, it's scratch proof which gives it a longer running capability.
Is an epoxy floor slippery when wet?
Yes, the epoxy floors are very slippery in case there is water or any other liquid substance on the floor. Hence, if you are living in an area prone to spills then it's a bad idea to choose epoxy floor coating.
How do you apply polyurethane to a garage floor?
Before applying the polyurethane on the floor, make sure if the floor is totally clean. Then start from the corner of the room. With a lamb's wool applicator, apply it gently parallel to the wall. Continue with it till the floor is fully coated.
Read about best garage floor coatings review.
What is polyaspartic polyurea?
When polyisocyanate reacts with amine-terminated polyester resin, it forms polyurea. Polyurea formulations are of 2 part and when mixed, it generates a reaction that helps in hardening the surface. But when we react to the aliphatic polyisocyanate by a diamine, it creates a substance called Polyaspartic Polyurea. It can also be called Polyaspartic.
How much does it cost to pour a 24×24 slab of concrete?
The per square ft. market cost for a 24×24 slab of concrete starts from $3,058 to $5,944. In case you want to buy according to a simple concrete slab then it will cost around $4 to $8 square ft.
How long does an epoxy garage floor last?
It is believed that a simple Epoxy garage floor will last 2 to 6 years only. Moreover, the maintenance of your floors is also an important factor that determines how far it will last. The good thing about this garage floor is that it is affordable and quality is good.
What is the best flooring for a garage?
For a garage, you will find several options like Epoxy flooring, Rubber tile flooring, and concrete flooring. The related information of these flooring is given below. Choose the appropriate one according to your needs.
1.    Polished Concrete Flooring
The best thing about this garage flooring is that they are the heaviest and hardest of all. It can also bear heavy pressure without damaging.
Epoxy Flooring
With the availability of a number of different colors, the epoxy flooring is very feasible and tough. It is also perfect for all floor types and it will last longer if properly applied.
Rubber Tile Flooring
The interlocking patterns is the uniqueness of this flooring which provides it strength and stability. It can be installed with ease and it needs less maintenance.
Conclusion
Choosing the best garage floor coating is really a hectic task as there a number of them are available in the market. But from all of them, the polyurea is the best one. The polyurea garage floor coating lasts for too many years and helps your garage floor to protect from UV and other harmful damages. Read more about garage flooring.