Woodworking Table Saws: The 5 Best Picks for Accurate and Clean Cuts
I bet that somewhere in the near past, you had the urge to build or create something only to discover you didn't have the correct tools to complete this project. This is something that might have nudged you to start looking at a table saw for all your exceptional woodworking needs. Woodworking is an art that is very difficult to perfect without the right tools. But, completing a woodworking project is something that doesn't have to be impossible and shouldn't only be for a select few.
Below you will find all the information needed to choose the best woodworking table saw to fit your wallet and give you the peace of mind that you've purchased the best woodworking table saw. Let's not waste any more time and move straight into the review of the best woodworking table saws. See also our Best Benchtop Bandsaw Review.
Top 5 Best Woodworking Table Saws Reviewed:
In the table below, you can see how the different table saws compare to one another.
Table could not be displayed.
1. Rockwell RK7241S Table Saw

The Rockwell RK7241S is one of the leaders in its class. It comes with a laser indicator to ensure you get an accurate cut every time. It also comes with a fold-out fence that gives you maximum rip capacity, and the extra-wide tabletop gives you the ability to make those extra-wide cuts with pinpoint accuracy.
This woodworking table saw exhibits one of the best cutting capacities of any portable 10-inch table saw. It can easily cut through a 4 by 4 piece of lumber. The Rockwell RK7241S comes with a 15 amp motor that has a no-load speed of up to 4800 RPM.
Another big plus for this table saw is the fact that it is portable and easy to transport. The RK7241S has 2 integrated wheels, and you can use the extended leg to pull the table saw on its two wheels. This makes it really easy to move from one location to another. It only weighs a mere 88.2 pounds making it an ideal table saw if you plan on moving it around from one site to another.
Pros:
Laser-cut line indicator
Easy trolley design making transportation more accessible.
Extra-wide fence system for broad cuts
Cons:
Not as sturdy as a bigger saw
Difficult to level the tabletop
FAQ:
What is the voltage?
The RK7241S makes use of a 120-volt power supply.
How loud is this saw when it is running?
This saw is quiet when it is running at full capacity because of the enclosed motor assembly.
2. Genesis GTS10SB 10-inch Table Saw

The Genesis GTS10SB has a powerful 15 Amp motor making it ideal for cutting most kinds of wood. The 4800 RPM of the blade ensures a smooth cut every time. This is a very lightweight table saw making it a perfect product if you are not looking for a big bulky table, saw that can get the job done.
One of the best features of the Genesis GTS10SB is its 2-year warranty. This comes with US-based customer support to ensure you get the best possible service when purchasing this table saw.
This Genesis table saw comes standard with a stand with a 24 – by 20-inch aluminum cast table complete with an extra-large sliding miter gauge for both 90 and 45-degree cuts. Adjusting the height of the blade is made effortless thanks to a blade control wheel allows for easy adjustments. The GTS10SB has onboard storage for the blade holder, miter gauge, and push stick, making for secure storage of all accessories.
Pros:
Very sturdy table saw stand included.
Two-year warranty
Onboard storage for all saw accessories
Cons:
Not manufactured in the US.
Does not come with sawdust bag
FAQ:
Can it accept a dado blade?
Yes, It can take up to a 5/16 inch blade.
Where is this table saw manufactured?
The Genesis GTS10SB is made in Japan.
3. DEWALT Compact 8 – 1/4-Inch Table Saw

The DEWALT compact table saw is very easy to transport and is one of the most trusted power tool manufacturers. The compact design of this saw makes it very easy to transport from site to site, and that is why it is a loved table saw by professional contractors. The table saw is built into a metal roll cage to increase its durability and allow it to withstand some rough conditions.
The smooth sliding fence rails make for easy and accurate adjustments that make it easy to cut with pinpoint precision. This makes for a great mixture between durability and accuracy.
This DEWALT table saw weighs only 53.3 pounds (24.2 Kg) and only takes up an area of 26.65 x 14.08 x 27.15 inches. Although it has a very compact design, it also has onboard storage space to ensure you keep all the needed table saw accessories as close to the saw as possible.
Pros
Very lightweight and easy to transport
Extra onboard storage space
Easy to setup and use right out the box
Cons:
Saw only works with 110/120 Volt outlet
Stand sold separately
Not compatible with a dado blade
FAQ:
What is the biggest blade size this DEWALT model can use?
This DEWALT 7485 model takes an 8 ¼ inch blade.
What measuring system does this saw use?
This table saw makes use of the imperial system
4. Grizzly Industrial G1023RLWX 10 Inch Cabinet Table saw with Built-in Router Table

Grizzly took their G1023RL table saw model and made it even better by adding a router table that doubles as an extension wing table. This provides some much needed extra working space, all the while providing you with an additional router table for most of your routing needs. The router table includes its own support legs and has a universal T-track clamping system. Keep in mind that the Fox Classic Fence doubles as a fence for the router table.
This Grizzly table saw is a bulky unit that's very sturdy and well built. It isn't recommended that you move this unit around too often. Its dimensions are 29.5 x 30.5 x 39.75 inches, and it has an approximate shipping weight of around 623 pounds.
The G1023RLWX includes some great safety features like a magnetic safety switch and a T-slot that prevents the miter gauge from falling off the table if fully retracted. The table top is also made for the utmost precision. The table top is first heat-treated to increase its strength, and then it is milled to have a perfectly flat working top that has a mirror-like finish to it.
Pros
Large saw top
Very sturdy cabinet saw
Built-in router table
Cons
Not compatible with small trim routers
Not a portable woodworking saw.
FAQ
Does the G1023RLWX include a warranty?
Yes, the Grizzly G1023RLWX comes with a one-year manufacturer warranty.
Can the router table be mounted on the right side of the blade?
No, the router table is mounted on the right side of the blade and cannot be moved to the left side.
Can the 5 HP motor be wired to run 120 volts?
No, this model runs at 220 volts and cannot run at 120 volts.
5. TACKLIFE MTS01A 10-Inch Table Saw with Aluminum Extension Table

The TACKLIFE MTS01A is equipped with a mighty 15 amp 2000 watt motor that can cut through most wood, plywood, Hardwood, and chipboard. This is really handy for any small scale project you wish to undertake. It has a cutting capacity of 2 – ⅘ inches at 90 degrees, and with its left tilting bevel, it can cut through 2 inches at a 45-degree angle. The MTS01A 10 inch table saw is compatible with most commercial 10 inch blades.
The large aluminum table top extension allows for fine woodworking because of its smooth finish that reduces friction for a smooth sliding effect. The table top is 25.3 x 28.3 inches and can be extended by 3.9 inches on both sides to provide more stability when cutting longer pieces of wood.
The miter gauge can be adjusted from a + 45 degree to a – 45-degree cut, depending on what you need to cut. The rip fence helps with precision cutting and has a maximum rip capacity of 12.6 inches on the right and 16.5 inches on the left-hand side.
The TACKLIFE MTS01A has onboard storage capacity for the push stick and Allen wrench for added convenience. This makes it easily accessible when needed. This table saw also comes with a two-year warranty and access to permanent after-sale guidance.
Pros:
Big table top
Two-year warranty on this table saw.
Aluminum table extensions
Cons:
Hard to understand instruction manual
Wobbly Stand
FAQ:
What voltage does the table saw require?
This table saw runs with 120 Volts.
How long is the warranty valid?
TACKLIFE offers a 24-month warranty
Buyers Guide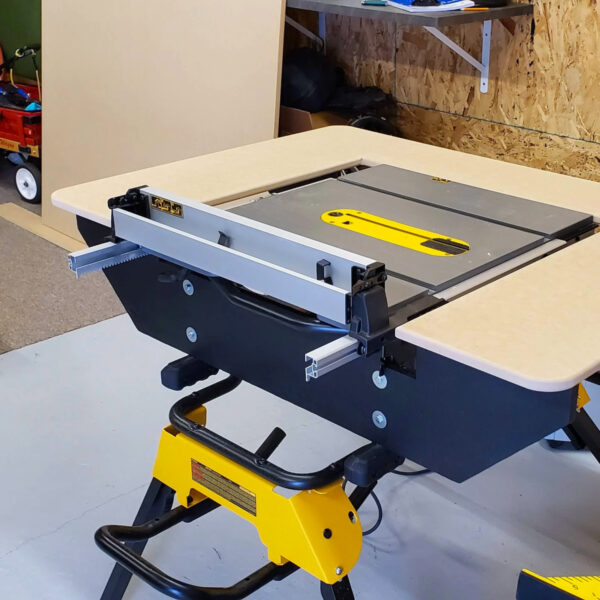 Knowing precisely what woodworking table saw you are looking for, makes it that much easier to choose the best fit for your woodworking needs. Below is a list of a few factors one should take into consideration when looking for the perfect woodworking table saw. This buyer's guide will take you through everything you need to consider before making your final purchasing decision.
Table saw stand
The stand of the woodworking saw has a massive impact on the overall stability of the table saw. There are a few manufacturers that sell the stand with the table saw, and other manufacturers choose to sell it as a separate product. It can be a beneficial addition to any saw and can assist with different cutting methods. Most stands come with adjustable legs to maintain a level table top even if the ground might not be 100% level.
See also our review of the best 14-inch bandsaws.
Cutting Depth of Table Saw
The majority of all table saws come with a 10-inch blade. It is crucial to understand that this doesn't mean it has a 10-inch cutting capacity, but rather it is the diameter of the blade. The cutting capacity of a 10-inch blade is usually in the area of 3 – ⅝ inches. This is not set, but rather it is an indicative value with table saws either having a little less or a bit more cutting capacity.
Blade Angle of Table Saw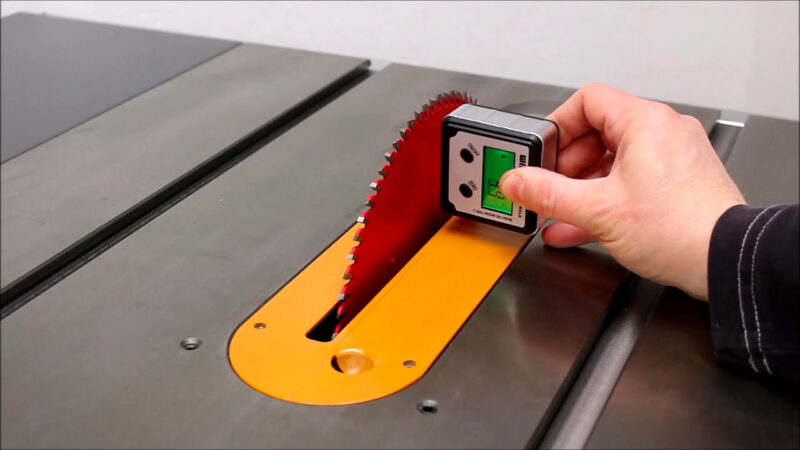 Almost all modern table saws can cut at an angle of between 90 – to 45 degrees. Most saws only can cut an angle to the one side, which means that the blade can only tilt one way. If you are in need of a blade that can tilt both ways, then you should know this before you buy an excellent woodworking table saw and only realize once you unbox your saw that it cannot tilt both ways.
Budget
A good thing to keep in mind when looking for a woodworking table saw is how much money you are willing to spend on it. All of us probably have some kind of budget in mind when browsing for table saws, and we are all looking for the best possible option our money can buy. It might also be an option to spend a little less on a table saw and spend some extra cash on saw accessories to widen the capabilities of your saw.
Size and Weight
The size and weight will be more important to some people than to others. For example, if you intend to use your saw on multiple working sites, then it might not be the best plan to get 600-pound woodworking saw. If you plan on only using it in one site – like your own garage – then you might be leaning towards a bulkier, more sturdy table saw. Your intended use will play a massive part in the size of the table saw you choose at the end of the day.
The size of a table saws' working top can vary anywhere from 26.65 x 14 x 27 inches to as big as 70 x 32 x 34 inches in size. It makes sense that the bigger the table top and working area of the saw, the heavier it will be. A more bulky table saw might be much heavier, but it can, in turn, be very sturdy while a lightweight woodworking saw can be moved around as needed, but it is a bit more wobbly.
Saw Motor
When you buy a woodworking table saw you want to be sure that it can cut through the wood you wish to cut. This usually comes down to the size of the motor—the bigger the motor, the stronger the saw. But keep in mind that a bigger motor might lead to a more massive machine, so keep this in mind. The most common motor size on a table saw is a 15 Amp, 1.75 Horsepower, 4 800 RPM motor.
This motor is usually sufficient for DIY woodworking projects, but if you need to perform some fine woodworking, then you might need to look at a motor size that best fits your needs.
Here is the video with some great tips on how to avoid common mistakes when using a table saw:
FAQ


What is the best way to store my table saw when it is not in use?
The best way to store your table saw would be to keep it away from dust and moisture. Be sure to cover it with something that can keep out any water and prevents it from collecting dust inside the machine. Not protecting your table saw if you're not using it might lead to compromising the performance of your machine.
Can I cut certain hardwoods with a table saw?
Hardwood has become something that gives a great look and feels to any woodworking project. The problem is that it can be tough to cut, and doing so without the correct equipment is a significant safety risk. There are a few different things that one can do to ensure you can cut through hardwood in one easy go.
First, you need to have a good quality blade. If you have a top-quality blade, then you might find it easier to cut. The second thing is that you need to ensure your fence is exactly parallel to the blade to avoid any unnecessary strain on the blade.
What is the difference between a table saw and a cabinet saw?
The main difference between the two is the size of the two saws. A cabinet saw is usually bigger and not meant to be a portable piece of machinery. While a table saw is manufactured to be more portable and compact. Contractors make use of a table saw if they have multiple worksites that they need to work at.
What is the recommended blade size for a table saw?
Most table saws use an 8 – or a 10-inch blade. Be sure to read the manual or ask an expert for the precise size of the blade required for a specific saw.
Final Thoughts
An excellent woodworking table saw is part of any DIY master's tool kit. On the list we provide above you can find some of the best table saws that money can buy, giving you peace of mind and also helping you find something that best fits your pocket. These products were not only reviewed, but they were tested to provide you with all the needed information before you make your final decision. We are very confident that you will find one of the products above to meet all your woodworking needs best. And that would conclude our best woodworking table saw review.
Last update on 2023-09-24 / Affiliate links / Images from Amazon Product Advertising API