Best 14 Inch Bandsaws: Our Top 5 Picks and In-Depth Reviews
Anyone who's ever tried to cut wood knows how difficult it is to work with a crappy machine that makes continuous, effective work seem like an impossible task. No matter if you are into lumbering, you are a carpenter or a craftsman, a good saw will save you a lot of trouble, particularly if you are making a living from woodwork and/or metalwork. No matter what you do, you probably don't want to end up with uneven or damaged pieces of material.
If this applies, an excellent solution to look for is a thing called a bandsaw, which is a powerful machine that cuts precisely and minimizes variations of angle when cutting, improving the overall precision we all need when cutting. If you are looking for a robust solution that will fit into your garage or shop, look no further, as this text is here to help you nail the best deal when it comes to choosing the right bandsaw for you.
Top 5 Best 14 Inch Bandsaw Reviewed:
Below is a table that shows how the different 14 Inch Bandsaw compare one to another.
Photo


Editors Pick



Product Name
Shop Fox W1706 14" Bandsaw with Cast Iron Wheels & Deluxe Aluminum Fence
JET JWBS-14DXPRO, 14-Inch Deluxe Pro Bandsaw, 1Ph 115/230V (710116K)
RIKON 10-305 Bandsaw With Fence, 10-Inch
Delta 28-400 14 in. 1 HP Steel Frame Band Saw
GENERAL INTERNATIONAL 14" Wood Cutting Bandsaw - 1 HP Floor Standing Band Saw with 0-45° Tilting...
Photo

Product Name
Shop Fox W1706 14" Bandsaw with Cast Iron Wheels & Deluxe Aluminum Fence
Photo

Product Name
JET JWBS-14DXPRO, 14-Inch Deluxe Pro Bandsaw, 1Ph 115/230V (710116K)
Editors Pick
Photo

Product Name
RIKON 10-305 Bandsaw With Fence, 10-Inch
Photo

Product Name
Delta 28-400 14 in. 1 HP Steel Frame Band Saw
Photo

Product Name
GENERAL INTERNATIONAL 14" Wood Cutting Bandsaw - 1 HP Floor Standing Band Saw with 0-45° Tilting...
1. Shop Fox 14 Inch Bandsaw
Powered by a 110/220V single-phase motor, a cast iron blade, an enclosed cabinet, and a tilting table, this is a machine to reckon with. The table size on this model is 14 x 14 inches, and it can be tilted 45 degrees to the right and 10 degrees to the left, allowing you to adjust the material and the angle easily. The whole construction does not only have an appealing design but is made of quality cast iron, including not only the wheel but also the frame and the table, which adds to overall durability. The cutting capacity we are talking about here is 13-½-Inch, with maximum cutting height being 6 Inches. It features a quick-release blade tension, as well as blade guides and hinged wheel covers, which is very needed.
Pros:
Tilting table
Made of cast iron
13-½-Inch cutting capacity
Sturdy construction
Affordable
Cons:
Motor not as powerful as expected
Blade tension may require adjusting
FAQ:
What is the blade size on this model?
The blade size is 93-½-Inch, and ⅛ Inch to ¾ Inch wide.
Does the construction support extensions?
Yes. This model originally has a maximum cutting high of 6 Inches, but you can purchase an options extension kit that increases this capacity to 12 Inches.
Does the model come with a dust brush?
This 14 Inch bandsaw does not include a dust brush.
2. JET 14 Inch Deluxe Bandsaw
With a cast-iron frame, a sturdy table, and a sharp, built-in retractable blade, this is a model that can help you deal even with larger pieces of wood. The table size is 15 x 15 inches, and it is a tiltable one, which promises greater flexibility. This bandsaw has special bearing guides for reduced friction, a polls-v belt drive system, and that means increased precision, enhanced performance, and improved safety. The model also features a quick-release blade tension and high tension spring design, which ensure that you get top performance even after working long hours. For more safety, the designers have included an enclosed stand and blade-tracking window, which will ultimately help you keep both the materials you are working with, and the saw in check.
Pros:
Sizable tilting table
Polls-V belt drive system for increased precision
The quick-release blade tension system
Enclosed stand
Sturdy construction
Cons:
Guides may need adjustments.
May require additional assembling.
FAQ:
What is the blade speed of this model?
The bade speed is 1500/3000 SFPM.
Does this bandsaw include a dust port?
Yes, this 14 Inch bandsaw by JET includes a dust port located in the lower housing.
Does the item come with a manual and a warranty?
Yes, this bandsaw comes with a user manual and a warranty provided by the manufacturer.
3. Rikon 14 Bandsaw With Fence
If you are working in a smaller space, but still need a bandsaw that's powerful enough to do what needs to be done, this is the model to consider. With a 2'' rip fence and a table that can tilt up to 45 degrees, this is a machine that will allow for greater freedom of movement. The machine features a large blade tension knob and has edge facing thrust bearings. The great thing about it is that it has a dust port and safety on/off switch, which add improve the overall experience when working with this particular model. For a bandsaw, this can be considered as a compact model, as it is easy to store and transport due to its smart design. Moreso, this thing is powered by a ⅓ HP motor, which is just enough for pen blanks or even aluminum.
Pros:
Large cast iron tilting table
Dust port
Rip Fence
Micro-adjustable guidepost
Cons:
May arrive with broken pieces.
Potential wheel adjustment issues
FAQ:
What is the voltage for this model?
The voltage is 115 Volts.
What is the maximum cutting depth?
The maximum cutting depth for this particular model is 4-⅝''.
What is the maximum speed range for this bandsaw?
The maximum speed range is 2,780ft/min.
4. Delta 14 Inch Bandsaw
Featuring rubber-coated 9 spoke wheels, a simple tensioning system, and a large cast-iron table with aluminum trunnion support, this bandsaw by Delta has a lot to offer. The table is fixated on a sturdy, heavy-duty steel frame that ensures stability. The machine is powered by a 1HP, 115V/230V motor, and has two speeds, one for cutting wood and the other for cutting metal, meaning you will be able to pull off many tasks, including metalwork. The table has t-slot miter capability and is a tiltable one, tilting from 3 to 45 degrees for you. It guarantees precision as it ensures easy blade tracking and has a two-speed drive system, which is there to decrease belt tension.
Pros:
Rubber coated wheels
Suitable for woodwork and metalwork
Easy blade tracking
Durable
Sizable tilting table
Cons:
No micrometer-style adjustments
Replacement parts are hard to find
FAQ:
How big is this bandsaw?
This is a sturdy piece weighing 165 Pounds, and its dimensions are 45 x 18 x 21 inches.
What are the available motor speeds for this model?
This bandsaw has two speeds, 1,620 FPM, and 3,340 FPM.
Does this item come with a blade, or it needs to be purchased separately?
The bandsaw comes with a steel ¼'' blade.
5. General International 14 Inch Bandsaw
This is a heavy-duty bandsaw with a top-quality circular saw and upper and lower ball bearing guides, which means two things – laser-precision and efficiency. A 1 HP fan powers this machine cooled motor and gives you two cutting speeds to choose from, depending on the wood you intend to work with. The working table tilts up to 45 degrees, and together with the 14'' wheel, it makes this a bandsaw for a different variety of tasks. It is a sturdy piece that comes with a 2-year warranty and promises reduced bandsaw vibration, all thanks to smart design and a one-piece frame that supports steady and precise movements.
Pros:
Tilting table
Stable and sturdy construction
Upper and lower ball bearing guides
Cons:
Unclear instructions
The machine produces minor vibrations.
FAQ:
What is the size of the blade?
The blade width for this model is ⅛''- ¾'', while the length is 100-¾''.
Does the machine have various cutting speeds?
Yes, this model has two cutting speeds you can choose from, 1575 SFM and 3280 SFP.
What is the voltage and wattage of this model?
The voltage of this bandsaw 120 Volts, while the wattage is 1140 Watts.
Buyers guide
How do 14 Inch bandsaws work?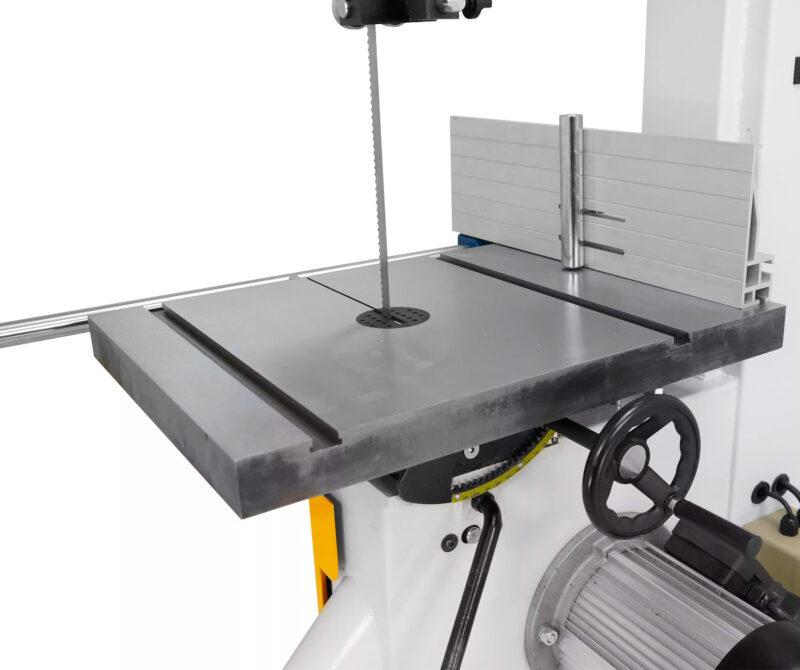 Bandsaws are highly versatile machines created primarily for woodwork, but also for some lighter metalwork. It is a powerful machine used for creating curves, cutting, slicing, resawing, and ripping material freehand. They come in various sizes, and it is the size that determines how big a piece of material you can work with. Simply by turning the machine on, you get the saw going, and you can place the material intended for cutting onto the working table, adjust the angle by tilting it if necessary, and you are ready to cut and reshape the piece. It has a pair of wheels that hold the blade, and by tensioning the blade and adjusting it, as well as adjusting the table, you can have full control over the material, the cutting angle, and the movements.
What to pay attention to when choosing your 14 Inch bandsaw?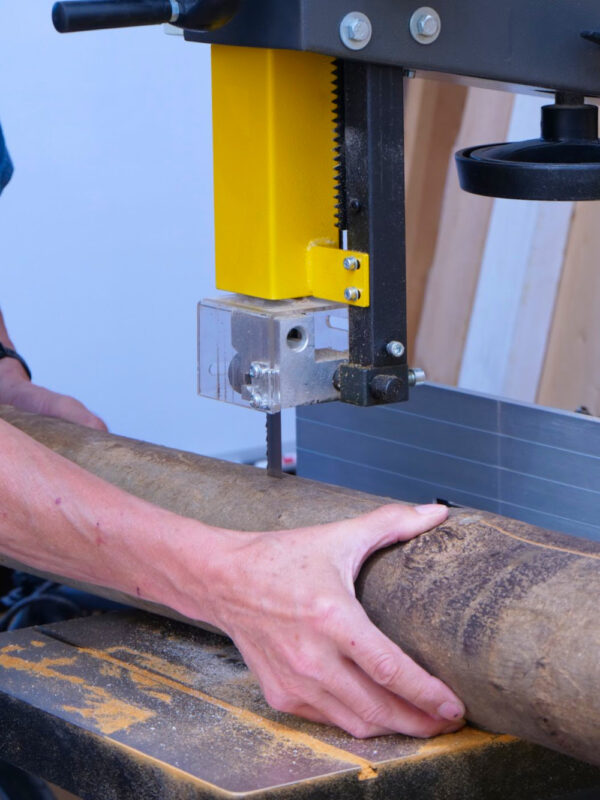 If you are about to purchase a 14 Inch bandsaw, pay attention to the cutting speed and the strength of the motor, as well as the cutting height, where anything below 6 inches, will be insufficient for more serious woodwork. The blade speed should reach up to 3000 FPM, as anything below that will prove the bandsaw to be underperforming. Regardless of what type of work you intend buying the bandsaw for, always opt for the one with the largest table surface and make sure it can tilt in various directions up to 45 degrees, as without a proper working surface your tool won't be a versatile one, and that is something you want to avoid. The motor should ideally have 1HP and a decent amperage to be able to pull off continuous cutting without overheating.
How do I use a 14 Inch bandsaw?
Setting up the saw includes choosing the right blade you intend to work with. The 14 Inch bandsaws are designed for a .025'' thick blades, so that is the one you should go for. Set up the blade by securing it onto the bandsaw wheels and set up the blade guard height by following the instructions in the manual and be alert of the blade tensioning. Set up the desirable speed by following the manual guide. Once you have the material and the bandsaw prepared, turn the machine on and begin cutting. Don't forget safety goggles and gloves, as you will be operating with an extremely sharp and fast-moving blade.
When buying a 14 Inch bandsaw, what design specifications should I pay attention to?
Regardless of what you intend to use it for, always go for sturdy, heavy-duty cast metal models with a solid base. This matters because you need maximum safety, and a shaky base won't give you that. Opt for a machine with a broad and solid tilting table and make sure the machine provides minimum vibration when turned on. Ideally, you will want a model with a dustpan and the one with an enclosed stand and a blade-tracking window, as these will help you keep track of the blade and improve your safety when working. A model with micrometer-style adjustments or a micro-adjustable guidepost is generally more comfortable to work with, so finding one of that type will be a plus. Quick-release blade tensions system is a huge plus, so having that mentioned in the specifications is definitely something to look for.
[ninja_tables id="4884″]
FAQ

What does a 14 Inch bandsaw mean?
14 Inch for a bandsaw is an indicator of size. The size is measured based on the diameter of the wheels, which, in the case of 14 Inch bandsaw, means that the wheels are 14 inches in diameter.
Do I really need a bandsaw?
If you work with wood, timber or light metal that is thicker than 1'' or 2'' on a daily basis, and more so if cutting, resawing, and reshaping material is part of your profession, getting a bandsaw will be more than a good investment and almost a necessity.
What size blade does a 14 Inch bandsaw take?
A 3/16'' wide and 93-½'' long blade is considered a standard for most 14-inch band saws available on the market. The blade thickness intended for this bandsaw size is .025''.
Final Thoughts
A 14-inch bandsaw is an excellent solution for woodworkers and metalworkers who work with thick materials. Having a quality one in your shop means you will be able to be much more precise, cut with more accuracy, and do your thing a lot faster. These are sturdy, durable, and highly versatile tools, so you will be able to use them for various tasks, including resawing, re-cutting edges, making veneers, and even bent laminations. Possibilities are truly endless, so with one in your garage or shop, you will have a lot of creative projects to look forward to.
Last update on 2023-10-01 / Affiliate links / Images from Amazon Product Advertising API