Best Benchtop Drill Presses: Our Top 5 Picks and In-Depth Reviews
Back in the days at the beginning of my craftmanship career, I used to drill holes with an old hand drill. It did what it takes, but as my shop progressed, I couldn't afford to miss the angle and make mistakes, as for some projects, I needed full accuracy and a clean hole, which at times was a real task with a hand drill. I read somewhere that ''Repairing and crafting, especially when you want to make money of it, requires equipment that will show your clients how professional you are and help you, as a business owner do what you gotta do as effectively as possible'' Let me tell you this – I couldn't agree more.
After searching for the best solution, I figured I'd invest in a proper benchtop drill press as it would give me the ability to be precise in drilling, both regarding the angle and the depth and width of the hole, which was exactly what I needed. This is a tool with laser-sharp precision, made to drill holes with complete accuracy and control over the material you are working with. If you are looking for a benchtop drill press yourself, here are five models worthy of your investment. See also our Best Benchtop Bandsaw Review.
Top 5 Best Benchtop Drill Presses Reviewed
Table could not be displayed.
1. VEN 12-Inch Speed Drill Press
VEN Speed Drill Press is a powerful tool with 2.17 inches quill diameter and a cast iron worktable. The drill includes a laser for maximum precision and a table roller extension, which are there to guarantee the accuracy you need when drilling. Thanks to mechanical variable speed, this drill press ensures equal torque through the rage, which goes from 580 to 3200 RPMs, which is quite impressive. To ensure accuracy, there is a LED display that shows the speed of drilling, which helps you adjust and minimize errors. It is powered by a 2/3 hp induction motor long 22 inches, front to back, and has spindle travel of 3 to ⅛ inches, allowing you to vary the depth of holes that need to be drilled. This 12-inch drill press is suitable not only for quick fixes and drills but is designed for repeatable drilling as well since it has an exclusive locking linear depth stop, which securely and precisely allows you to drill multiple holes in the material without compromising the angle. The worktable is made of top quality cast iron, has a rack and pinion that can be easily adjusted and can be moved left or right when needed.
Pros
Easy to assemble
Ensures high accuracy when drilling
Wide speed ranges
Beveling worktable
Includes a LED display and work light
Suitable for both wood and metal
Cons
Poor customer service
Potential problems with laser precision
FAQ:
Does the press come with assembling tools?
Yes, the drill comes with tools for assembling, which is always a plus.
Is it suitable for metalwork?
The drill is suitable for working with various materials, including metal, wood, and plastic.
Does the drill press require batteries?
No, this is a corded electric tool that doesn't require batteries.
2. SKIL 10-Inch Drill Press
Here is what I have been told about this one at the store. If you want a high-performance tool that is also affordable, this is it.'' Coming from the SKIL family of tools, this affordable solution is ideal for those who are opening their new shops or leveling up their existing business. This 10-Inch drill press is designed to help you create holes precisely where you need them to be without unwanted variations, thanks to a reliable drill and a stable working table that enables you to adjust the angle without much fuss. It has a beam laser to pinpoint the exact spot of drilling while ensuring maximum consistency. This is possible thanks to a depth adjustment system and five speeds going from 570 to 3050 RPM for drilling you can work with. Suitable for not only wood, but also metal and other materials, and with a three-year warranty given by the manufacturer, it will turn out to be a solid investment. This is a tool that's not only efficient, but first and foremost is a safe one, with a bump-off switch and simplified maneuvering. It has a ½ keyed chuck and a tilting work surface that can move up to 45 degrees left or right.
Pros:
Tilting work table
Depth adjustment
Five speeds
Suitable for both wood and metal
Affordable
Cons:
Not as accurate as other models
Not as stable as other models
No LED display
FAQ:
What is the size of the working surface?
The dimensions of the working table are 7-⅝ inches.
What is the amperage of this drill press?
The amperage is 3.2, with a rating of 120V.
Is the model suitable for repetitive drilling sessions?
Yes. SKIL 10-Inch Drill press is designed to support repetitive actions on the material.
3. Shop Fox 13-Inch Bench-Top Drill Press
With drill chuck of ⅝ Inches and a swing of 13-¼ inches, this drill press allows for elegant and concise drilling, helping you create holes as precisely as possible. This is a benchtop model from Shop Fox, meaning it can be placed on the working surface, which makes it quite a compact tool to have. However, although compact, it is quite a sturdy piece, which is vital for these kinds of instruments, as it's weight will hold even massive chunks of material. For the drill press, the rule of the thumb is ''the heavier, the better''. The spindle travel for this model is 3 -¼ inches, and the model also features a spindle sander drum kit, which is quite a handy feature. When it comes to the motor, it has 110V and ¾ HP, is constructed to be very powerful to allow you to drill continuously, and thanks to simple controls, you will have no trouble figuring out how to use it even with no prior experience. The working table is nicely leveled for patella positioning when drilling.
Pros:
Sturdy construction
Suitable for woodworking and light metalwork
Variable speeds
Easy assembling
Cons:
It's pricey
Inadequate packing which may result in lost or damaged pieces
No laser and LCD screen
FAQ:
What is the spindle speed for this model?
The spindle speed for Shop Wox 13-Inch Drill Press goes from 25 to 3050 RPM.
Is the working table moveable?
Yes. The working table tilts up to 45 degrees left and right, and it also has a swing of 60 degrees.
Does it come with assembling tools?
Yes. Along with the drill press comes a 25mm wrench, opened end wrench, and three hex wrenches.
4. JET 15-Inch Bench Model Drill Press
A top-rated benchtop drill press from JET is a tool of modern design and high performance, suitable for garages and shops. With a powerful motor, this corded electric piece comes very handily when working with wood, steel, and other materials, and although initially a 115V tool, it can successfully be revered to 230V, which is excellent. The maximum depth you can count on when working with this one is 3,5 inches. It is a sturdy drill press with solid construction and a tilting table that helps you adjust the right drilling angle and maneuver with more substantial material. Although on the big side, the construction has two hols that allow you to secure it to a bench or a table for safer maneuvering. There are 16 speeds available at your disposal, and while it originally comes with a ⅝ inches chuck, it can also accept the drill chuck that is as small as ⅛ inches, which is more than helpful when trying to create fine holes precisely. The working table is rotatable for 360 degrees and can be locked in the desired position or height. After all, you are paying to ''have the machine do the work for you, instead of you adapting to the machine''.
Pros:
Heavy duty
Suitable for both wood and metal
Rotatable working table
16 Speeds
Highly accurate
Cons:
Pricy
Assembling instructions miss some steps
FAQ:
What are the specifications of the working table?
The size of the table is 15'' x 15'', it can be rotated by 360 degrees and locked in the desired position.
Can it be used for morticing or milling?
No, this is a drill press designed for drilling only.
How accurate is this model?
Highly accurate. It has a cast iron head and a quill that allows you to drill with high accuracy.
5. Genesis 10-Inches Drill Press
With five available speeds at your disposal and modern industrial design, this drill press is quite an asset to have. Powered by a 4.1 amp motor, this is the tool that allows you to do the drilling without making much noise, yet do the work with maximum precision. No matter if you are into metalwork, woodwork, or both, this is an adaptable drill press with ⅝ inch chuck, designed to work well with different pieces of material, which matters, especially if you are crafting for customers. It is suitable for working long hours, as it has a unique built-in LED light that illuminates the working table when you needed. The table is fully rotatable, shifting to 360 degrees, and tilts up to 45 degrees. Thanks to a rack and pinion designed for adjustments, you can easily set the desired height of the table. If you have a ''need for speed'' when drilling, this one will be able to adjust to your needs in a matter of seconds, as you can quickly shift between available speeds. Plus, it comes with a two-year warranty from the manufacturer, to back up your investment.
Pros:
Powerful and quiet motor
Has a LED light
Rotatable and tiltable working table
Affordable
Cons:
Potentially loose parts
No laser
FAQ:
Is this drill press depth-adjustable?
Yes, you can adjust the desired depth when drilling. The chuck can go 2- ½ inches down, with an estimated drill depth maximum of 4.25 inches.
What is the process of attaching the chuck?
To attach the chuck, simply apply pressure and slowly press the chuck down to slide in.
What are the motor specifications?
This drill press has a motor of 4.1amp, 120V, and 46 horsepower.
Buyers guide
How Do Benchtop Drill Presses Work?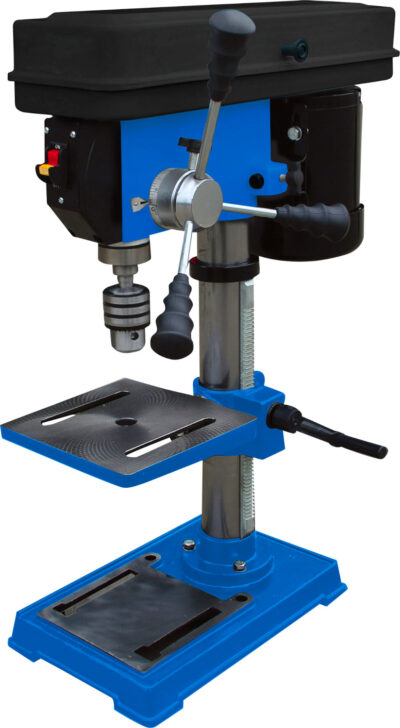 Benchtop drill presses are advanced hand drills in the sense that they give you more stability when drilling. Here is why. A drilling machine, compared to the hand model has a few advantages. It ensures maximum stability when drilling, as all balance is on the machine, instead of hand. Moreso, they are more potent than hand drills, which adds to their performance, allows for concise continuous drilling, and drilling larger holes. These are sturdy machines, with perfectly leveled working tables designed for accurately drilling through the material. To drill the holes, you need to place the wood, metal, or whatever you intend to drill on the working table. You can rotate, tilt, or lift this surface to get the perfect angle. Many of these machines have a laser that pinpoints the exact drilling spot, which increases accuracy. Each machine has chuck, which holds a cutting tool and is used for various types of drilling, and you can choose how fast or slow you make the holes, as well as how deep you want to drill. Depending on the model and the capacity of the machine, they can also be used for other actions, including boring, reaming, tapping, or counterboring.
What to look for in a Benchtop Drill Press?
No matter if you are new to drill presses or not, the first thing to pay attention to is the weight of the construction. This is the type of tool you'd like to have the sturdiness to it, as in this case, ''A heavy-duty means quality, stability and balance'', which is what you need for it to hold a heavy-ish material such is steel. If you have limited space, try not to compromise sturdiness, but look for models that are both compact and heavy-duty. Holes on the construction that secure it even further are a plus, and so are a laser, a LED light, and a display, which all improve general performance. The table should be rotatable, tiltable, and quickly locked in the desired position. The more available speeds, the better, especially if you are dealing with various materials on a daily basis. Pay attention to the drilling capacity. When it comes to benchtop models, you will idly find the most value in models where the chuck and the base are further away from each other. The reason? Bigger stroke distance, the ability to drill deeper holes, and a decent swing distance.
You got yourself a drill press. Now, how do you use it?
Make sure your drill press is safely secured on a solid bench or a table. Once it's secured in place, chose the desired speed. You do so by manually setting the belt to suit the spindle speed you desire, which located in the head of the press and locking the new setup. If you are entirely new, it is always vise to start with the lowest speed to feel more comfortable with the machine. Secure the chosen bit to the chuck by using a chuck key. Set the desired height of the table by securing in on the desired height and then place the material you intend to drill onto it. It is advisable to secure the material with clamps if possible, to ensure maximum stability. Once the material is set, use the leaver to set the desired height of the chuck to bring it town facing the material, turn the drill press on and start drilling. Make sure you take care of your safety by using gloves and goggles.
Here is the video with some great tips on how to setup and use drill press:
What are the design specifications that call for your attention?
Since the base holds the whole construction, for a bench drill press, it is essential to have a solid base, ideally, with T-slots, that will keep the construction firmly in place. The column is the piece that holds everything together, so it should be rock-solid. It carries the weight working table, which is arm-mounted to it, and it should be easily removed and just as quickly secured in one place. Ideally, the spindle is vertical and a quill stroke longer than at least four inches. The table should tilt left and right and rotate a full circle of 360 degrees. As for the swing, well, for the swing goes the saying ''the bigger, the better'', especially when working with larger pieces of material, in which case the best choice is the one with the swing above 12''.
FAQ


What is a benchtop drill press?
A benchtop drill press is a drill press that can be mounted on a flat solid surface, such as a working counter or a table, as opposed to a floor drill press, which stands on the floor.
What is the definition of a benchtop drill press?
This is a tool fixed on a solid surface, such as a counter, a bench or a table, which is designed to create holes of various sizes and depth in wood, metal and other material.
What is the best drill press for metal?
You can choose both benchtop models referred to above and floor models with a powerful motor, a big swing, and a robust construction coming from a trusted manufacturer.
Final Thoughts
Benchtop drill presses are quite a handy tool for anyone who is into woodworking or metalworking. These are the new age drills every workshop should have, as they are solid, twice as precise, and much more accurate than hand drills. They are created for drilling under a perfect angle and, in most cases, fully support the repetitive drilling. They are compact, and most importantly, give you a wide variety of actions to perform and various depths and sizes to create. For anyone considering more serious craftsmanship, something that minimizes the errors and maximizes accuracy like a benchtop drill press is, without a doubt, a real must-have.
Last update on 2023-12-05 / Affiliate links / Images from Amazon Product Advertising API