Top 5 Best Benchtop Bandsaws: In-Depth Reviews and Expert Recommendations
We have taken the annoyance out of the process of searching the web for the best benchtop bandsaw. The last thing you need is to have a job take longer than it needs to because you don't have the correct tool. It does not matter if you're a DIY wizard or a contractor, you will find a bandsaw to fit your every need from the list below. We share your belief that getting the correct tool is crucial to getting a job done and not sacrificing any quality in the process.
Not having the correct tool to finish a job is a very frustrating experience. That's why it is such an important task to find the right tool that's not only able to deliver the results you desire but also fits your pocket. Making an informed purchasing decision can save you a lot of time and money in the future.
So, let us get straight into it. Below you will find our review on the 5 best benchtop bandsaws.
Top 5 Best Benchtop Bandsaw Reviewed:
Below is a table that shows how the different benchtop bandsaws compare to one another.
Photo
Editors Pick



Quality Pick


Product Name
WEN 3959T 2.5-Amp 9-Inch Benchtop Band Saw
SKIL 3386-01 120-Volt 9-Inch Band Saw with Light , Red
WEN 3975T 4-7/8-inch x 5-inch Metal-Cutting Benchtop Band Saw
RIKON 10-305 Bandsaw With Fence, 10-Inch
Klutch Benchtop Metal Cutting Band Saw - 3in. x 4in. 1 1/3 HP, 120V
Editors Pick
Photo

Product Name
WEN 3959T 2.5-Amp 9-Inch Benchtop Band Saw
Photo

Product Name
SKIL 3386-01 120-Volt 9-Inch Band Saw with Light , Red
Photo

Product Name
WEN 3975T 4-7/8-inch x 5-inch Metal-Cutting Benchtop Band Saw
Quality Pick
Photo

Product Name
RIKON 10-305 Bandsaw With Fence, 10-Inch
Photo

Product Name
Klutch Benchtop Metal Cutting Band Saw - 3in. x 4in. 1 1/3 HP, 120V
1. WEN 3959 Benchtop Bandsaw
The WEN 3959 is a great 9-inch benchtop bandsaw. It comes with great features, and it is mighty for its size. One of the great features of this benchtop saw is the fact that it comes with a fence to guarantee precision and accuracy. Something that puts this benchtop saw apart from its competition is its 12-1/4 inches x 11-7/8 inches worktable. This provides some extra working space. But that is not all. The worktable can bevel up to 45 degrees. That is great if you need to cut at an angle ranging from 1 – 45 degrees.
The powerful 2.5-amp motor provides ample power to cut through those hardwood pieces. The 59 – ½ inch blade rotates at a speed of 2500 feet per minute to ensure power when cutting. Weighing in at just 40 pounds, it is a great tool to move around because of its compact and lightweight design. WEN provides a two-year warranty that comes with a nationwide network of skilled technicians to help with any problem you might encounter.
Pros:
Compact and lightweight
Comes with a fence
Large worktable
Cons:
Does not come with a stand
Not as powerful as a big standalone bandsaw
FAQ:
Can I cut stainless steel 304L pipes?
No, this is not the correct tool for that. You will damage your bandsaw and probably burn out the motor.
Does the WEN 3959 bandsaw come with a bandsaw blade when purchased?
Yes, it ships with one wood blade. But it is never a bad idea to have extra blades for when one gets damaged or breaks.
Does this bandsaw run on 110v or 220v?
This bandsaw runs on 110v.
2. SKIL 3386-01 Bandsaw with Light
The SKIL 3386-01 is an excellent addition to any novice woodworkers workshop. It is very efficient at ripping lumber into smaller pieces or for creating irregular shaped cuts. The rack and pinion make for an easily adjustable table for those angled cuts you might want to make from time to time. The rip fence makes for accurate straight cuts that can be executed with pinpoint precision.
The built-in LED light provides a clear view of your cutting line. This is just another way that SKIL has tried to provide a bandsaw that can be used by almost anyone. It also sports a dust port to minimize extra dust and keep the working area as clean as possible. The motor is a one-speed motor that cuts through most softwoods with ease and can even cut through a few soft metals.
Pros
Very easy to use
Lightweight and easy to setup.
LED light provides excellent visibility of the cut line
Cons:
Cannot cut through large or hard pieces of wood
FAQ:
Is this a wet or dry saw?
The SKIL3386-01 is a dry saw.
Can I cut through bones with this table saw?
No, this saw is not designed to cut through bones.
3. WEN 3975T Benchtop Metal Bandsaw
The WEN 3975T is another great benchtop metal bandsaw product from WEN. The 3975T model was created for cutting metals with ease. It makes light work of any type of aluminum, copper, brass, steel, and many more metals. It might not look like much, but you can easily cut through pipes up to 5 inches in diameter or even rectangular materials up to 5 x 4 – 7/8 inches in size.
This benchtop saw has a variable speed function that lets you control the speed of the blade rotation. It can run from as low as 125 feet per minute to as much as 260 feet per minute. It is hard to believe that they fit all these features into such a compact bandsaw. This makes it very easy to transport and gives you the full power of the WEN 3975T at home and your job site. The bevelling blade makes it easy to create angled cuts from 0 to 60 degrees.
Pros:
Very compact easy to store
0 to 60 degrees bevelling blade.
Cons:
It can only cut a pipe with less than a 5-inch diameter.
FAQ:
Does the WEN 3975T come fully assembled, if not how hard is it to assemble on arrival?
Yes, it does come mostly assembled with a few minor parts that need to be tweaked and added to complete assembly.
Is this bandsaw built for dry cutting, or does it have a coolant tank?
No, this bandsaw was built for dry cutting.
4. Rikon 10-305 Bandsaw with Fence
The Rikon 10-305 10-inch bandsaw is a potent machine. If you are looking for something bigger and sturdier than the previous bandsaws but not as big as a 14″ bandsaw, then this might be the one for you. The 10-305 was built to last a lifetime, and this is thanks to its steel plate frame. Rikon used steel plating for the frame because it is much stronger than the plastic frames used by some of the other manufacturers. The 10-305 model has a big cast iron working table that is 13 – ¾ inches x 12 – ½ inches. This is not typically found on a bandsaw of this size.
The Rikon 10-305 bandsaw also comes with a micro-adjustable post hight guide and a sturdy fence. This makes raising or lowering the guidepost hight very easy with only a turn of a handle. Like we mentioned already, this is not a very portable bandsaw. It weighs around 76 pounds and has dimensions of 35.5 x 18 x 13 inches. Another great feature of this bandsaw is the fact that it comes with a 5-year warranty.
Pros
Sturdy steel plate frame
Large cast iron working table
5-year warranty
Cons
They are not designed to be moved around a lot.
Does not come with a stand
FAQ
Can I cut thin strips of hardwood?
Yes, this saw can cut thin strips of hardwood.
What is the maximum hight cutting capacity of this saw?
The Rikon 10-305 bandsaw will only be able to cut around 4 and a half inches in height.
Does this machine come with a blade?
Yes, I believe it comes with a 70 ½ inch blade.
5. Klutch Benchtop Metal Bandsaw
The Kutch benchtop metal cutting bandsaw is another great horizontal bandsaw. It comes with great features and is very easy to use. Its compact design makes it a very portable bandsaw that can be used in multiple locations. It has a cutting capacity of 3.3 inches for any round stock or 3.3 – 4.1 inches for rectangular stock. This is very impressive, especially if it is partnered with variable blade speed that can be adjusted to operate at a blade speed of anywhere between 130 to 288 FPM.
Klutch kept safety in mind with the design of this benchtop table saw. This bandsaw comes standard with an automatic shutoff for when it has finished a cut creating a safer operating environment. A quick positioning vise securely holds material in position. This further ensures you get those precise cutting capabilities that this saw has to offer.
Pros:
Strong and durable design
Automatic shutoff
Strong 1 ½ horsepower motor.
Cons:
It only comes in 120 Volt.
Can only cut 3.3 inches for any round stock or 3.3 – 4.1 inches for rectangular stock
FAQ:
Does this bandsaw go fully vertical?
Yes, it can fully open to get the saw in a vertical position.
Where is this bandsaw manufactured?
According to the sticker on the saw, it is made in China.
What is the degree range that this bandsaw can cut?
This bandsaw can cut at an angle varying from 0 to 45 degrees.
Buyers Guide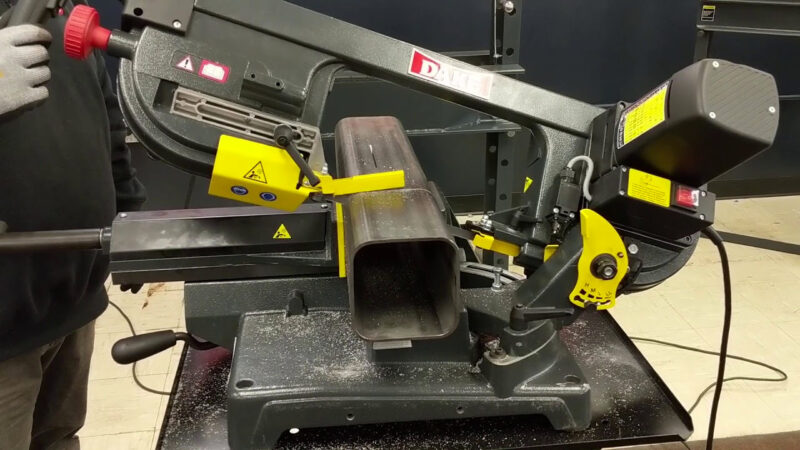 Sifting through all the available benchtop bandsaws can be a daunting task. It is a lot of money that you need to spend, and the last thing you want is to end up with buyer's remorse after a few days of receiving your bandsaw. To make an informed decision, you will need to consider different factors that will weigh in on your choice.
Below we have assembled a list of things to keep in mind if you are looking for the perfect benchtop bandsaw. This buying guide will take you through everything you need to consider before clicking the checkout button.
Price Tag
The benchtop mentioned above bandsaws vary a great deal when it comes to their price tag. They vary from as little as $120 to as much as $360. This might not seem like a lot of money, but this has a significant impact if you are on a tight budget and want to buy the best bandsaw that fits into your budget. If you have a clear idea of what you are willing to spend, then that will narrow down your search for the perfect bandsaw and give you more time to find the one with all the features you desire.
Size and Weight
If you understand what you want to use your benchtop bandsaw for, then you will have a better indication as to what size saw, you will be able to purchase. This is very important to keep in mind because if you are a contractor that works on many different job sites, then it will not be the smartest move to purchase a big, heavy and bulky bandsaw as it will be hard to transport and might not be designed to withstand all the bumps and bruises that can be caused by moving and transporting equipment. It might well be a perfectly sound decision to buy a bulkier benchtop bandsaw if you only plan on using it in your garage at home. This example illustrates the importance of knowing what you are going to use it to determine the size you will need.
The above-featured benchtop bandsaws cover a wide range of sizes and weights. The heaviest of all the bandsaws weighs as much as 76 pounds and the lightest as little as 16.5 pounds. If you sacrifice on size, you might also be sacrificing power as the bigger machines usually have more powerful motors than their smaller counterparts.
Cutting Capabilities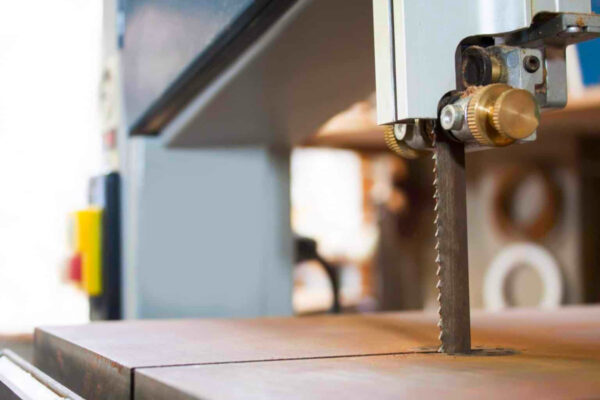 It is essential to understand the cutting capability of each bandsaw before you make that final purchasing decision. If you want a bandsaw that can cut a 2-inch stainless steel rod, then you need to ensure the benchtop bandsaw you are eying can get the job done. It will not help you one bit if you buy a bandsaw made to cut wood and now you want to cut metal on it. Be sure to ask a professional regarding the cutting capability of the bandsaw you want to guarantee you can get the job done.
The saw blade also has a lot to do with the capability of the saw, and if you use the correct blade, you might be able to use the saw to the full extent of its potential.
Additional Bandsaw Features
Another detail to keep in mind is what additional features the benchtop saw comes with. If you are looking for a specific function, let's say a rip fence, then you need to make sure what bandsaws come with a rip fence. This is just an example, but there are a few features to look out for.
Below you will find a list of all the most sought-after features:
Miter guide
Rip Fence
Dust port
LED light to keep track of cutting line
Bevelling tabletop for making angled cuts.
Safety shutoff
These are but a few, but it's imperative to keep this in mind if you are looking for a benchtop bandsaw that can do more than just cut at a 90-degree angle.
Here is the great video that shows you some great tips on how to use benchtop bandsaw in the best way:
FAQ


Do all bandsaws come with a blade?
Usually, benchtop bandsaws are delivered with a blade included. A good thing to keep in mind might be to find a supplier where you can buy some additional blades as this will always come in handy. When using your bandsaw blades can get damaged in many ways. Keep backup blades to ensure the job continues smoothly.
Can I cut bone or dear antlers with a bandsaw?
Yes, some benchtop bandsaws can cut through bone or antlers. There are just a few things to keep in mind when attempting such a task. First, you will need to ensure your bandsaws motor has enough power to cut through bone, and secondly, you will need to do some research to know what type of blade is best suited for this type of job.
Where can I find benchtop bandsaw blades?
The user manual usually gives the exact dimensions for what blade works best with that particular saw. If you have the dimensions, you can ask at your local hardware store, or you can search for a blade you desire on Amazon.com. Something to also keep in mind is the TPI (Teeth per Inch) of a blade. Be sure to get a professional opinion on what TPI is best for cutting your specific material.
Do I need to add a cooling agent when using my horizontal benchtop metal cutting bandsaw?
It's essential to read the manual. Most horizontal metal cutting bandsaws are dry saws and does not need any additional cooling liquid. If you apply extra pressure on the blade or run it at a high rotation speed, then you might need to add cooling liquid to keep the blade from taking damage or even breaking.
Final Thoughts
Choosing the best tabletop bandsaw is no easy feat. That's why we want to give you as much information as possible to make an informed buying decision. A good bandsaw is an essential part of every wood – or metalworkers' workshop. The above benchtop bandsaws have been reviewed and tested to ensure you don't waste unnecessary money trying to find a bandsaw to fit your needs. They come in all different shapes and sizes, with distinct advantages over the competition and with different price tags. So, we can say that we are 100% certain you will find a bandsaw that fits all your needs.
Last update on 2023-10-01 / Affiliate links / Images from Amazon Product Advertising API