5 Best Cordless ½ Impact Wrench Review 2021
Lugs, fasteners, and bolts keep things in place, and as someone who works with these parts on a daily basis, I know how loose and how rusty they can get. As a professional, I need to ensure that I have the tool powerful enough to remove these, and sometimes that means doing the job far from electric sockets, and this where cordless impact wrenches kick in. ''If you are working with the cheapest tools there are, you can expect only one thing – failure''. That is why it is important to choose among the best cordless impact wrenches available.
As an owner of cordless ½ impact wrench, I definitely acknowledge the benefits of not being limited to a cord length. At times, that is the necessity. However, not every cordless one will be able to deliver enough torque and perform as effectively because these things rely on their motor and batteries. This is why you want to make sure that what you are buying will not fail you after a few uses and this text is meant to help you find the best on the market. After all, no one likes to have their finances wasted. Let's hop into it.
Top 5 Best Cordless ½ Impact Wrenches Reviewed
Table could not be displayed.
1. Milwaukee ½-Inch Impact Wrench
This handy cordless tool delivers 1,000 ft-Lbs torque and is a top-quality impact wrench that has a lot to offer in terms of speed and precision. We are talking here about an industry-leading model which features a friction ring, designed to make removing sockets an easy task. Powered by long-lasting lithium batteries and with an ergonomic handle, this is a tool with long battery life and a handy one to work with. Because it features four-mode drive control, including bolt removal mode, you will be able to not only work long hours but have maximum control over fasteners you set your sights on and slow down to 750rpm. More so, this tool also features special redlink plus intelligence, which greatly extends its lifecycle.
Pros
4-mode drive control
Redlink plus intelligence
Long battery life
Fast and precise
Cons
Poor customer service
Charger sold separately
FAQ
What is the torque for this impact wrench?
The torque when nut-busting is 1,400 ft-lbs when fastening 1,000 ft-lbs and in the slow mode, it is 750rpm.
Does the item come with a charger?
No, this impact wrench is sold as a separate item, charger not included.
Does it have a DC motor or a brushless motor?
This impact wrench has a brushless motor.
Here is a great video that shows the power of the Milwaukee 1/2″ impact wrench:
2. DEWALT ½-Inch Impact Wrench
If you are looking for a compact, yet powerful high-performance tool, this one will definitely grab your attention. Powered by a strong brushless motor and featuring detent anvil for maximum versatility, this tool is a force to be reckoned with. A big plus for this one is the heavy-duty impact mechanism with impressive torque, with breakaway torque that reaches 1,200 ft-Lbs, but it doesn't stop there. This tool has a 3-speed selector switch and a LED light that are there to ensure maximum control and precision, allowing you to work even in low-light. Additionally, the design is compact, which adds to the overall user experience and, according to my friend '' it has the best value among competitors''.
Pros:
Powerful brushless motor
3 speeds
LED light
Compact design
Heavy-duty impact mechanism
Cons:
Charger sold separately
Potential troubles with switching speeds
FAQ:
Does this item come with additional equipment?
No, this impact wrench comes as a bare tool, where the charger and the case are sold separately.
What is the country of origin?
This Dewalt's ½ impact wrench is made in the USA.
What battery is compatible with this impact wrench?
Any Dewalt 20V battery should work perfectly for this particular model.
3. Ryobi ½-Inch Impact Wrench Kit
Ryobi ½ impact wrench is a high impact, lightweight tool that is easy to work with and can deliver 3,200 impacts per minute and it comes as a part of a kit. This one is a highly versatile tool that produces 300 ft-Lbs of torque, allowing you to work even with rusty parts. It features a three-speed selector switch, which is there to ensure maximum control when loosening or fastening bolts. It requires an 18V lithium-ion battery and features three-beam LED lights, which is a big plus for those working in low-light conditions and can comfortably use it for heavy-duty applications. One of the people who tried out this model said ''The great thing is, this one comes with a 4.0 Ah battery and a charger, so you won't have to purchase them separately''.
Pros:
3,200 impacts per minute
3 speeds
LED light
Comes with a battery and a charger
Lightweight
Cons:
Made of plastic
Potential troubles with overheating
FAQ:
What batteries are compatible with this tool?
Any battery from Ryobi 18-Volt One+ system is compatible with this impact wrench.
Does the item come with a detent anvil and a case?
This item does not come with a detent anvil, but it does come with a case.
Is this a brushless model?
No, this is not a brushless model.
4. Makita ½ Impact Wrench
This cordless model comes with batteries and a charger. We are talking about a compact impact wrench powered by a mighty brushless motor which can deliver 210ft-Lbs of torque, with a decent nut-busting torque of 295ft-Lbs. This is a three-speed tool that guarantees efficiency and precision. The very design is ergonomic and the motor electronically controlled so when that is combined with reverse rotation auto-stop feature you get a tool that works for a huge variety of applications. The motor optimizes battery energy, which means you will be able to work long hours with each charge, as the battery life can be extended up to 50% and it charges fast. In other words, this is a kit you'll definitely vibe with.
Pros:
Efficient brushless motor
3 speeds
Rotation auto-stop feature
Long battery life
Comes with battery, charger and a tool bag
Cons:
It's noisy
Not enough torque for all lugs and nuts
FAQ:
Is this a multi-speed model?
Yes. This tool has three speeds: 0-1, 600 / 0-2, 100/ 0.2 , 800rpm and 0-1, 800/ 0-2, 600/ 0-3, 500ipm.
Does it overheat quickly?
No. This model features a special communication technology that monitors the condition of the tool during use and thus prevents overheating and overloading.
What is the weight of this impact wrench?
It weighs 6.92 pounds.
5. Porter-Cable ½ Inch Impact Wrench
With 260 ft-Lbs of deliverable torque and an easy to grab handle, Porter-Cable ½ Inch impact wrench is definitely a tool that's easy to work with. This cordless beast has a powerful motor and with 1/2Inch hog ring, so it has all the potential to help you remove and loosen any log, while sockets are easily removed and speed easily controlled. It has a pro-grade 4,0 Ah lithium battery that lasts, while its impact driver is such that it allows for automotive friendly settings. I read that this is a ''lightweight tool with an ergonomic handle'', tried it and I can tell you it easy to get a grip of, and an easy one to use even for heavy applications. It has a variable speed trigger, which is there to ensure you have maximum control over the tool in any given situation.
Pros:
Variable speed trigger
LED light
Lightweight
Fast and precise
Cons:
Not as powerful as expected
Long charge time
FAQ:
What is the maximum RPM for this tool?
The maximum number of turns is 1,650 rpm.
What are the dimensions and the weight for this impact wrench?
This is a 9.9'' long tool, measured from front to back, and it weighs 6 pounds.
Can the tool be set to a specific torque level?
No. This tool does not have a torque setting that would enable setting the tool for a certain specification.
Buyer's Guide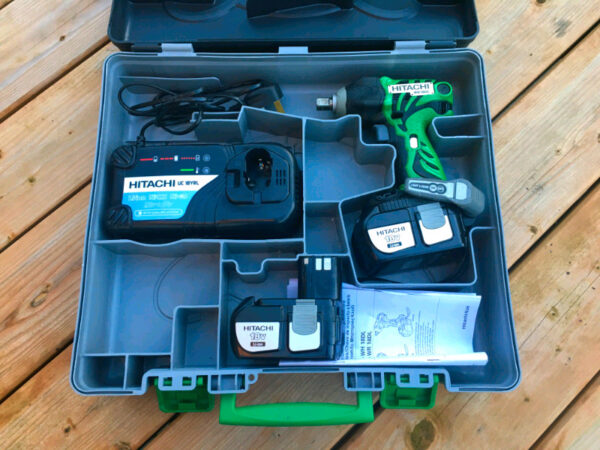 How does a ½ Inch Cordless Impact Wrench work?
Cordless ½ impact wrenches are tools made for producing high-level of torque needed for removal of tight lug nuts. They work on batteries, meaning they are transportable tools that need batteries, where most of them operate on lithium batteries and need to be charged to work. The marking of ½ inches implies the socket size. These cordless wrenches are pistol shaped, where the motor creates energy thanks to the rotation, which is further pushed into an anvil. This creates a certain amount of torque which allows you to create a powerful impact on the targeted area, helping you secure or loosen lug nuts.
What to Pay Attention to When Choosing Your New ½ Inch Cordless Impact Wrench?
The highest torque the better, so go for models that promise the highest amount of deliverable torque. You will want a tool with a high number of impacts per minute and you should do well with any impact wrench that delivers around 3,000 ipm. When buying an ½ impact wrench ideally go for models that have few speeds, as this will allow you to work on a high variety of applications. Brushless motors are powerful and are probably the ideal choice, but don't fret from other models as well, as long as these are powerful enough. Here is expert advice: ''Because these tools need batteries, you will need one that has a long battery life, especially if you continuously and frequently work outside''.
How Should I Use a ½ Inch Cordless Impact Wrench?
Before you start working make sure you wear safety goggles and safety gloves as you will work with a very powerful tool. Once the battery is charged, the ½ inch impact wrench will be ready for use. Once the impact socket that suits the nut you want to tighten or loosen is tightly secured onto the body, which you do by pressing it onto the holder, simply place the socket onto the lug nut, hold it steady and press the trigger button in a few small measured sequences. Remember, to loosen the nut you will need to set the tool in reverse. Once the lug nut is loose enough, release the trigger button and you should be able to safely remove it.
Here is a great video on how to use an impact wrench:
What Design Specifications Should I Pay Attention to?
While not all plastic tools are essentially bad, avoid going for an impact wrench that has a motor housing made of plastic, as this will increase the risk of burning and overheating. Instead, opt for lightweight models made mostly out of meta parts. The handle should be easy to get a grip of and have a rubberized, non-slip layer on top of it. Look for impact wrenches that have LED light as this design element will make it easier to work in low light conditions and give you more precision when working. Although not a mandatory thing, if you want to have an all-in-one impact wrench set, go for items that come with a battery and a charger, so you have a full kit at your disposal.
FAQ


Are battery-powered impact wrenches any good?
Cordless impact wrenches, when they are high-quality ones, can be highly effective and fast tools that guarantee precision in a wide range of applications.
Will a cordless impact wrench remove lug nuts?
These tools are created for removing lugs, nuts, and bolts, but be aware that you will need a specific amount of torque for the task, so make sure your tool has a higher amount of torque. Additionally, rusty lug nuts may present a challenge a cordless impact wrench might not be able to deal with.
What is the best battery powered impact wrench?
Among cordless impact wrenches, the most powerful ones are those with high deliverable torque, promise full control, and precision when working. Models with high impact per minute numbers will prove to be the most powerful ones.
Final thoughts
There are a few cordless impact wrench tools on the list, all of which are worthy of the buyer's attention. Choosing a quality ½ Inch cordless impact wrench includes many factors, so getting yourself one that can perform means buying one with a powerful motor, long battery life, and decent torque that will enable you to win battles against bolts and nuts. No matter what your needs are or how large your business is, getting a lightweight beast that has different speeds will prove to be a tool to reckon with. And that would conclude our Best Cordless ½ Impact Wrench Review.
Last update on 2021-02-11 / Affiliate links / Images from Amazon Product Advertising API