Craftsman AssureLink Technology
We have come a long way since the days when you had to pull your garage's door while walking backwards to open it. Sometimes you had to make a small jump to grab its end and pull it downward in order to close it. Now all you have to do is to push a button and an electric motor would do the job.  But even pushing a button has become tiring and boring while opening the door using a wireless command through radio remote controllers or by using your phone or PC has become the tendency. What a lazy generation? right?!
Well, we can't deny that it is cooler and more useful, especially if you want to brag in front of your guests or your date. Imagine if you are bringing your date home, it is much cooler to open the garage using your phone than to get out of your car to do it.
Not only that. Using home automation devices, you can be able to open your door remotely but also control a large range of compatible devices, like lights and air conditioners.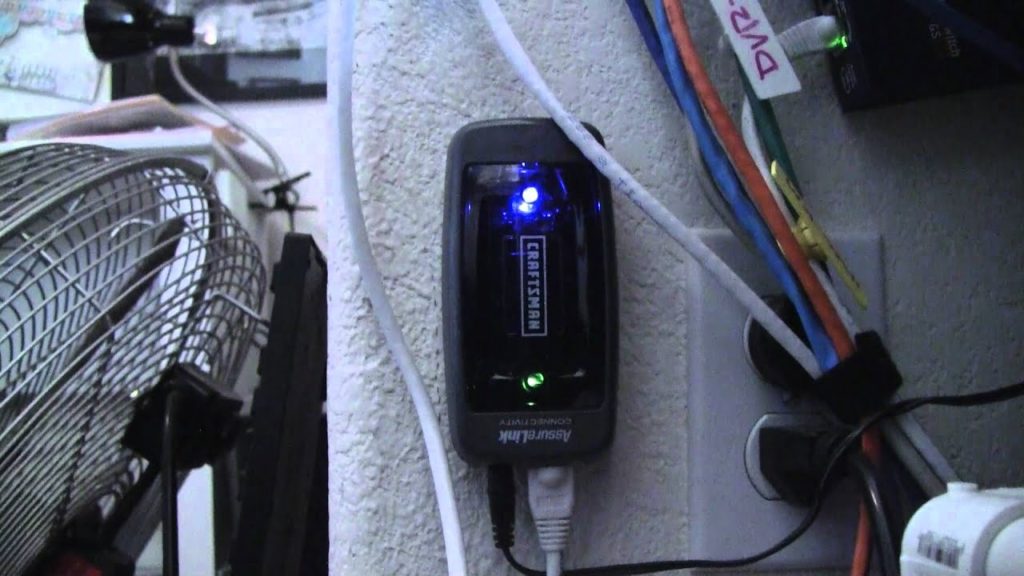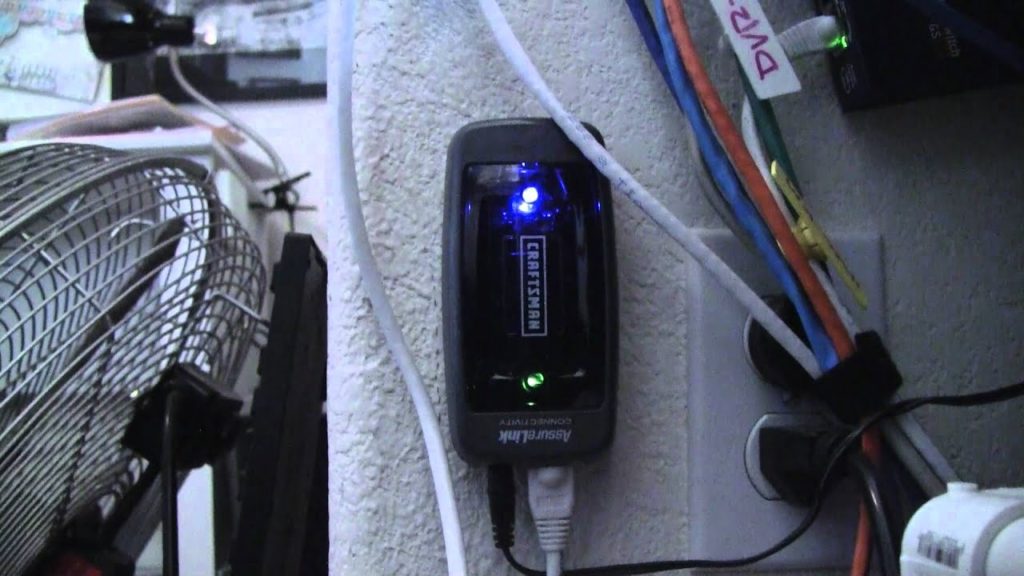 Craftsman, what is it?  
Craftsman's kit is a gateway that allows you to do all we mentioned above.  It makes plugging compatible devices and controlling them through an App or through PC easier than doing it from scratch.
Craftsman's products are the intellectual property of the chamberlain Group. They have a branded Internet of objects connection technology and other devices that can be used to open garages doors like the MyQ.
They come in two types; belt drive and chain drive openers and the choice depends on your garage door (is it a one-piece door or a sectional door). For the Craftsman's products, the references are the 3043 and 30437 respectively.
They embed a ¾ HP DC motor which is powerful enough for most of the modern garage doors. Unless you are Gandalf trying to open the La Moria's door.  In that case, you need to learn elvish and speak the words loudly rather than buy the Craftsman.
Good to mention that not all the powerful motors are as quiet as this one. It's designed to pull heavy while not screaming loudly! I like what I did there!
The fun part really comes when the AssureLink technology is used. It's what allows you to control the door using the smartphone ready to use App or PC. And when such a connection is established you can go beyond controlling it but also monitoring your door by getting its state and whether there is something wrong detected and signal a maintenance action.
But How!
The magic box contains:
A Power unit
Rails and installation hardware
Encoders for position sensing
Wall control wireless entry keypad
Internet gateway
The magic happens inside the internet gateway. It's connected through Ethernet to your home router and uses radio to relay the commands to the other AssureLink compatible devices. Of course, each device has a built-in antenna and a transceiver. Yep! Transceiver! Devices can talk back to send their state and inform if a command is executed successfully or not.
Your garage door can tell you "I'm closed now". Cool! right ?!
As you may suspect, there are a lot more functionalities that you can discover yourself by reading the manual and downloading the app.
The Power unit is designed so that a portion of the energy equivalent to opening and closing your garage up to 20 times is stored in a battery. It's called the DieHard function and it's a Battery Backup System and it allows you to unstuck the door in case of a power loss in your home.
The 3043 has an estimated 10 years life span,3 years parts warranty and 10 years warranty on the motor. Chamberlain mentions that it uses less energy than its competitors in DC equivalent charge.
It is compatible with HomeLink, which allows your car to communicate with your chamberlain system. Yep, you can make a great star wars prank and pretend you are using the force to open the door while approaching with your car.
The linking procedure with the app is pretty straightforward. You start with connecting the gateway to the internet using the ethernet cable and your home router. You must create an account at craftsman.com/assurelink and register your product serial number that you can find on the bottom of the gateway.
On your account search and find the device so that it's linked to your profile.
Search for the app on play store or iTunes if you use an iPhone and log in using your account.
That's all it is!!
Now, Chamberlain says the installation of the hardware can take 2 hours. We think you should consider that it would take you more and be patient. A proper installation will help you avoid a lot of troubles in the future. And safety issues are serious with garage doors. Even if we started by saying it's a plug and play system, the plug and play is not possible unless a proper installation is done prior to that.
Safety hazards can come from electrical sources or mechanical sources. The kit you'll buy has components and entries in the manual that focus on that. Like the presence sensors. They detect the presence of someone or something in the way of the door closing and the system will reverse the order automatically. Our advice is to take your time to follow the installation manual and do some tests to be sure of your work. Especially if you are not used to mounting a garage door opener, which is probably the case! We don't spend every weekend helping someone mount its door kit!
See also: How to use Smartphone as a Garage Door Opener?
Should you get one?
Absolutely! For these reasons:
Mounting and installation are always fun
It's cool to make something work automatically because pushing a button each time is so tiring and boring
A not expensive step closer to home automation
If you are not sure that you closed your garage door when leaving for holidays, and you are 1000 miles away, don't bother your neighbor again, just check your app
Kids are safer, your door will stop if they detect a presence
You can control many other devices
Energy consumption reduction