Craftsman Garage Door Openers
Craftsman brand appears in 1927 and ever since then, they have been known for impressive technologies, for high-quality products and for a special relationship with their consumers. One of the first and the most impressive things they developed was a vanadium wrench. It was 50% lighter than any other models back then but was still 200% stronger.
Then we have their first lawnmowers which appeared in 1934. Straightaway, they were popular choices of many people and they were affordable back then. Back in 1953, they made riding lawnmower which was popular as well. In 1944 during the World War II, many different Craftsman tools were used in the war. They were reliable and tough, perfect for this purpose.
Even today, Craftsman is well-known as a tool manufacturer. In a period between 1965 and 1989, they sold 44 million of pliers, 400 million screwdrivers and 23 million of wrenches (adjustable). This made the brand extremely popular and well-known in all parts of the world.
Nowadays, Craftsman is well-known for garage door openers as well. These are re-branded Chamberlain models which are highly desirable and appreciated. You may know that these models use split-rail design and they have interchangeable parts with other, Chamberlain models.
In 2017, in March more precisely we were able to see Stanley Black & Decker acquiring Craftsman name. However, they still make all the tools and garage door openers under Chamberlain agreement. All of this means that the same quality is guaranteed. What we also like is that Stanley Black & Decker will probably soon introduce a new set of tools and devices under Craftsman name.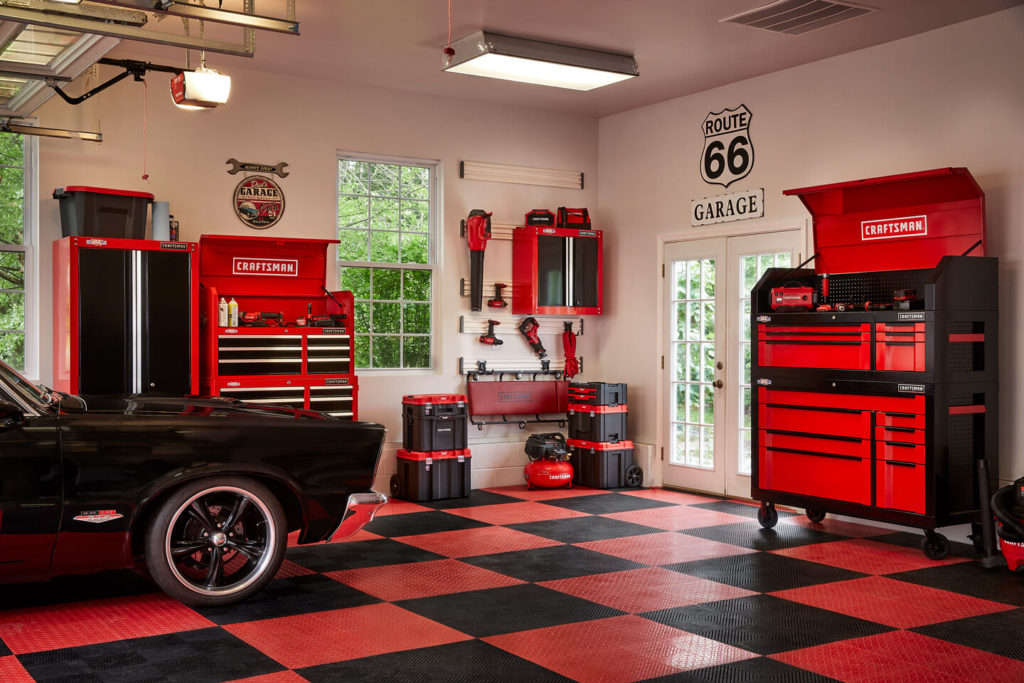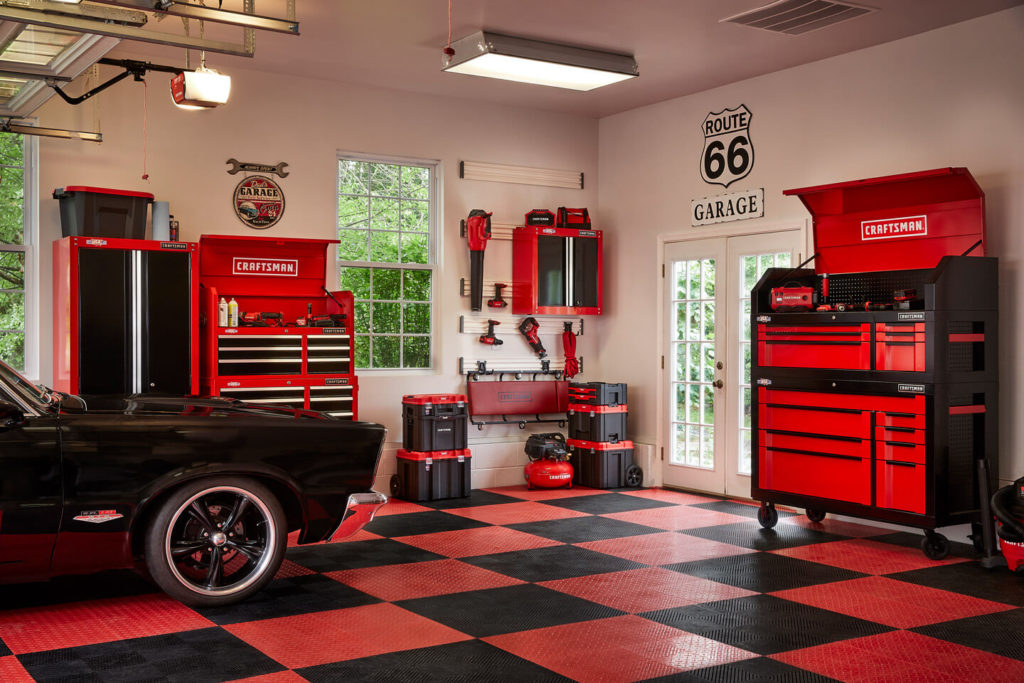 Quality and warranty
Over the decades, we were able to see a high appreciation for the brand. First and foremost, these tools and products come with a high quality, which we have mentioned already. In 2007, a survey conducted that Craftsman tools have the highest brand expectations among equivalent brands. Two years later, in 2009, Readers in Popular Mechanics voted once again for Craftsman, as their favorite brand. All of these were just a few glimpses of the brand success and their quality. In general, Craftsman is associated with durability, reliability and affordable rates.
We can see Craftsman name on NASCAR cars and as a sponsor of DIY Network. As a matter of fact, Craftsman is an official tool of them both and one of the oldest sponsors there. At the moment, there are no information whatsoever that Craftsman will end their cooperation with NASCAR or DIY Network.
When it comes to warranty, we have another, great surprise. Craftsman tools come with lifetime warranty, which is great. Across the world, this brand is appreciated precisely for the type of warranty you will get. They are some of the best in this area but still, keep their prices affordable. In the case of garage door openers, warranty usually refers to the electric motor and the main components. Other components have other types of warranty.
Craftsman garage door openers: Basics
As we have mentioned, all Craftsman garage door openers are made by Chamberlain. This is actually an advantage if we know that this brand makes some of the best units available on the market. They use the best parts and they are loaded with the latest features and safety system. All of that refers to Craftsman garage door openers as well.
Craftsman garage door openers are designed to be installed by their new owners who don't have a professional knowledge or experience. On average, you may need up to 5-6 hours to complete the installation process. The entire system is also designed to fit in a car trunk, allowing you easier transportation. Furthermore, it is developed to require as little tools as possible to be perfectly fitted to any garage. Just in case you are still needing a professional help, you will get a better, more affordable rates, simply due to the fact installation of these garage door openers is simpler than usual. A good thing is the fact that all models come with superb user manuals. They are optimized for average owners, so there are no complicated terms nor anything else that may make installation more complicated.
User manuals are also needed if you want to diagnose some issue with your garage door opener if it has appeared after years of use. They are generally helpful and all major issues are explained and also come with their fixing. Just in case you need more, there are a lot of additional manuals and documents you can get on Sears website. Chances are low that you are going to need this type of help, but just in case, it is available.
Spare parts are easy to find, due to same reasons. There are a lot of models out there, meaning that there are a lot of spare [arts on the market. If we add the fact that they are compatible with Chamberlain units, we can deduce that finding all the spare parts are easy to obtain within a matter of hours or days. At this point, we should add that Craftsman parts are compatible with Chamberlain and with LiftMaster. You will need a code number of a spare part or the model and with it, you can get a spare part you will need.
Desirable technologies Craftsman garage door openers have to offer
Craftsman garage door openers come with all the features you are going to need when it comes to the safety and the functionality. Because they are basically Chamberlain models, it isn't difficult to realize which those technologies are.
Backup battery system is one of the most desirable systems here. Luckily, most Craftsman models come with it. Basically, it allows you to use a garage door opener even when there is no electricity. The system is more than just must-have in areas where power outages are common.
Tri-band frequency is another main feature to consider. It refers to the connection between a remote controller and a garage door opener. Tri-band means that a remote controller will use three different frequencies to ''communicate'' with the main console. In areas where many people use frequency-based systems, this is a feature to consider.
Timer closure is also a system which is desirable. What it does is automatically closes the garage door after a preprogrammed period of time. As such, you don't have to worry about closed or opener door. It is easy to use and it is something which all homeowners want.
The last but not least is the level of noise Craftsman garage door openers makes while operating. They are known for a low noise compared to equivalent models, meaning that they are suitable for garages which are located close to a bedroom. This refers to chain-drive models, which are generally louder than belt-drive units.
Interesting Craftsman garage door openers
Craftsman brand comes with a wide selection of garage door openers. All of them share features and systems which we mentioned but at the same time, they are equipped with much more. Here are a few models which are interesting.
Craftsman 54931 1-1/4 HP Smart Garage Door Opener
This is the most powerful model under Craftsman name. It is powered by a 1-1/4HP electric motor and a battery backup system, meaning that you can use it when there is no electricity. Timer closure is available as well, alongside tri-band frequency system. What's more, this system is more than just quiet, so it can be installed in garages which are close to bedrooms. Built-in Wi-Fi makes things easier, but this is a premium model after all.
This is one of the most desirable models Craftsman has to offer. It comes with the PosiLock system, a system which will keep doors closed at all times. Then it uses the latest rolling code technology and a safety beam system which will reverse door closing if anything is detected beneath the door. Warranty on the electric motor is 10 years.
If affordability is something you are looking for, this garage door opener is just right. It is made to last, so all components are durable and well-made. Then we have the fact it uses the latest chain-drive system, which is beneficial in many ways you can think of. The last, but not least, it comes with three-band frequency remote controller and safety sensors.
Craftsman 57915 3/4 HPS Smart Garage Door Opener
Due to the power of the electric motor, this unit is reserved for smaller, lighter garage doors. But, it also has a lot of advantages. Safety features are at a high level, timer closure is available as well and it offers a decent level of quality. Among small garage door openers, this is probably the biggest one.
Conclusion
As you can see, Craftsman name has been among us for a long period of time. They have been making some of the most impressive tools ever designed and they are professionals in what they do. Garage door openers with this name are reliable, high-quality units which have a lot to offer.